Anyone who's seen the CW's comedy-musical hit Crazy Ex-Girlfriend has probably thought, This should be on Broadway.
Well, good news: Rachel Bloom, Crazy Ex-Girlfriend's co-creator and star, is trying to get there. Bloom does not plan to bring her TV show to Broadway, exactly, but she does feel, as she tells Newsweek, that "writing a Broadway musical is a massive goal and priority."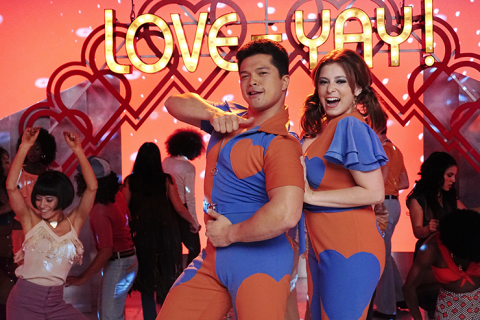 There are a few Broadway possibilities in Bloom's head. First, there's the unproduced musical she wrote right before she landed Crazy Ex-Girlfriend. "I do think some of the subject matter overlaps," she says, laughing. "It was literally a musical called Broadway Crazy."
Sadly, the original Broadway Crazy will likely never see the light of day, now that Bloom and her Crazy Ex co-creator, Aline Brosh McKenna, have integrated a lot of the original themes into the series. But a version of Broadway Crazy could still emerge someday.
"I think I would take some of those songs and maybe find a different angle on the story, so as not to be artistically repetitive," Bloom says. She also has several other ideas for a Broadway musical but none she's willing to share just yet. She does have a TV show to focus on at the moment, as well as a book deal.
If and/or when Bloom does make the transition from TV to Broadway, she'll be in good company. Tina Fey (30 Rock, Unbreakable Kimmy Schmidt) is set to open her Broadway musical version of Mean Girls in March. Fey wrote the book, and 30 Rock composer Jeff Richmond wrote the music. Larry David (Seinfeld, Curb Your Enthusiasm) brought his play Fish in the Dark to Broadway in 2015.
The West Wing's Aaron Sorkin, whose Broadway credits date back to 1989, with A Few Good Men, recently adapted a new stage version of Harper Lee's To Kill a Mockingbird that is set to debut on Broadway December 13, 2018. Even Pee-wee Herman got a Broadway show. So why shouldn't Bloom be next?