Crazy Interview With 'The Sopranos' Cast From 20 Years Ago Resurfaces
A bizarre interview with the cast of The Sopranos from a British TV show has gone viral.
James Gandolfini, Lorraine Bracco, Edie Falco, Michael Imperioli and Dominic Chianese all appeared on the Big Breakfast in 2000 along with the show's creator, David Chase.
The Big Breakfast was a long-running morning show that aired in the U.K. from 1992 from 2002.
The Channel 4 light entertainment breakfast show often had celebrity guests and was loved for its irreverent tone. It was broadcast from an actual residential home in East London.
In the clip, presenters Johnny Vaughan and Liza Tarbuck play a bizarre game with the cast where they have to guess what percentage of gangster movies their fellow cast members have acted in.
(The answer is 95 percent if you're wondering.)
The clip is a strange mashup of two very different cultural institutions of the early 2000s that fans are enjoying on social media today.
The clip itself has been viewed almost 200,000 times on Twitter at the time of publishing.
"this big breakfast/sopranos crossover has my head on a spin," reads on tweet.
While another added: "Wow. Utterly delightful. Fuck me @Johnnyvaughan was some host/presenter wasn't he??? The best."
Another joked: "Unreal. Like some kind of mad dream. They're all probably jet lagged and knackered from press junkets and then they're thrown into that madhouse first thing in the morning."
The Sopranos has been hurled back into the zeitgeist in 2021 as the prequel film The Many Saints of Newark premiered in September.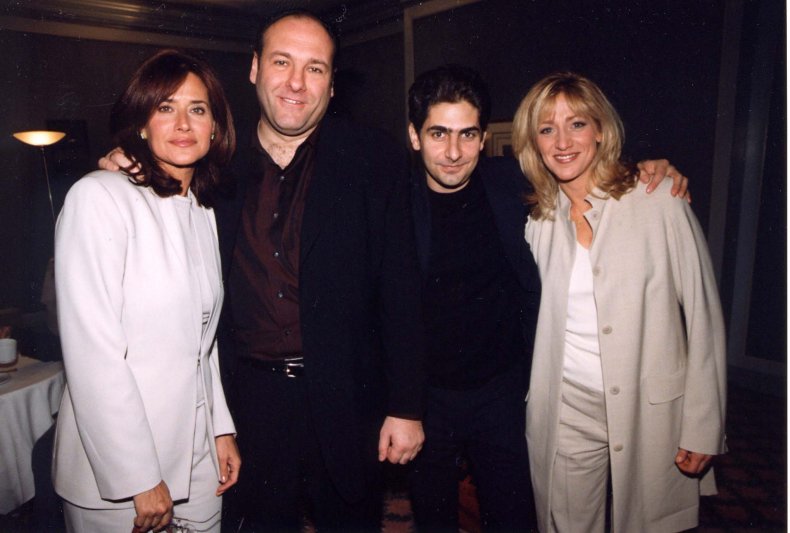 The movie follows what life was like in New Jersey when The Sopranos characters, like Junior, Johnny Boy and Silvio, were in their younger years.
The younger Tony Soprano, who was played by the late James Gandolfini, is portrayed by the actor's real-life son, Michael Gandolfini.
"It makes me feel really good because I love my dad," the younger Gandolfini said of taking on the role earlier this month.
His father died of a heart attack in 2013 at age 51.
"Sometimes I get insecure. I hope I don't just get cast as my dad lookalike," he said, per The Independent. "Sometimes I think: Am I only good because I look my dad? Or am I good because I did all the work?"
The 22-year-old added: "Being in this world, playing this character, it connected me to my dad as an actor—actor to actor—guessing what he went through, and understanding a little more what he went through for nine years and being really proud of him for that."