'Crazy Rich Asians': Meet The Chinese Singer Who Turned Coldplay's 'Yellow' Into a Mandarin Anthem
The pinnacle moment of Jon M. Chu's groundbreaking film Crazy Rich Asians emerges in the emotional closing sequence. After a heated discussion between Rachel Chu (Constance Wu) and Eleanor Young (Michelle Yeoh) over a symbolic game of Mahjong, gentle guitar chords begin to build quickly followed by a female voice singing in Mandarin. It doesn't take long before viewers realize the melody is Coldplay's "Yellow."
Since it's U.S. release last Wednesday, the film has made headlines for a variety of uplifting reasons. Crazy Rich Asians—the first Hollywood film to feature an all-Asian cast in 25 years after 1993's The Joy Luck Club—raked in a strong $26.5 million over the weekend, making history for Asian-American representation and becoming the highest-opening rom-com since Amy Schumer's 2015 Trainwreck.
The film has been described as "a watershed moment for Asian representation" but what the producers didn't anticipate was how deeply their audiences would fall in love with its multilingual soundtrack—especially 19-year-old Katherine Ho's stunning rendition of Coldplay's "Yellow". The choice is far from accidental: through the song, a derogatory term commonly used against Asians is reapporiated by Ho and director Jon M. Chu into a Mandarin anthem.
Ho—a sophomore majoring in biological sciences and minoring in songwriting at the University of Southern California—received a text message in January from one of the directors of A Cappella Academy, a summer program in Los Angeles that she had attended for three summers during high school. "He asked if I could sing in Mandarin and whether I was interested in submitting a demo for an unnamed film project," she told Newsweek. "I jumped at the opportunity to fuse my love of music with my Mandarin background."
With the help of her father, Ho dissected the lyrics of a Chinese version of "Yellow" called "Liu Xing" (meaning "meteor" or "shooting star" in Mandarin) and recorded a demo on campus within 24 hours.
Days later, the Asian-American student was doing her chemistry homework when she got the call telling her that her voice would feature in Crazy Rich Asians, a film adapted from the 2013 Kevin Kwan novel by the same name. "I freaked out because Constance Wu is the star of the film and I've been following the progress of the film. She's been such a role model to me as an actress and an activist," Ho said.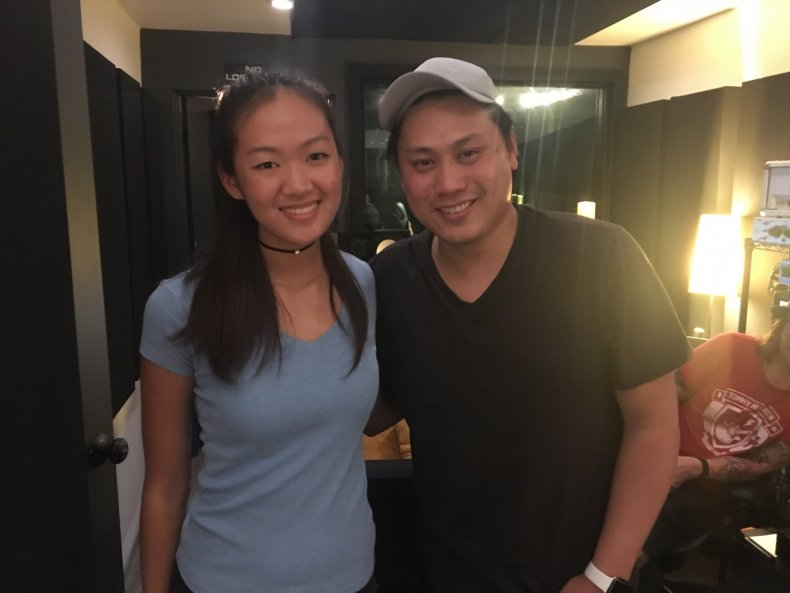 Since the movie's release, the song—recorded with the Math Club at Three Courts Studio in Los Angeles—has been hailed as the "centerpiece" of the two-hour feature, a surreal honor Ho is still struggling to process. "I didn't think the song would have a life of its own outside the movie," she said. "I didn't expect people to reach out to me saying how much the song meant to them."
Although the Coldplay original wasn't about race, for decades, the word "yellow" has been tainted with negative associations. In America and other Western countries, it's used as a derogatory racial slur against the color of Asian skin.
As the daughter of two Chinese immigrants from Thousand Oaks, California, Ho said she was "proud" to be involved in a film that had such a powerful impact on her and other young Asians.
"My Asian-American heritage was the source of some of my insecurities. I felt other-ized even though it was often unspoken. It made me feel like I had to justify myself," she said. "Seeing the film changed my perspective and made me realize how proud I was to be Asian-American. Just seeing faces like mine portrayed in such a striking, vibrant and badass way in the media had a huge impact on me."
"Crazy Rich Asians was eye-opening on the power of representation to really boost someone's self-confidence and self-image," Ho continued. "I just feel like this film is so important for young people who are trying to solidify their identities."
Ho's sentiment was echoed by countless other young Asian-Americans in the wake of the film's release.
For Crazy Rich Asians' director Jon M. Chu, the song had a double duty: it had to strike the perfect tone for Rachel's departure from Singapore—the story's climax—and it had to tie together the film in a neat closing statement. "Yellow," Chu told The Hollywood Reporter was the only song for the scene. "We're going to own that term," he said. "If we're going to be called yellow, we're going to make it beautiful."
But at first it didn't look possible. Warner Bros. was concerned that using "Yellow" would be insensitive and Coldplay turned down the initial request. Although they didn't give a reason, news reports have speculated that the band was cautious after having previously been accused of appropriating Asian culture with songs like 2012's "Princess of China" and 2016's "Hymns for the Weekend."
Chu refused to give up and penned a powerful and personal letter to Coldplay members Chris Martin, Guy Berryman, Jonny Buckland and Will Champion, detailing how he wanted to use the song because of it's title and the word's connotation.
"I know it's a bit strange, but my whole life I've had a complicated relationship with the color yellow," Chu wrote. "From being called the word in a derogatory way throughout grade school, to watching movies where they called cowardly people yellow, it's always had a negative connotation in my life."
"That is, until I heard your song. For the first time in my life, it described the color in the most beautiful, magical ways I had ever heard: the color of the stars, her skin, her love," he continued. "It was an incredible image of attraction and aspiration that it made me rethink my own self image."
"It immediately became an anthem for me and my friends and gave us a new sense of pride we never felt before…(even though it probably wasn't ever your intention). We could reclaim the color for ourselves and it has stuck with me for the majority of my life."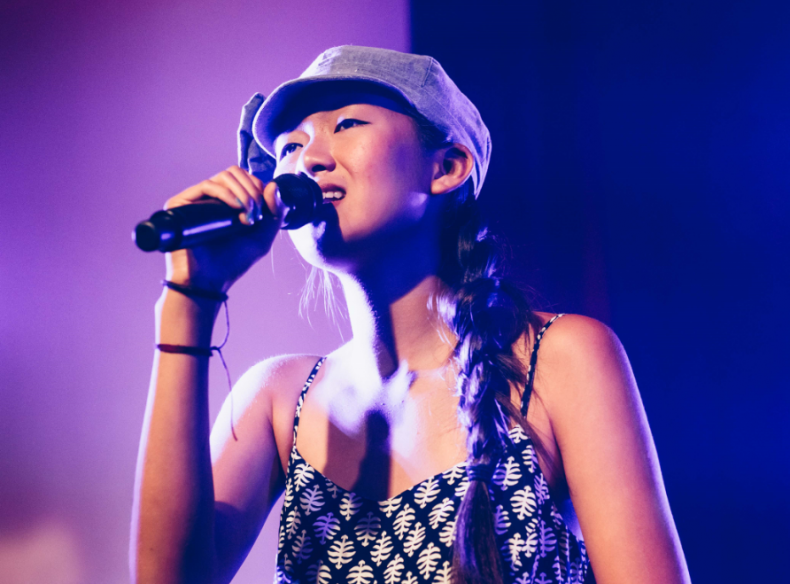 Chu then explains how the song will "give a whole generation of Asian-Americans, and others, the same sense of pride I got when I heard your song."
"I know it's recontextualized but I think that's what makes it powerful. I want all of them to have an anthem that makes them feel as beautiful as your words and melody made me feel when I needed it most," Chu concluded.
According to THR, the band agreed to the request within 24 hours after receiving the letter. The studio also agreed. Shortly after, Crazy Rich Asians music supervisor Gabe Hilfer discovered Ho and the rest is history.
For those not familiar with Mandarin, Ho describes the lyrics of the song as a "story about taking a leap of faith to pursue a dream or a person you love."
"In the beginning you are faced with insurmountable obstacles, uncertainties and doubt. You come to a turning point where you decide that this person or dream is worth chasing despite the risk, and you go for it. And ultimately love triumphs in the end."