Crazy Rich Asians exceeded all expectations at the box office its opening weekend, proving the power of diversity.
The film, distributed by Warner Bros., raked in a strong $25.2 million in the U.S. over the weekend, bringing its total to $34 million in the first five days since its August 15 release. According to Box Office Mojo, Crazy Rich Asians has already earned back its modest production budget of $30 million, and then some.
Starring Constance Wu (Fresh Off the Boat) and Henry Golding (The Travel Show), the film is the first romantic comedy in nearly three years to open with more than $20 million, since Amy Schumer's 2015 Trainwreck. It is also the first Hollywood motion picture in 25 years to feature an all-Asian cast, after 1993's The Joy Luck Club.
Based on the best-selling novel by Singaporean-American Kevin Kwan, Crazy Rich Asians tells the story of a New York University professor who accompanies her boyfriend, Nick, to his best friend's wedding in Singapore. There, she learns that his family is extremely wealthy before she is thrust into the spotlight of socialites, offbeat relatives and a disapproving mother-in-law.
According to The New York Times, the movie has been described as a "watershed moment" by Asian Americans, similar to the response Black Panther received among the African-American community.
Meanwhile, Warner Bros.'s other release, The Meg, earned $21.5 million.
Jess Goldstein, president of domestic distribution at Warner Bros., attributed the film's success to word of mouth. "This movie is so culturally significant and so unique in that there hasn't been a cast that's predominately Asian [in years]. This is one of those few projects that a whole studio comes together with lots of passion," he said.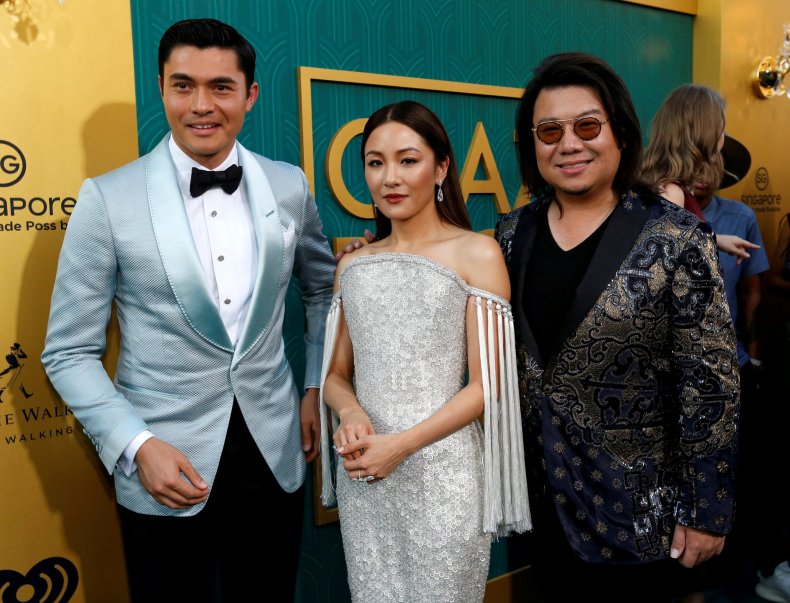 Jon M. Chu, the film's director, took to Twitter on Sunday to share his joy in seeing the Asian community come together at the cinemas.
"They thought we were gonna do 18m maybe 20m over the five days.... but YOU SHOWED UP. On dates, with your families, with your friends, with your enemies... we laughed, we cried, we shared our stories we saw each other..." he tweeted.
Chu continued: "The fact that we had never shared a communal experience of joy, laughter and emotions at the movies like this has been an injustice. But now we have. And there's no going back. #CrazyRichAsians is the number 1 movie in America. Yes we are. Read that again __"
"America fell in love w/our kickass all-Asian cast of many different background, styles, shapes, sizes ages...& blew the lid off the expectation at 34 million dollars since we were released," he added. "Truly a #GoldOpen. Thank u! I feel very lucky to be a small part of this giant movement."
Guardians of the Galaxy actor Chris Pratt took to Twitter to praise the groundbreaking film, saying it blew his "socks off."
The cast also features Gemma Chan (Humans), Awkwafina (Ocean's Eight), Ken Jeong (The Hangover) and Michelle Yeoh (Crouching Tiger, Hidden Dragon).