Hollywood Wanted 'Crazy Rich Asians' to Star a White Actress Instead of Constance Wu
Warner Bros. Pictures' Crazy Rich Asians was a box office success in its five-day opening weekend, but the romantic comedy could've looked much different. A Hollywood producer apparently wanted for the film's lead actress to be white instead of Asian.
Constance Wu, as the world now knows, earned the starring role in Crazy Rich Asians. Like author Kevin Kwan's book of the same name, its respective film adaptation follows Rachel Chu (Wu) as she heads with her boyfriend Nick Young (Henry Golding) to attend his best friend's wedding in Singapore. Upon doing so, she quickly discovers Nick is a member of one of the country's most wealthy families. She learns Nick is considered to be one of the areas most eligible bachelors as well. Despite this, the worst surprise of all comes with the discovery of his mother's (Michelle Yeoh) disapproval of her.
In the book, Rachel is written to be a Chinese American woman. On Monday, Kwan described a producer's initial interest in white-washing the character in an interview via NPR's "Fresh Air." In 2013, a producer that approached Kwan about optioning the book said he would only do so if the lead was a white female.
"This was way before the whole Hollywood whitewashing movement began, before all the waves of outrage that happened—justifiably so, with the casting of Scarlett Johansson in Ghost in the Shell, things like that," Kwan said in the interview. "It was [the] early days yet, and I knew that this movie would be a challenge because I knew it needed an all-Asian cast, and so I knew that a lot of traditional Hollywood would find it to be not a viable project, and so that's why I chose to go [with] the team that I did."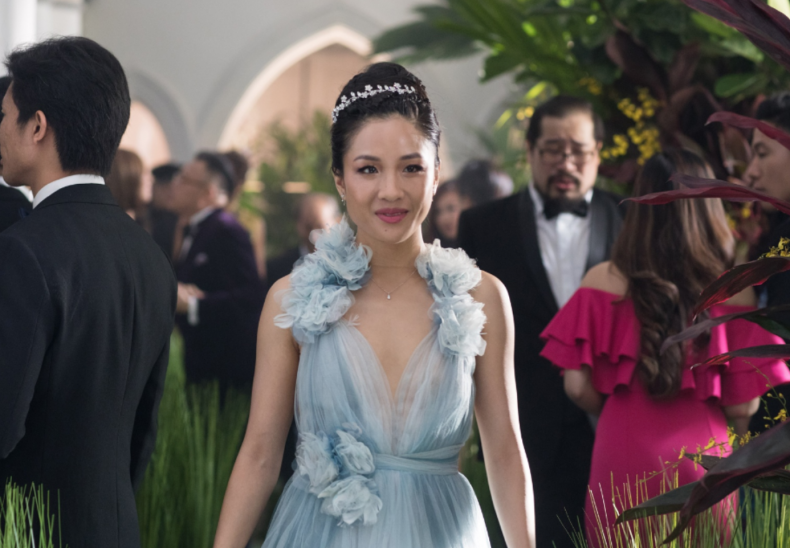 Kwan explained how he and his team aimed to create the project on their own terms, adding: "We thought we would really produce this outside of the studio system and it would be an independent film… It's taken on a whole other life that I never dreamed was possible."
Whitewashing remains a troublesome issue in Hollywood. Despite the industry's progressive political nature, its casting choices of white actors to play characters of color proves to be a repeated practice. Emma Stone as a Hawaiian native in Aloha, Johnny Depp as a Native American in The Lone Ranger and Angelina Jolie as a mixed-race woman in A Mighty Heart are recent examples of such controversial casting decisions.
Crazy Rich Asians features an all-Asian cast. Director Jon M. Chu, who is behind films like Step Up 3D and G.I. Joe: Retaliation, said he realized he had been helping to perpetuate whitewashing practices prior to helming the Wu-led flick. In speaking with Business Insider on August 15, he said: "I realized that I was actually part of the problem, not by contributing in some crazy way, but the fact that I hadn't done anything to help shift that."
In July, Wu shared a letter via Twitter about Crazy Rich Asians' historical impact. "[Crazy Rich Asians] is the first Hollywood studio film in over 24 years to center an Asian American's story. Before CRA, I hadn't even done a tiny part in a studio film... I never dreamed I would get to star in one...because I had never seen that happen to someone who looked like me," she wrote. "CRA is changing that."