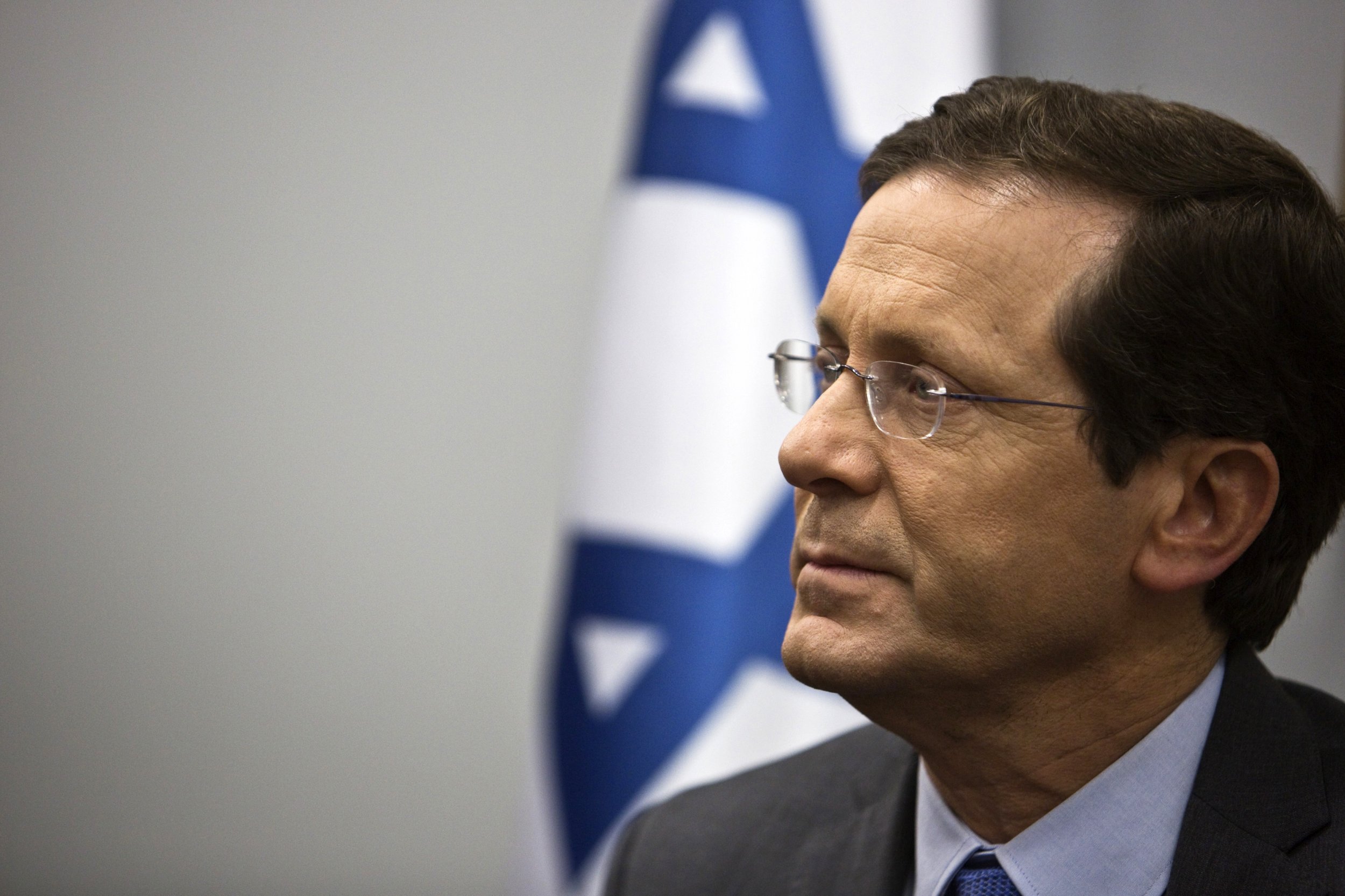 Israel's opposition leader Isaac Herzog has declared that he is "utterly serious" about a two-state solution with the Palestinians, pledging to support his words through his actions if elected to power in today's election.
Herzog, speaking exclusively to Newsweek ahead of the vote, asserted his belief that the creation of a Palestinian state is the solution that will safeguard the security of Israel and its people.
"I firmly believe that creating a Palestinian state is in best interests of Israel and I will promote this concept on terms that benefit Israel and its citizens and assure their security," says Herzog. "I promise 100% of effort even though it does not assure a 100% result."
His comments came on the eve of one of the closest elections in the country's history and on the same day that Israel's under-pressure prime minister Benjamin Netanyahu revealed that he would never establish a Palestinian state in the event that he won a fourth term, an attempt to woo right-wing voters to his Likud party, but a move which could further isolate Israel among its western partners if he is re-elected.
"Whoever moves to establish a Palestinian state or intends to withdraw from territory is simply yielding territory for radical Islamic terrorist attacks against Israel," Netanyahu told the Israeli news site NRG yesterday. He was then asked if this statement meant a Palestinian state would not be created if he was re-elected, to which he replied: "Indeed."
In contrast with Netanyahu's position, centrist Labor party leader Herzog, when asked if he is committed to achieving a two-state reality with the Palestinian people, is unwavering. "As you will see – I am utterly serious about it. Not in words but in deeds," he says.
However, when discussing Palestinian Authority president Mahmoud Abbas, Herzog is more cautious, noting that if a two-state reality is to be achieved, it will be determined by the characters on both sides of the negotiating table.
"The dynamic of the Middle East politics is unpredictable and rapidly changing therefore the decision on the character of the negotiation will depend on who is on the other side and whether there is a real partner for renegotiations."
Turning to last summer's Gaza conflict, Herzog reveals that he would have attempted diplomacy as opposed to the "unilateral steps" taken by Netanyahu. "What was missing… was the diplomatic approach, an initiative on state level. I would have followed the operation with Gaza demilitarization as a condition to [the] reconstruction of Gaza."
As he cast his ballot in a Tel Aviv polling station this morning, Herzog announced: "If you want to continue with Bibi's disappointment, vote for him." He is similarly scathing about Netanyahu's impact on Israel's reputation on the world stage and about the Israeli leader's domestic legacy. On preventing the outbreak of a fourth Gaza conflict if he is elected, the opposition leader pledges to bring the world to Israel's side, emphasising that Netanyahu was "left alone in this battle" because of his failure to "establish trustful relationships with world leaders".
The U.S.-Israel relationship has reached new lows under Netanyahu after he recently bypassed U.S. president Barack Obama to accept a Republican invitation to address a joint meeting of Congress about his opposition to a nuclear deal with Iran in a controversial speech. Herzog speaks of his determination to repair the damage caused by Bibi on the world stage.
"As a PM I will work on regaining trustful meaningful relations with world leaders and will bring our neighbors in the region to our side in order to initiate a process of getting to an agreement on the terms that serve Israeli interests," he adds. "Diplomacy can only work when the leader is trustful and I will use my diplomatic skills to regain their trust and rebuild our network."
Herzog has a distinguished heritage. His grandfather, Rabbi Isaac Halevy Herzog, was Israel's first ever Ashkenazi chief rabbi while his father, Chaim, was born in Northern Ireland, raised in modern-day Ireland, and studied in London, eventually serving as Israel's sixth president. The third-generation Israeli opposition leader believes that it is this diverse background which has informed his world view.
"My background definitely helps me understand that our society consists of so many groups of population and all of them need to receive an equal and respectful attitude," he says. "This is what I fight for – the right of each person to be able to lead a dignified respectful life and enjoy all the civil rights they are entitled to."
Bougie, a nickname he is often referred by, hopes to cause a political earthquake by removing the three-term prime minister. If he is able to form a majority coalition, he speaks of his commitment to realising the dreams of Israel's young couples starting a family, the old who hope to lead a dignified life and students who wish to experience a safe and secure education.
"They deserve to have security – national, economic and personal," he says. "During Netanyahu's government all of those dreams had fallen apart and people got tired of being scared of his constant dramatising."
"I will lead this country out of international isolation towards prosperity and the individuals, the citizens will be in the center of my agenda, of my decisions and priorities."
Heading into today's vote, Herzog's Zionist Union led Netanyahu's Likud in the polls by approximately four seats, 26 to 22 out of a possible 120 Knesset seats. Herzog's running mate, former justice minister Tzipi Livni, last night offered their Zionist Union bloc a boost by dropping her request to rotate the premiership if it hindered the election campaign.