Credit Suisse Shares Sink Triggering Fresh Crisis Fears
Swiss bank Credit Suisse's shares fell by about 24 percent on Wednesday, hitting an all-time low.
The bank's shares had tumbled earlier this week following the failure of Silicon Valley Bank in the U.S.
Wednesday's drop came after Credit Suisse's biggest investor, Saudi National Bank, ruled out providing additional financial assistance.
Credit Suisse lost almost a quarter of its value on Wednesday, falling to a new all-time low amid fears of a global banking crisis following the collapse of Silicon Valley Bank (SVB) last week.
The embattled Swiss bank's shares tumbled about 24 percent on Wednesday, after hitting a record low on Monday.
Trading in Credit Suisse's shares was halted on Wednesday morning U.K. time. The stock recovered slightly by around midday, but was still down more than 20 percent.
The decline came after Credit Suisse's largest investor, Saudi National Bank, said it had ruled out providing the bank—Switzerland's second largest—with more financial assistance.
"We cannot because we would go above 10 percent. It's a regulatory issue," SNB's Chairman Ammar Al Khudairy told Reuters on Wednesday.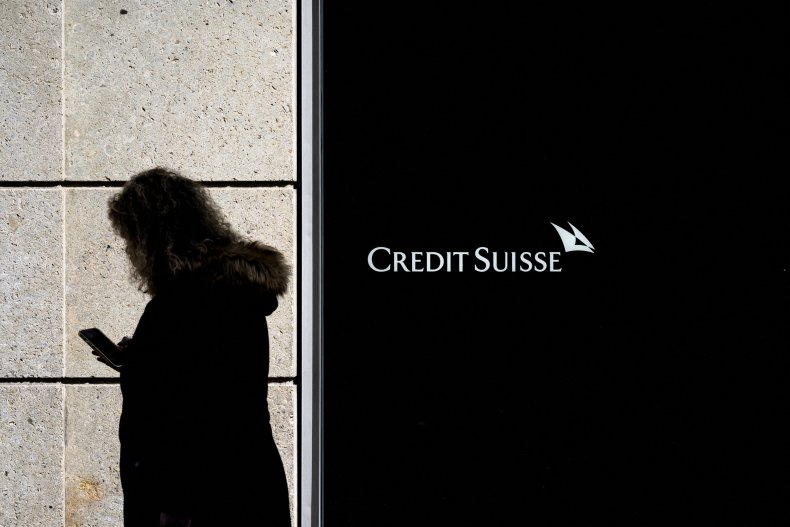 The Saudi National Bank took a 10 percent stake in Credit Suisse last year as the Swiss bank sought to recover from a series of scandals that undermined the confidence of investors and clients.
Al Khudairy said on Wednesday his bank is happy with Credit Suisse's transformation plan and did think it would need extra money. He said his bank would exit when proper value to the shares had been acquired.
It comes as the fallout from the seizure of two financial institutions in the U.S. continues.
SVB, a go-to financial institution for tech entrepreneurs, collapsed on Friday following a bank run. Two days later, regulators announced New York-based Signature Bank had also failed and was being seized.
This week, Robert Kiyosaki, a financial guru and author of the bestselling book Rich Dad Poor Dad, predicted that Credit Suisse would be the next bank to collapse.
President Joe Biden and regulators have sought to assure the public that risks are contained and deposits in other banks are safe.
The Federal Reserve, the U.S. Treasury Department, and Federal Deposit Insurance Corporation said the federal government would protect all deposits at SVB and Signature Bank, including those that exceeded the FDIC's $250,000 limit.
The Fed also initiated a broad emergency lending program intended to shore up confidence in the nation's financial system.
And its chair, Jerome Powell, on Monday announced a review into its supervision of SVB to understand how it might have better managed its regulation of the bank.
In remarks at the White House on Monday, Biden said: "Thanks to the quick action of my administration over the past few days, Americans can have confidence that the banking system is safe. Your deposits will be there when you need them."
Biden and lawmakers are also calling for strong financial regulations, with some criticizing the rollback in 2018 of the Dodd-Frank Wall Street Reform and Consumer Protection Act that had tightened bank regulation in 2010.