Creek Fire Update: 60 Homes Destroyed, Over 25,000 Evacuated As Fire Burns Nearly 144,000 Acres
As extreme weather continues to strike the Western United States, the Creek Fire, which started on Friday night northeast of Fresno, California, has already burned nearly 144,000 acres and destroyed 60 homes, according to fire officials.
"As of last night we had issued evacuations to approximately 8,000 homes, impacting between 25,000 and 30,000 people," said Fresno County Sheriff's spokesperson Tony Botti in an email to Newsweek.
The California National Guard deployed three helicopters on Tuesday morning to rescue dozens of people, including campers and hikers, from the Sierra Nevada Mountains as the wildfire grew. A spokesperson for the state's National Guard told Newsweek that they rescued at least 148 people trapped by the fire on Tuesday, bringing the total number of people airlifted to safety to 362 and 16 dogs since Friday. Fire officials say it is unknown how many more people are seeking rescue.
Over the weekend, over 200 people were rescued from the Mammoth Pool Reservoir Area after being trapped by the Creek Fire and two people were in serious condition due to burns.
"We've made multiple attempts the past couple of days trying to get to those remote campsites," Army National Guard Col. David Hall told NBC's Today on Tuesday. "Weather and the smoke are cooperating with us better, and we're going to keep working tirelessly ... until we get out as many people as we can."
The Creek Fire is zero percent contained and isn't expected to be fully under control until October 15. The cause of the fire is still under investigation.
Along with 60 homes, the fire has destroyed 20 other minor structures and two commercial structures. However, fire officials say these numbers are fluid since the current conditions prevent damage inspection teams from surveying exactly how many structures have been damaged.
The wildfire has forced evacuation orders and road closures in Fresno and Madera counties. US Forest Service Supervisor Dean Gould said in a Monday night press briefing that the fire is an "unprecedented disaster" for Fresno County, adding that, while other wildfires have impacted the area before, the Creek Fire is the "most aggressive."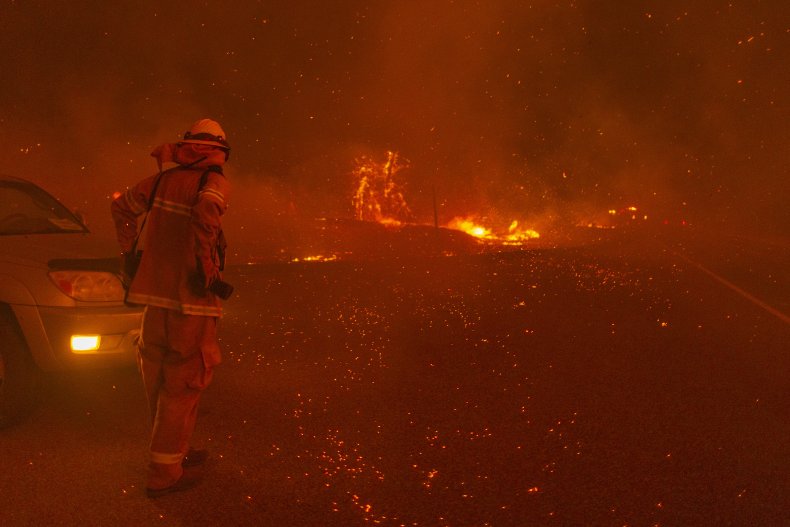 California Gov. Gavin Newsom declared a State of Emergency in Fresno, Madera and Mariposa counties on Sunday due to the Creek Fire. He also issued an emergency proclamation for two other counties in the state due to the El Dorado Fire and the Valley Fire.
In a press briefing on Tuesday, Newsom said there have been 7,606 wildfires in California so far this year and roughly 2.3 million acres burned, calling it "the largest fire season we've had in terms of total acreage impacted." The state is still in the early months of its fire season, which typically lasts towards the end of the year.
Nearly 14,000 firefighters are currently battling 25 major wildfires across California due to critical fire weather, according to the California Department of Forestry and Fire Protection.