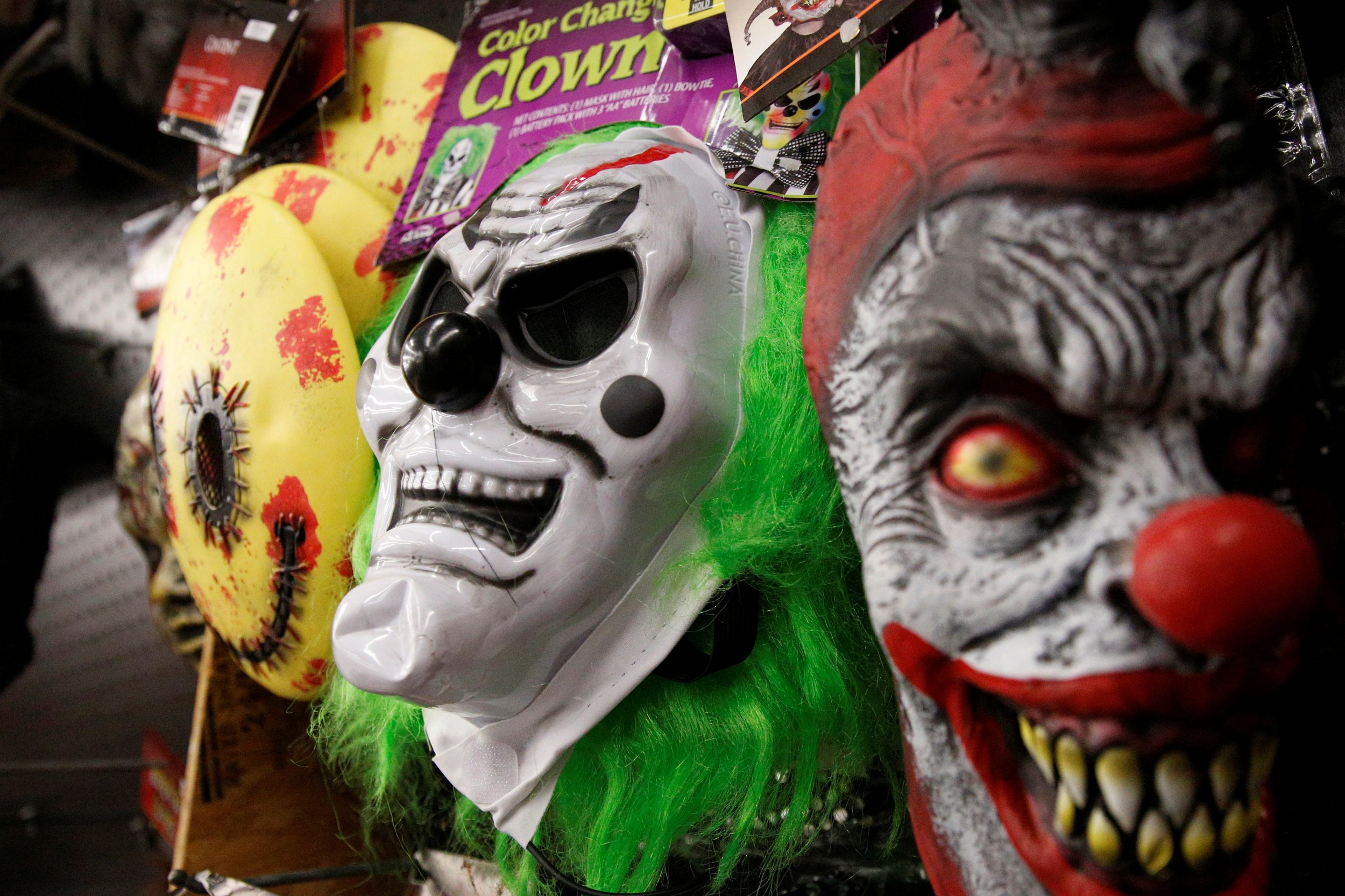 Just when you thought you were safe—they might be coming back.
For a while there, it seemed like every jabroni with some makeup and ample free time was lurking around neighborhoods across the country, sea to shining sea, dressing up as creepy clowns in an attempt to scare folks (or, more likely, go viral). Eventually, the craze passed—or so we thought. Those with coulrophobia, steel yourselves, authorities in Pennsylvania are warning creepy clowns could be coming back as the remake of the movie It—based on the iconic Stephen King book—is set to hit theaters in a week.
"The creepy clown craze in September 2016 resulted in at least a dozen people arrested in Georgia, Alabama, and Virginia for either taking part in the menacing stunt or for making false reports," read a bulletin this week from the Pennsylvania State Police. "With the fall of 2017 upon us, it is anticipated that similar 'creepy clown' sightings could be reported starting as soon as September, in part due to the fact that the movie 'It' will be released in theaters on 9/8/2017. The movie, which is adapted from a Stephen King novel by the same name, portrays an evil demon who takes on the shape of a clown named Pennywise, 'that stalks kids from within the sewers and killing them when they least expect it.'"
The clown frenzy last year mirrored similar crazes in the '80s. Rumors and stories that clowns were attempting to abduct kids or cause real problems caught on, even if there was little proof.
"In the 1980s, there were these 'phantom' clown reports," Benjamin Radford, a folklorist and the author of the nonfiction Bad Clowns, told CNN last year. "There were stories out of Massachusetts of schoolchildren saying they were chased or lured by clowns, and parents and teachers took it seriously."
Nowadays, with social media, if these pranks garner likes or retweets, then folks are going to keep doing them. If there's a quick buck to be made or a Klout score to boost, somebody'll take advantage..In fact, the whole thing in 2016 apparently was sparked by a viral marketing scheme. The New York Times traced the fad back to a guy in Green Bay, Wisconsin, who donned black-and-white clown makeup and carried black balloons in an effort to gin up enthusiasm for a horror flick.
But perhaps the clowns won't come back as It hits theaters, since Stephen King himself has told folks the clowns actually aren't evil. "Hey, guys, time to cool the clown hysteria--most of em are good, cheer up the kiddies, make people laugh," he tweeted in October of last year.