Creepy TV Works Only if You Smile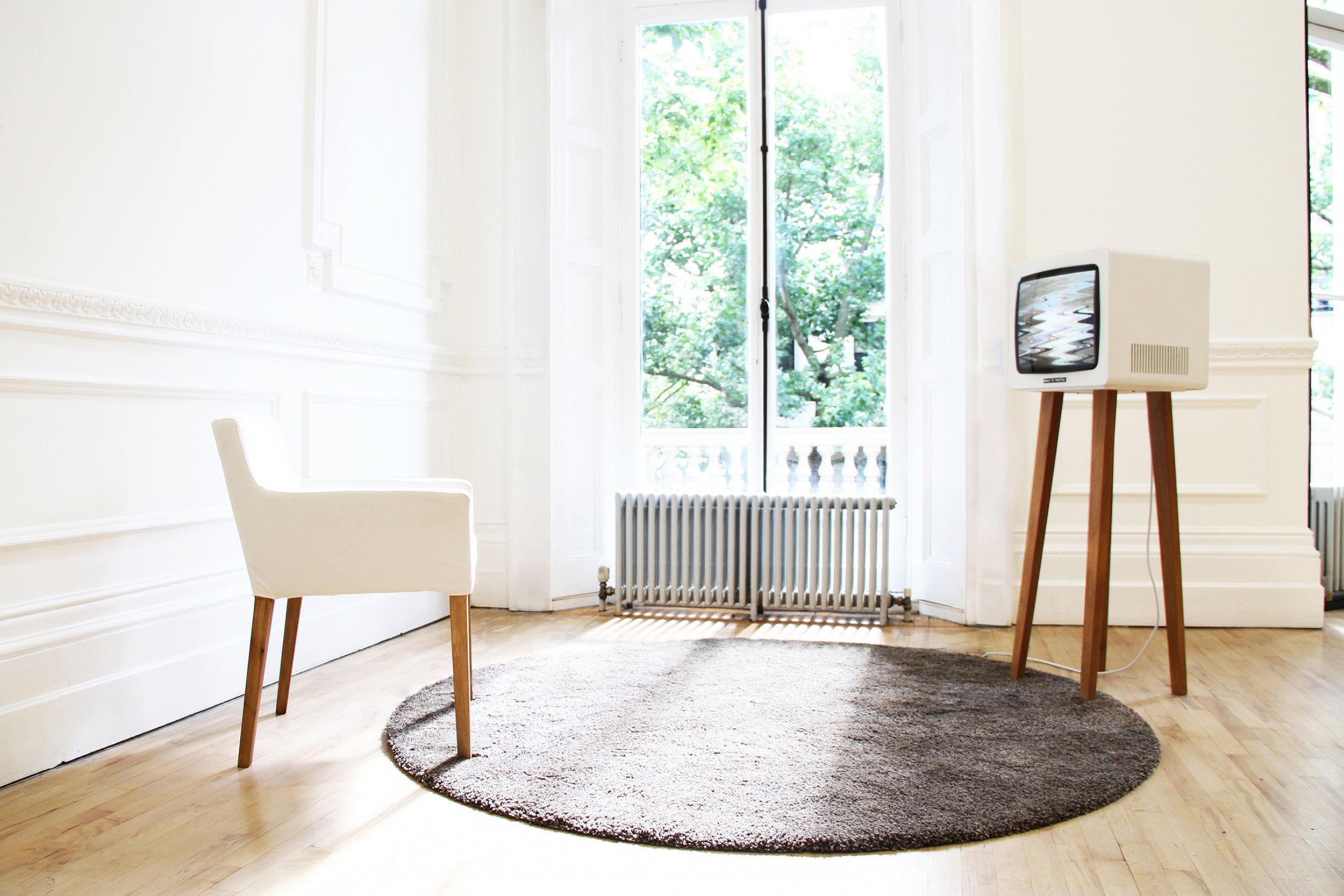 Media consumption habits have changed to facilitate our society's insatiable need for instant gratification. We speak in terms of gifs, video, likes, clicks, trends and hits. It's not unusual to see someone scrolling through Twitter on their laptop while looking at Instagram on their phone. That's why Royal College of Art student David Hedberg has built the "Smile TV," a contraption that makes you work for the image. Sit in front of the retro TV and it will broadcast a program—but only if you smile wide. If the viewer isn't smiling, the image on the television will come out distorted.
"This is a reminder of how we are the ones in control of the content that we consume—we are the ones transmitting it by liking and favoriting," Hedberg said in an email interview with Newsweek. The Smile TV broadcasts intentionally shortened clips of kung fu films, daytime television programs and more when prompted with a grin. Hedberg aimed to emulate the deluge of cat gifs, rapid-fire news and listicles, shared by millions on the Internet, on the Smile TV.
"It is as if there is never any time to reflect in our current information age," Hedberg said. "We have incredible devices that respond to our information cravings and grants us this accessibility. Smile TV is a provocation to this—it's asking if we can find ways to exert more effort to get the content instead."
The viewer is crucial to transforming the Smile TV from a static object into a performance art piece. Hedberg positioned a single armchair in front of the TV so that only one person can experience the broadcast at a time. He was stunned to learn that a visitor had sat and sustained a smile for 20 minutes in front of the Smile TV currently on display at department store John Lewis. "It put a little pressure on the viewer in the seat," Hedberg admits of his creation. "As people gather around the TV, the person in the chair has to keep smiling to keep the broadcast going. Continuing the broadcast relies on the receptive nature of the viewer."
Newsweek subscription offers >
The device uses a camera and facial-recognition technology to detect whether or not the viewer is smiling. Hedberg distorted the signal by using video software manipulated to "render maximum noise" when there was either no viewer in front of the TV or an unsmiling viewer. "It's really quite fun to play with the space in between as the mouth very accurately decides the level of distortion," Hedberg wrote.
Hedberg's piece first appeared at the London's Royal College of Art degree show this past June. The Smile TV is currently part of an exhibit at the John Lewis 150th Anniversary show on Oxford Street analyzing the future of shopping.
Creepy TV Works Only if You Smile | Tech & Science