'Creepy' USC Gynecologist Dr. George Tyndall Stayed in Job for 30 Years Despite Multiple Complaints
The University of Southern California allowed gynecologist Dr. George Tyndall to keep his job at a student health clinic for nearly 30 years despite repeated accusations of sexual misconduct towards young women.
After an investigation concluded the gynecologist had acted inappropriately, the university allowed Tyndall, 71, to quietly "retire" from his role, without ever reporting the gynecologist or informing patients of the school's findings.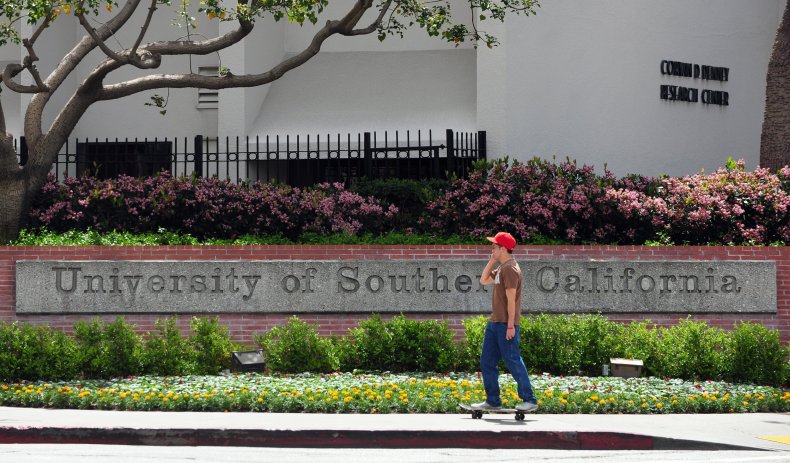 Tyndall is believed to have treated tens of thousands of female students, many of them teenagers, throughout his time at the Engemann Student Health Center, according to the Los Angeles Times.
As early as the 1990s, coworkers and patients accused the gynecologist of inappropriate behavior. Coworkers alleged the doctor had been inappropriately photographing students' genitals. Patients and nursing staff repeatedly accused him of "creepy" behavior, the newspaper reported.
Some accused the doctor of making sexually suggestive remarks about their bodies, while others said they were touched inappropriately during pelvic exams. The gynecologist was also accused of making "racially discriminatory" remarks.
This behavior is alleged to have gone on for decades until 2016, when a nurse finally turned to the campus rape crisis center, leading to Tyndall's suspension.
An internal investigation carried out that same year concluded that Tyndall had "violated the university's policy on harassment by making repeated racially discriminatory and sexually inappropriate remarks during patient encounters," USC said in a summary of its findings, published online on May 15.
Medical assistants who worked with Tyndall also reported concerns during interviews about his practice of a "digital insertion prior to insertion of a speculum," the summary stated.
USC said that the school consulted with a gynecology expert and was told the practice could be considered "acceptable," but an outside firm, MD Review, concluded that the practice was "outdated" and "not current standard of care."
The university said it also consulted two separate external criminal law experts to determine whether Tyndall's alleged conduct could constitute a crime that should be reported to law enforcement and said "both concluded that there was no criminal activity to report."
A review of files kept by former health center director, Dr. Larry Neinstein, who ran the center from 1995 to 2014, found that eight complaints had been formally lodged against Tyndall between 2000 and 2014.
One patient said Tyndall "gave me the skeevies," while another said he made them feel "uncomfortable," with a third condemning him as "unprofessional."
"Several of the complaints were concerning enough that it is not clear today why the former health center director permitted Tyndall to remain in his position," USC admitted.
When the university's investigation concluded in 2017, it began termination proceedings for Tyndall, which it says the gynecologist contested and threatened to sue the school over claiming the university was retaliating against him for complaints he had made about alleged quality of care issues, as well as for his age and gender.
USC said "rather than engage in protracted litigation, the university entered into a separation agreement with Dr. Tyndall in order to sever ties with him immediately," which resulted in Tyndall "retiring" from the practice of medicine.
However, the school says earlier this year the doctor sent a letter to USC asking to return to his position at the student health center, prompting the university to finally report him to the California Medical Board on March 9, 2018.
Read more: Most U.S. flight attendants have been harassed, survey finds
"In hindsight, we should have made this report eight months earlier when he separated from the university," USC President C.L. Max Nikias said in a letter to students and staff.
Nikias called the decades-long incident "deeply troubling" and said Tyndall's comments and behavior throughout his career at the health center were "completely unacceptable" and represented a "shameful betrayal of our values."
"We expect much of people entrusted with the wellbeing of our students," the USC president said. "While we have no evidence of criminal conduct, we have no doubt that Dr. Tyndall's behavior was completely unacceptable," said Nikias.
USC said it is "reevaluating its processes" and determining "under what circumstances it will file a consumer complaint on employed physicians in the future."
The university has now established a dedicated hotline and website urging anyone with additional information about Tyndall to come forward at usc.mycompliancereport.com.