Crescent Mountain Fire Update: Evacuations Underway As Washington Fire Passes 43,000 Acres
Evacuations were underway in eastern Washington state as a fire in the area continued to burn on Thursday.
The fire on Crescent Mountain spread to 43,716 acres—or about 68 square miles—according to the latest information from the National Wildfire Coordinating Group (NWCG). The NWCG noted that the fire was about 35 percent contained, but it also provided a stern warning to the residents in the area near Twisp, Washington, a town of fewer than 1,000 people.
"A Level 3 (GO now) evacuation is in effect for all persons living west of the Little Bridge Creek Intersection in the Twisp River Valley—evacuate NOW, do not wait," the warning from the NWCG read. "A Level 2 (get SET) evacuation is in effect for persons living west of Newby Creek Road to Little Bridge Creek Road in the Twisp River Valley. All persons in the vicinity, including Poorman and Libby Creek areas, are advised to be ready, thinking about what to do if evacuated and preparing defensible space around structures and assets."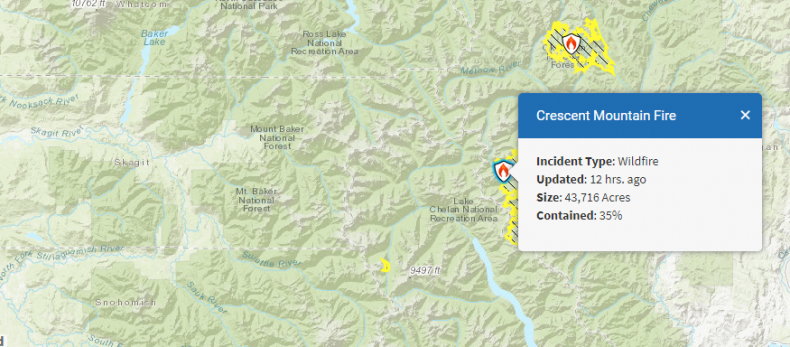 Residents in the area have been evacuated for some time now, first being told to head out on August 21, according to Spokane Public Radio. The fire originated about 20 miles west of Twisp at the end of July. Authorities said it was started by lightning and estimated it would be fully contained by late October.
"The focus today will be holding the fire at current control lines, including the area between West Buttermilk Road and Scaffold Ridge," according to the most recent update released Thursday from the NWCG.
A number of wildfires in Washington state have had a deleterious effect on air quality in nearby Spokane, Washington, a city of more than 200,000 people. After a few days of healthy air, the quality dipped below acceptable levels on Thursday. The rise into levels deemed "unhealthy" came just as kids were set to return to school in the area.
"The darn wildfire smoke is back," Stephanie May, spokeswoman at the Spokane Clean Air Agency, told local newspaper The Spokesman-Review.