Crescent Mountain Fire Update: Evacuation Orders Issued as Wildfire Grows to 31,091 Acres
Evacuations orders were issued in parts of Washington State this week as the Crescent Mountain Fire continued to burn. The fire has swept through some 31,091 acres and was 34 percent contained on Wednesday.
The lightning-caused fire, which ignited on July 29, has prompted level 3 evacuation orders for residents living west of the Little Bridge Creek intersection in the Twisp River Valley. The Red Cross opened a shelter for those affected by the evacuations at the Methow Valley Community Center in Twisp.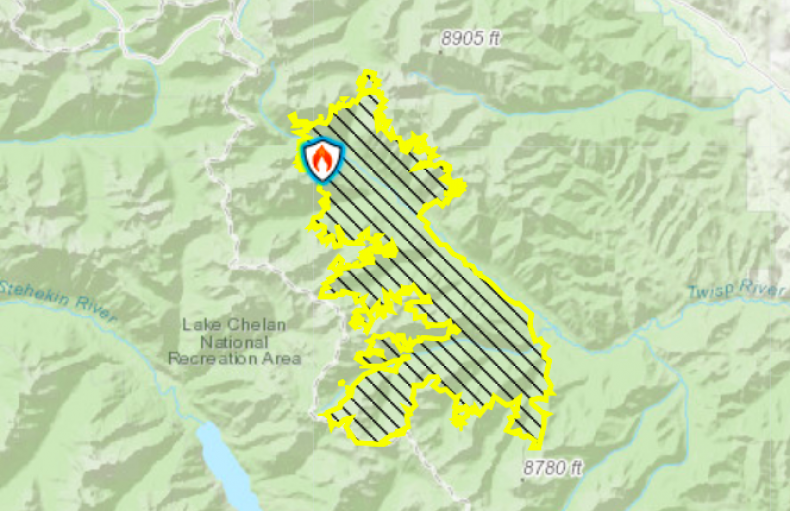 The Okanogan County Emergency Management warned that the fire had crossed Eagle Creek and was moving east.
"With the predicted weather, the fire is anticipated to increase its movement towards the east," the agency said.
Operations Section Chief Derrick Moore said that helicopters were able to use bucket drops on Tuesday to cool the fire's edge near Eagle Creek, as well as drop 15,000 gallons of retardant on Scaffold Ridge to further reinforce the ridge as a containment line. In a Facebook video, Moore warned that winds had changed from a north-northeastern flow to a south-southwestern flow.
More than 300 fire personnel were working to contain the fire.
Officials also announced that additional fire restrictions were implemented on Wednesday. The entire Okanogan-Wenatchee National Forest implemented Stage II Fire Restrictions that would limit the number of activities allowed on the forest. The restrictions will remain in effect "until significant moisture arrives."
"Extreme fire danger with numerous large wildfires is very serious to the forest and our communities," Deputy Forest Supervisor Erick Walker said in a statement. "These fire restrictions will help up prevent unwanted, human-caused wildfires and limit the exposure of area residents and visitors during dangerous fire conditions."
Washington state, like many other states in the western half of the country, is battling several large fires this season. The fires have caused poor air quality in parts of the Pacific Northwest, prompting air quality alerts to be implemented in much of the state, the National Weather Service reported.
Wildfires in British Columbia and the Cascade Mountains are also causing smoky air conditions in the Puget Sound region, the Puget Sound Clean Air Agency said, according to KIRO.
"Air pollution is still at UNHEALTHY levels throughout the Puget Sound region," the agency tweeted on Tuesday. "We expect UNHEALTHY levels to continue on well into tomorrow. We hope to see some learning tomorrow night, but it may take until Thursday to get cleaner air."