SpaceX Crew Dragon Added to Florida Launch Pad Ahead of Test Launch
Ahead of a launch scheduled for later in the month, SpaceX has rolled one of its new crew capsules on the launch pad at the Kennedy Space Center in Florida.
The capsule was rolled out to the launch pad Thursday morning and was expected to go vertical slightly later in the day, Spaceflight Now reported. In addition to the crew capsule the Falcon 9 rocket the capsule is expected to launch on was also rolled out to the launch pad.
The Crew Dragon is expected to have its first demonstration uncrewed launch later in the month. The uncrewed launch is currently scheduled for no earlier than January 17 ahead of any crewed launched for SpaceX or Boeing's commercial crafts.
The Commercial Crew Program is a program designed to help commercial companies and NASA work together to send astronauts to the International Space Station using United States–made rockets and craft.
Currently, the space program relies on the Russian space agency to launch astronauts to space and to get them back from the ISS as well. If the Commercial Crew Program is successful the Crew Dragon and the CST-100 Starliner will be the first time NASA uses private companies to send astronauts to space.
Though the SpaceX launch is still more than two weeks off, getting the craft as well as the rocket on the launch pad is a key move in testing all the systems before the launch. "This is where we see end-to-end how these systems perform and will receive greater insight as we get real flight data. The results of the uncrewed flight tests and abort tests will dictate when we fly crew," manager of the Commercial Crew Program, Kathy Lueders, said, according to NASA.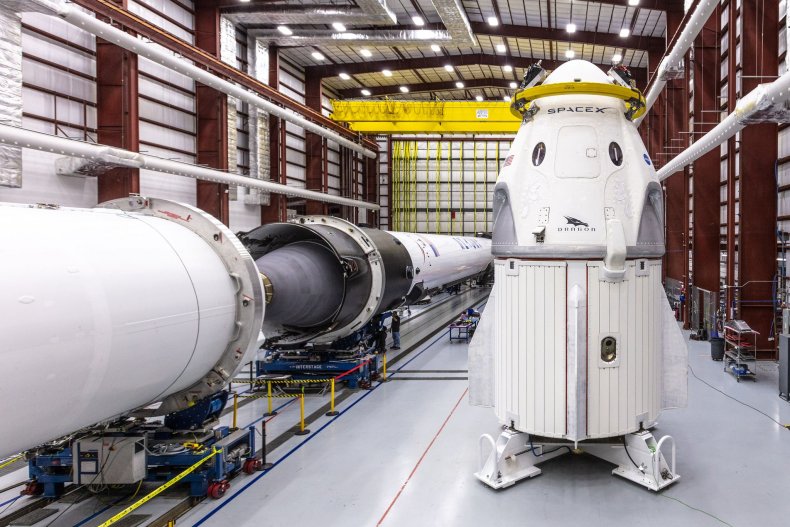 The astronauts chosen to fly on the first manned commercial missions have been preparing to use the new craft and to launch on the commercial rockets.
The first photos of the completed Crew Dragon were released last month and Vice President Mike Pence toured the facility where it was being kept ahead of reaching the launch pad.
After the uncrewed SpaceX mission in January, the next milestone for the Commercial Crew Program will come in March with the uncrewed test flight of the Boeing craft. A crewed test of the Crew Dragon was scheduled for June and the Crewed mission of the Boeing craft was scheduled for mid-2019 or sometime in August. The target launches could change but as of January NASA was aiming to stick to the schedule.​