Crime Likely to Rise in New COVID-19 Lockdown, Police Chief Warns
There will be a rise in crime unless the government does more to tackle poverty, unemployment and homelessness, issues which have been exacerbated by the COVID-19 pandemic, a leading British police chief has warned.
Paddy Tipping, chair of the Association of Police and Crime Commissioners, told Newsweek that he feared a rise in county drug gangs, child sexual exploitation, domestic violence as well as a more general rise in crime, amidst a backdrop of stretched police resources.
While some crimes fell in the first lockdown in the U.K. because of a combination of everyone being at home and even criminals concerned about the risks, hacking attacks and online fraud saw an increase.* There are fears that with local lockdowns being implemented and calls for a second lockdown, there could be further rises in fraud and online crime as well as a rise in overall levels of crime.
Tipping said: "During the lockdown [announced March 23], the early part of the lockdown, crime went down, it's easy to see why, because the night-time economy wasn't operating, there were very few people in the shops so shoplifters were easily identified, lots of people at home, so burglary went down but gradually as we've come out of lockdown, crime numbers have been going up."
According to the ONS, between the months of April and May, when national lockdown restrictions were at their harshest, data showed a significant reduction, 32 percent, in total crime, excluding fraud and computer misuse, compared with a two-month average in the pre-lockdown period.
Crime was reduced so significantly that academics are already asking questions like "what can be learned from this experience to leverage crime reduction in the future?" and referring to COVID-19 as the "biggest criminology experiment in history". If only it was as simple as forcing everyone to stay at home the entire time.
Now we're in a different stage of the pandemic, the real impact of lockdown, with unemployment set to increase sharply. Poverty and unemployment have always been linked to crime, with higher levels leading to increases in crime.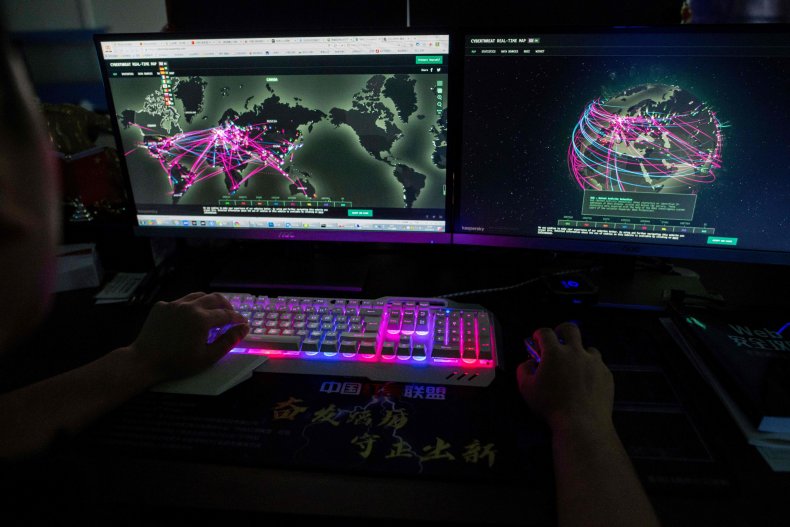 Tipping, who himself is police and crime commissioner for Nottinghamshire, said: "I think there will be a general trend of crime increasing but again, during the lockdown, we've seen a rise in online crime I think that will continue. I think the issue of county lines is real and alive, the police, both regionally and nationally, are trying to mobilize.
"It's a real threat, it's an issue that colleagues at the Home Office think is a tough issue and I suspect we'll be putting extra resources into that going forward. If people lose their housing, if people are without jobs without adequate support, adequate income, I think just as night follows day, we'll see real difficulties going forward."
As more British people began working from home due to the pandemic, hackers launched a wave of cyberattacks, praying on vulnerable people who are not familiar with computer systems. According to data from cybersecurity company Darktrace, the percentage of hacking attacks targeting home workers increased from 12 percent of malicious email traffic before the U.K.'s lockdown in March to more than 60 percent six weeks later.* Darktrace also says there has been a 400 percent increase in cyberattacks against virtual collobrations such as Zoom, Microsoft Teams and Dropbox in September compared to February.
The shift to online shopping as retail stores shut their doors, was also exploited by fraudsters, with fraud increasing by 66 percent in the first six months of the year according to Barclays Bank data.*
Tipping also thinks that demands to police the pandemic, by fining those flouting COVID-19 regulations as well as tackling day to day crime have further stretched already limited resources, which could affect prosecution levels.
"Since 2010, we've lost 20,000 officers, the prime minister has promised over three years we'll gain an extra 20,000 officers, we're partway through that process at the moment but are we back where we were in 2010? No, we're not. Are we under pressure? Sure, we are."
There are a number of different types of crime that are affected by current conditions. You wouldn't, for example, risk arrest in 2019 just for having a barbecue attended by 20 people. But the more organized and "professional" criminals are being resourceful and finding new revenue streams. Research company Roke argued that so-called staycation hotspots around the U.K. will see an influx of criminals as those on holiday remain within the country but are more likely to be victims of crime in an unfamiliar location.
Then there is a whole host of hate and domestic crimes that already showed a sharp increase in the first lockdown and are likely to again. During the first few months of lockdown, more than 40,000 calls had been made to the National Domestic Abuse Helping, with the charity saying that calls had increased by 77 percent in the month of June.
The NSPCC said that reports of physical abuse against children increased by 53 percent between April and July as people were left alone more often and, with lockdown returning, the risks do too.*
"I think that there are two or three different types of crime that we're going to see escalating," criminologist Dr. Simon Harding, professor of criminology at the University of West London and heads of the National Center for Gang Research, tells Newsweek. "Domestic violence is definitely going to be one of those and sadly not too far from that is child abuse, including child sexual abuse or sexual exploitation. Perhaps the biggest increase will be online fraud."
Dr. Harding is particularly concerned about the rise of county lines drug gangs, where drug dealers use children and young people to traffic drugs into rural areas and smaller towns.
"You would have families where the main breadwinner has lost their job and it may just be a single family and maybe the mother is now out of a job so there's no real money coming into the house," he says. "I've been made aware of cases where the parents have pushed the young man out of the house and said you need to go and bring something to the table.
"What that really means is that you have to go and make money for us so we can buy food and not many questions are asked about what that means. It can be illegitimate as well as being legitimate, so the expectation is that they go off and get involved in drug dealing of some kind because they're now the major breadwinner for the family."
Drug gangs have adapted during the pandemic, with the National Youth Agency saying there had been a 'recruitment drive' during the lockdown and the children's commissioner warning that with schools and youth clubs closed, thousands of vulnerable young people had "simply gone off the radar".
What can the government do to prevent a rise in the types of crimes that Dr. Harding most fears?
"For domestic violence, it's about having access to support and sufficient opportunities for women to access refuges if they need to leave their home quickly or as an emergency," he says. "Youth work, support and mentoring have all been cut and it's not taking place during the COVID crisis. Young people who might be at risk of gang affiliation have simply not had the guidance and the structure and the people listening to them."
Unless more is done to tackle poverty, homelessness and a sense of hopelessness, a rise in crime could be an added problem for the government to contend with, as it grapples with an economic and health emergency.
*Study methodology and notes
Scams increased by 66 percent this year between January and June, according to data from Barclays Bank with a 7 percent increase from June to July 2020
Darktrace figures shown to Newsweek reveal that the proportion of hacking attacks targeting homeworkers before the lockdown began in March was at 12 percent rising to more than 60 percent six weeks later
An ONS report based on the Telephone-operated Crime Survey for England and Wales (TCSEW) found a 32 percent reduction in total crime excluding fraud and computer misuse during April and May 2020 compared with a two-month average in the pre-lockdown period.
The NSPCC report reveals that its helpline received an average of 1,066 contacts a month from April to July from adults with concerns that a child or young person was being physically abused - up 53 percent on the pre-lockdown average.