Who is Zachary Castaneda? California Stabbing Spree Suspect was Known Gang Member Jailed 14 Times Since 2016
A man from Southern California who killed four people in a stabbing spree should have been in jail ,but state law freed him to target innocent citizens, police have said.
Detectives say that Zachary Castaneda, 33, could have found more victims had he not been arrested on Wednesday after six stabbings and three robberies over two hours on Wednesday.
The violence started on Wednesday with the reported burglary of a bakery just after 4 p.m. Casteneda then allegedly returned home and stabbed two men to death outside his apartment complex. The men were his roommates, the Associated Press reported.
An hour later he allegedly robbed a Cash & More store and stabbed a woman multiple times at Best One Insurance in another armed robbery. Chilling footage of the attack showed the woman cowering in the corner of the office.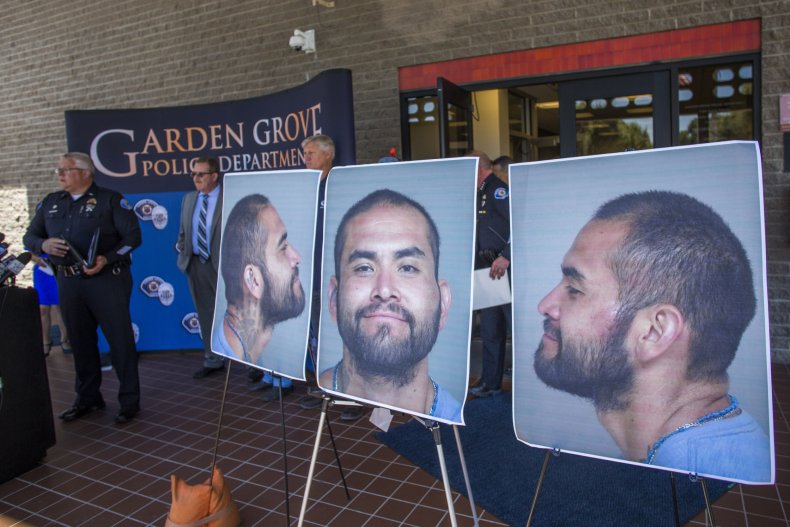 Police say Castaneda's next victim was a customer he stabbed to death at a Subway restaurant in Santa Ana. He then allegedly stabbed a security guard to death at a 7-Eleven.
Police restrained Castaneda as he emerged from that convenience store covered in blood.
Castaneda had a long criminal record, including jail terms for possession of meth for sale and car theft.
Garden Grove police Chief Tom DaRe said Castaneda was a "violent individual" who should have kept him in prison, where he's been 14 times since June 2016.
He blamed Assembly Bill 109, legislation which was brought into law in 2011 by California lawmakers to try to reduce the prison population.
It aimed to shift some offenders into county jails but it also allowed Castaneda to get an early release from prison on many of the crimes he was accused of.
"He could have injured or killed many other innocent people," he said.
"Based upon his prior arrest record, he is a violent individual who should have never been considered for early release based on Assembly Bill 109," he said, according to CBS Los Angeles.
"As a police chief, I implore our policy makers to reconsider their policies on criminal justice. The pendulum has swung so far that it is increasingly difficult to keep our communities safe from the rise in violent crime.
"California law enforcement agencies have been crippled by Assembly Bill 109 and offenders are not being held accountable for their crimes."
Court records show that Casteneda's wife, Yessica Rodriguez, got a restraining order against him and had sought one in 2009 when he broke her arm during a fight. She got custody of two sons, aged seven and 12, after the couple divorced.
Who is Zachary Castaneda? California Stabbing Spree Suspect was Known Gang Member Jailed 14 Times Since 2016 | U.S.