Crimea was rocked by another night of "powerful" explosions, a day after Ukrainian naval drones and a cruise missile struck a shipyard in the port of Sevastopol, reportedly damaging two Russian warships that had been undergoing repairs.
Russia's Defense Ministry said in a statement that on Thursday morning, air defense systems destroyed 11 Ukrainian aircraft-type drones in the Black Sea peninsula, which was illegally annexed by Russian President Vladimir Putin in 2014.
Strikes on the Black Sea peninsula have become more frequent in recent months amid Kyiv's counteroffensive to reclaim territory occupied by Russian forces. Ukrainian President Volodymyr Zelensky has pledged to undo Putin's annexation of Crimea.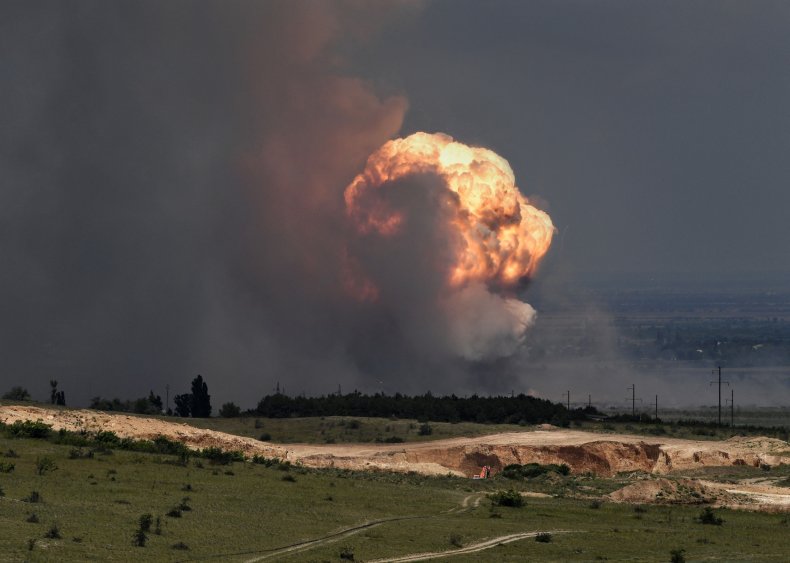 Residents of Crimea's Yevpatoria, Zaozerne and Uyutne districts reported explosions since the early morning, according to Ukrianian Russian Telegram channels, which published multiple videos and photos showing huge blasts and plumes of smoke rising into the air.
"Several powerful explosions rang out in occupied Yevpatoria, a local resident told Suspilne," wrote the Ukrainian Telegram channel.
The "Crimean Wind" Telegram channel reported that the explosions began after 5 a.m. local time on Thursday morning after "drones arrived," and blasts in Yevpatoria caused many "houses to shake."
There are several military units located in the Yevpatoria area, according to local media. The district is also located near the Saki military airfield, which has been targeted on multiple occasions.
Ukraine hasn't claimed responsibility for the strikes.
But the spokeswoman for the southern military command, Nataliya Gumenyuk, appeared to hint at involvement from Kyiv on Thursday, saying on national TV: "The concentration of military facilities, the presence of an airfield nearby—all this suggests that the work is being carried out absolutely as planned. The goals are legitimate, entirely military."
And unnamed Ukrainian intelligence sources told local news outlet Lb.ua that the strikes were a special operation, led by the Security Service of Ukraine and the Naval Forces, that destroyed a Russian S-400 "Triumf" mobile surface-to-air missile system.
Newsweek couldn't independently verify that claim and has contacted the Russian and Ukrainian foreign ministries.
On Wednesday, the Russian Defense Ministry said Ukraine had fired 10 cruise missiles overnight against the key naval base in Sevastopol and that Russia's Black Sea Fleet was targeted by three seaborne drones. Kremlin-installed officials in Crimea said a blaze that broke out at the S. Ordzhonikidze ship repair plant injured at least 24 people.
Do you have a tip on a world news story that Newsweek should be covering? Do you have a question about the Russia-Ukraine war? Let us know via worldnews@newsweek.com.
Update 09/14/23, 4:12 a.m. ET: This article was updated with additional information.