Crimean Leader: Kremlin Will Disintegrate If Putin Loses Key Peninsula
The Kremlin will begin to disintegrate should Ukraine recapture Crimea, the Black Sea peninsula illegally annexed by Russian President Vladimir Putin in 2014, a Crimean official said.
Refat Chubarov, a Crimean Tatar leader, made the remarks in an interview with Ukraine's Radio NV in a video published on Thursday. It comes amid reports that Russians are fleeing Crimea to the neighboring Russian region of Krasnodar because they fear Ukraine will eventually liberate the Black Sea peninsula.
He said Putin's government will begin to collapse as Ukraine's Armed Forces get closer to recapturing Crimea, adding that the peninsula is of exceptional importance to the Russian leader.
"This Ukrainian territory is extremely important for Putin. This is the question of his life, and not only political," Chubarov said. "Therefore, it is clear that Russia, especially at the stage of inevitable defeat, will stimulate all its agents and all its forces in order to keep Crimea for itself."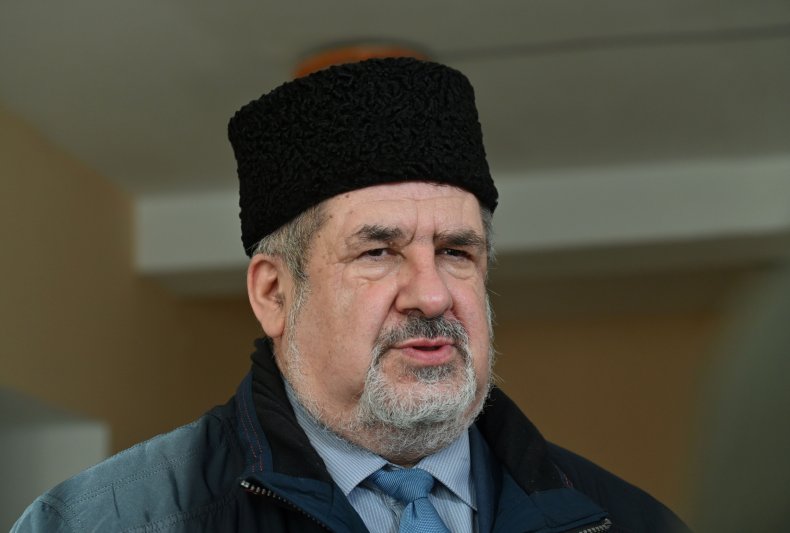 Ukrainian President Volodymyr Zelensky vowed to take back Crimea during a televised address on August 29, saying that Ukraine's military had "kept the goal" of recapturing Crimea since it was annexed.
"This war, which began with Russia's occupation of our Crimea, with an attempt to seize Donbas, must end precisely there—in the liberated Crimea, in the liberated cities of Donbas, with our troops reaching the state border of Ukraine," he said. "We have always kept this goal in mind. We do not forget about it.
"This will happen. This is ours. And just as our society understands it, I want the occupiers to understand it, too. There will be no place for them on Ukrainian land....The occupiers should know: We will oust them to the border. To our border, the line of which has not changed. The invaders know it well."
Zelensky warned Russian troops to either flee or surrender "if they want to survive."
The British Ministry of Defence assessed on November 18 that Russia is regrouping its forces in preparation for a potential Ukrainian push into Crimea. It said Russian units have constructed new trench systems near the border of Crimea.
Emil Ibragimov, the head of the Crimean project and educational platform Q-Hub, told Radio NV in a clip published on November 18 that many Russian citizens who settled in Crimea after it was occupied eight years ago have already left in anticipation of a Ukrainian advance.
"That is, we see this trend and can conclude that this is, of course, panic and fear that the [Ukraine] Armed Forces will be able to liberate Crimea in the near future," Ibragimov said.
Tamila Tasheva, Zelensky's permanent representative in Crimea, told Politico this week that she is hopeful Ukraine will be successful in its effort to take back the peninsula.
Russian Foreign Ministry spokeswoman Maria Zakharova was quoted by state-run news agency RIA Novosti on Wednesday as saying that Ukraine's plans to recapture Crimea "by force" confirm "the presence of threats from Kyiv."
Newsweek reached out to Russia's foreign ministry for comment.
Do you have a tip on a world news story that Newsweek should be covering? Do you have a question about the Russia-Ukraine war? Let us know via worldnews@newsweek.com.