Crimea School Attack: Information Wiped From Computer of Teenager Who Killed 20 People, Official Says
Officials searching the home of the teenager who detonated a bomb and went on a shooting spree that killed 20 people and injured dozens more on Wednesday found a computer but discovered that all of the information had been deleted.
"When they did a search and saw the computer, all information, messages and such had been deleted," Lyudmila Lubina, Crimea's human rights ombudswoman, told Russian news agency Tass, according to the Associated Press.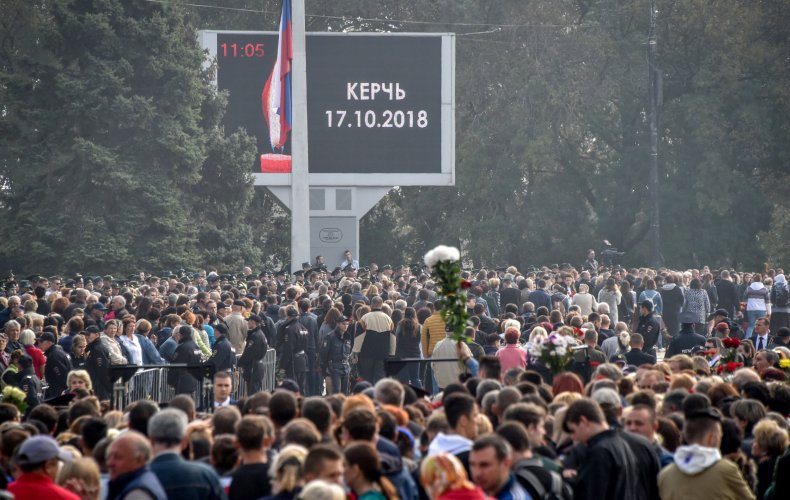 It remains unclear why 18-year-old Vladislav Roslyakov, a fourth-year student at Kerch Polytechnic College in Crimea, decided to launch an attack on his school, according to authorities. However, they suspect that a second person could have helped Roslyakov plan the attack. But the computer's missing data may hinder further investigations.
After setting off an explosive device, Roslyakov reportedly walked through the school's hallways shooting at fellow students and teachers until he ran out of ammunition. He then killed himself.
Although his motive is still unclear, the shooter's friend told Russia's RBC TV that Roslyakov "hated the technical school very much," adding that he wanted to "get revenge" against his teachers. Security camera footage shows the suspect wearing a white T-shirt and black pants, a similar outfit to the one worn by Eric Harris, one of the shooters from the 1999 school shooting at Columbine High School. Another friend said that Rolsyakov expressed interest in the Colorado shooting.
"The main hall was all covered in smoke, all the glass was broken, there were corpses, injured people everywhere. I thought this was a dream," Daniil Paytkov, a student at the school told VKontakte, a Russian social media platform, The New York Times reported.
Local residents paid their last respects to the victims in Kerch's central square on Friday amid strict security measures.
"Crimea's modern history will now be divided into two parts, the life before October 17 and the life after October 17," Sergei Aksyonov, the head of Crimea appointed by Russia said, before placing flowers on each of the 17 coffins brought to the site, according to Radio Free Europe/Radio Liberty.
Meanwhile, Russian President Vladimir Putin said on Thursday, "It's a result of globalization. On social media, on the internet, we see that there is a whole community that has been created. Everything started with the tragic events in schools in the U.S."
Ukrainian President Petro Poroshenko also expressed his condolences following the shooting, saying that authorities launched criminal proceedings.
"Why is it so important to us? Because these are Ukrainian citizens. And of course, when Ukrainian citizens are killed, wherever it happens, it's a tragedy," Poroshenko said, according to the Ukrainian Independent Information Agency.