Crimean City Scraps Navy Event After Drone Attack on Black Sea HQ: Official
Officials have canceled Navy Day celebrations in Russian-occupied Crimea following an alleged Ukrainian drone attack at the country's Black Sea Fleet headquarters in Sevastopol.
Sevastopol governor Mikhail Razvozhayev wrote in a Sunday, July 31, Telegram post that the event in the city would be canceled after five people were injured in the alleged Ukrainian attack, according to Reuters.
Navy Day is a national holiday in Russia, that celebrates sailors and is held on the last Sunday of July each year.
Reuters reported that Razvozhayev said in the post: "An unidentified object flew into the courtyard of the fleet's headquarters. According to preliminary information, it is a drone."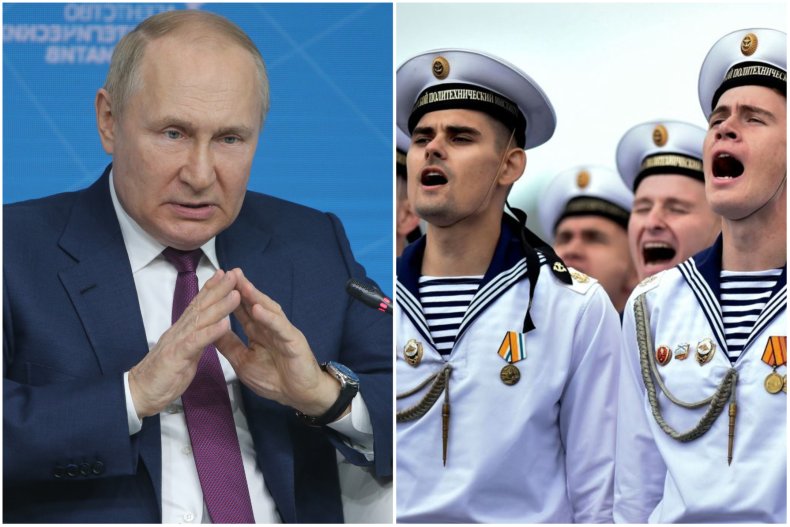 He later added: "All celebrations have been canceled for security reasons. Please remain calm and stay home if possible."
The governor said the five people who were injured in the alleged Ukrainian attack were employees at the fleet headquarters and that the Federal Security Service was now investigating what happened, the news agency reported.
While the event in Sevastopol will be canceled, celebrations will take place across Russia and President Vladimir Putin attended a parade in his home city St. Petersburg.
According to the BBC, Ukrainian official Serhiy Bratchuk, head of the Odesa regional military administration, dismissed the Russian claims and branded them a "provocation."
He added: "The liberation of our Crimea will take place differently and much more efficiently."
Russia annexed Crimea in 2014 in a move that was widely condemned by the international community as illegal and led to sanctions against Moscow.
Newsweek has contacted the Kremlin and the office of the Ukrainian President for comment.
Russia has faced international condemnation following a strike on Olenivka, in the Russian-backed self-declared Donetsk People's Republic where more than 40 Ukrainian prisoners of war were killed earlier this week.
Ukrainian President Volodymyr Zelensky said in a July 29 Telegram post that the attack was "a deliberate mass murder" and said those responsible should be "held accountable."
He added: "There should be a clear legal recognition of Russia as a terrorist state. Russia has proven with numerous terrorist attacks that it is the biggest source of terrorism in today's world. It's a fact."
Moscow has claimed Ukraine was behind the attack.
Earlier this week U.S. Senators Lindsey Graham (R-S.C.) and Richard Blumenthal (D-CT) passed a resolution that called on the Biden administration to label Russia and Putin as "sponsoring acts of terrorism."
But U.S. Secretary of State Anthony Blinken has resisted the call, according to the New York Times.
At a Thursday news conference, Blinken said the decision should be based on legal definitions and said it would have little effect as Russia was already subject to numerous sanctions.
Currently, there are four countries that are designated as state sponsors of terrorism, namely Cuba, North Korea, Iran and Syria.