Crimean Tatars Fear Increasing Persecution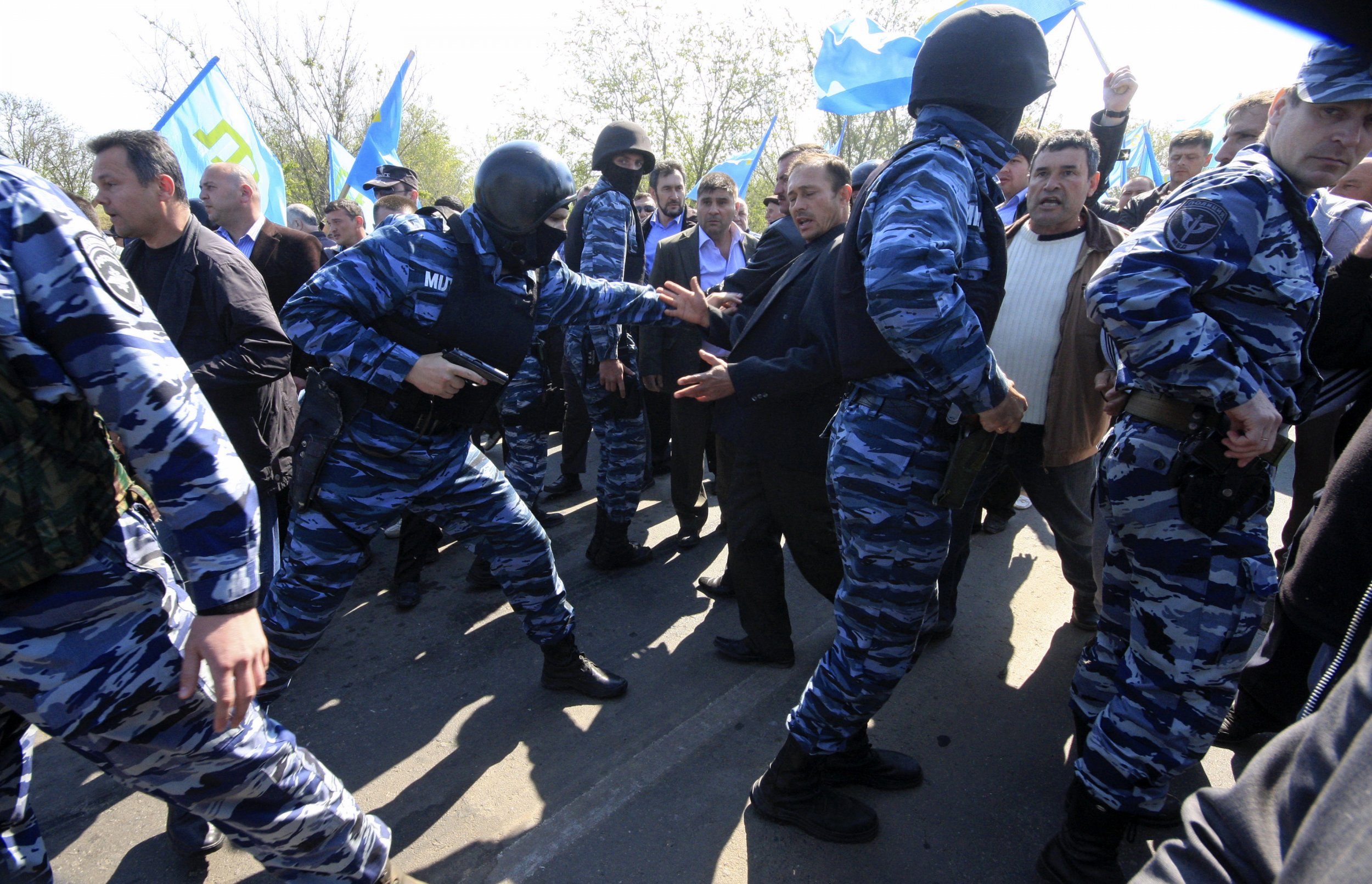 Human rights groups are warning that the persecution of Crimean Tatars, who make up around 13% of the population, is worsening, with an alarming increase in police raids, interrogations and arrests, sparking fear and unrest amongst the community.
According to Amnesty International, since Russia annexed the Crimean peninsula in February 2014, harassment and violence against the Tatars, a Muslim ethnic minority, has been growing. Many Crimean Tatars boycotted the 'referendum on the status of Crimea' which took place on 16 March 2014.
"Tatars are increasingly bearing the brunt of restrictions on their basic freedoms, such as their freedom of assembly, of association and expression," says Krassimir Yankov, a researcher for Amnesty International based in Ukraine.
"The problem is definitely getting worse," Yankov says. "There was a relative calm in December and January, but more and more Tatars are being searched and interrogated which shows that no one is safe if you go against the authorities and power."
Yankov say that bans on mass meetings of Tatars, increased searches and interrogations, and an increase in activists being arrested has left the Tatar population feeling intimidated and scared.
Human rights groups have also expressed concern over a crackdown on the freedom of media in Crimea. As with other outlets,Tatar-language media have been forced to apply self-censorship, and prevented from using words like 'annexation', 'occupation', or 'terrorists' in reference to the pro-Russian rebels in eastern Ukraine.
There are fears that ATR, the only Crimean Tatar TV channel, and the only independent mass media left in Crimea, will be shut down, after raids last week on their Simferopol office. Some of the channel's staff were detained and their equipment confiscated. It has been accused by the de facto authorities of spreading extremism.
"Tatars are fearful," Yankov continues. "They are worried and scared and they see these persecutions as a campaign against them. They tell us they are afraid to send their children to school, or to go to university or work."
So-called 'extremist literature' is also being banned, with the authorities conducting raids on private properties as well as schools and universities and imposing fines on those found with such material. The books are mainly Islamic books, widely read by all Muslims, according to Yankov.
"Rights abuses in Crimea have surged in the last year," says Yulia Gorbunova of Human Rights Watch. "Russian and local authorities are particularly targeting Crimean Tatars, as well as activists and journalists opposed to Russia's actions in Crimea."
"Authorities have used Russia's vaguely worded and overly broad 'anti-extremist' legislation to issue warnings to leading Crimean Tatar media outlets not to publish 'extremist materials' and threatened editors that the outlets will not be allowed to re-register unless they change their 'anti-Russian' editorial line," Gorbunova says.
One Tatar resident, Iskender Bakhchisarai, told Ukraine Today: "There is a list of banned literature which we have never had before in our life. It is a bit unclear what it is, whether we cannot read it or keep it. It already means certain risks, now I have to control what I have in my mobile phone, or on my bookshelf. I've noticed that people have started to control what they are saying."
When the house of Akhtem Chiigoz, the deputy head of the Mejlis — the Tatar representative assembly — was searched in January, following his arrest, Amnesty reports that his wife was mistreated by the Russian investigators.
Despite it being considered an insult for unknown men to be in the presence of a lone female in Tatar tradition, Chiigoz's wife was the only person present in the house at the time of the search. She was not allowed to call for a witness while the property was searched and the investigators reportedly made demeaning remarks about her and her religion during the raid.
Chiigoz was taken into custody in January on suspicion of organizing "mass disorder" in front of Crimea's parliament in Simferopol city in February 2014, when Crimean Tatars and other pro-Ukrainian activists had clashed with pro-Russian activists.
"The authorities have made it virtually impossible for the Mejlis to continue functioning," says Gorbunova. "We are also concerned with the lack of effective investigations into several enforced disappearances over the course of last year in Crimea of pro-Ukraine activists and Crimean Tatars. Some of those disappearances implicated local paramilitary groups, backed by local authorities."
Last year, two Crimean Tatar activists were seen bundled into the back of a van, yet despite the promise of a criminal investigation, their whereabouts are still unknown. At the beginning of January, three Crimean Tatar activists were expelled indefinitely from their homeland, according to Human Rights Watch.
The entire Crimean Tatar population was deported from Crimea by the Soviet authorities under Stalin to Central Asia in 1944. Crimean Tatars were prohibited from returning to their homeland until the late 1980s, and were granted a degree of protection and recognition from the Ukrainian authorities.