Criminal Investigation Into Possible Misconduct by District Attorneys Involved in Ahmaud Arbery's Case Will Proceed in Georgia
The Georgia Bureau of Investigation (GBI) will proceed with a formal examination into possible misconduct by District Attorneys offices involved in Ahmaud Arbery's murder case, the agency confirmed on Tuesday.
Responding to a request from Attorney General Chris Carr, the GBI announced it will open a criminal investigation to evaluate whether prosecutors previously assigned to the case mishandled its proceedings.
Carr's request, issued Monday, raised questions about two district attorneys from the offices of Brunswick and Waycross Judicial Circuits. Specifically, it cited concern "that the actions of these offices in possibly misrepresenting or failing to disclose information during the process of appointing a conflict prosecutor to investigate the death of Ahmaud Arbery may have constituted unprofessional conduct" in addition to "other crimes."
Since 25-year-old Arbery was shot and killed while jogging on February 23, two district attorneys recused themselves from his case. The first, Brunswick Judicial Circuit District Attorney Jackie Johnson, stepped down due to conflict of interest, as one of the suspects was formerly her employee. The second, Waycross Judicial Circuit District Attorney George Barnhill, stepped down later for a similar reason, saying his son—a district attorney in Johnson's office—was involved in a prior case concerning Arbery. The prior case also involved one of the current suspects in Arbery's murder, Gregory McMichaels, a retired investigator for the Brunswick District Attorney's Office.
Carr's letter pointed out that Barnhill's letter requesting recusal "failed to disclose his involvement in this case prior to his appointment," noting that the DA had already provided his opinion about the Arbery case's suspects to Glynn County police in February. The opinion, later recovered by Carr's office, said Barnhill did not believe there was reason to arrest Gregory and Travis McMichael, the father and son involved in the shooting that led to Arbery's death. The suspects were not arrested until last week, after a video of their altercation with Arbery surfaced online.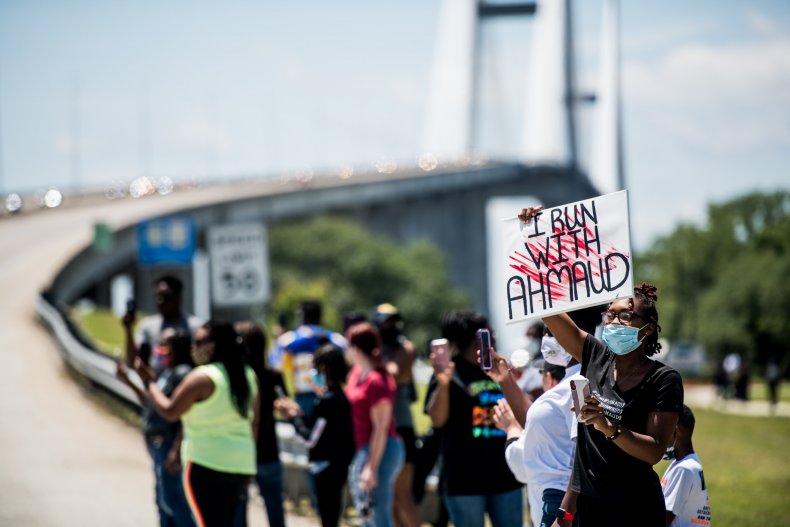 The GBI's investigation announcement followed its release of Arbery's official autopsy report, obtained by Newsweek on Tuesday. The report classified Arbery's death a homicide and confirmed the cause of death was due to multiple shotgun wounds, two of which entered his chest after having been fired at "close range." The report said his injuries were "sustained during a struggle for the shotgun," as shown in the recently released video. It noted another gunshot wound to Arbery's right wrist, as well as abrasions present on numerous areas of his body.
Arbery's case has garnered increased publicity since the video's release last week. On Monday, a new prosecutor was appointed to lead the case, Cobb District Attorney Joyette Holmes.
Addressing Arbery's death during a news conference on Tuesday, Georgia Governor Brian Kemp said he holds "great confidence" in Holmes and believes "truth and justice will prevail" as Arbery's case moves forward.
"It has been an emotional time, and our prayers remain with his family, loved ones, and the community as a whole," Kemp said. "There are many questions that have yet to be answered. And frankly, Georgians deserve the truth."
The case has also been referred by Carr to the U.S. Department of Justice, who are investigating Arbery's death and could file federal hate crime charges.