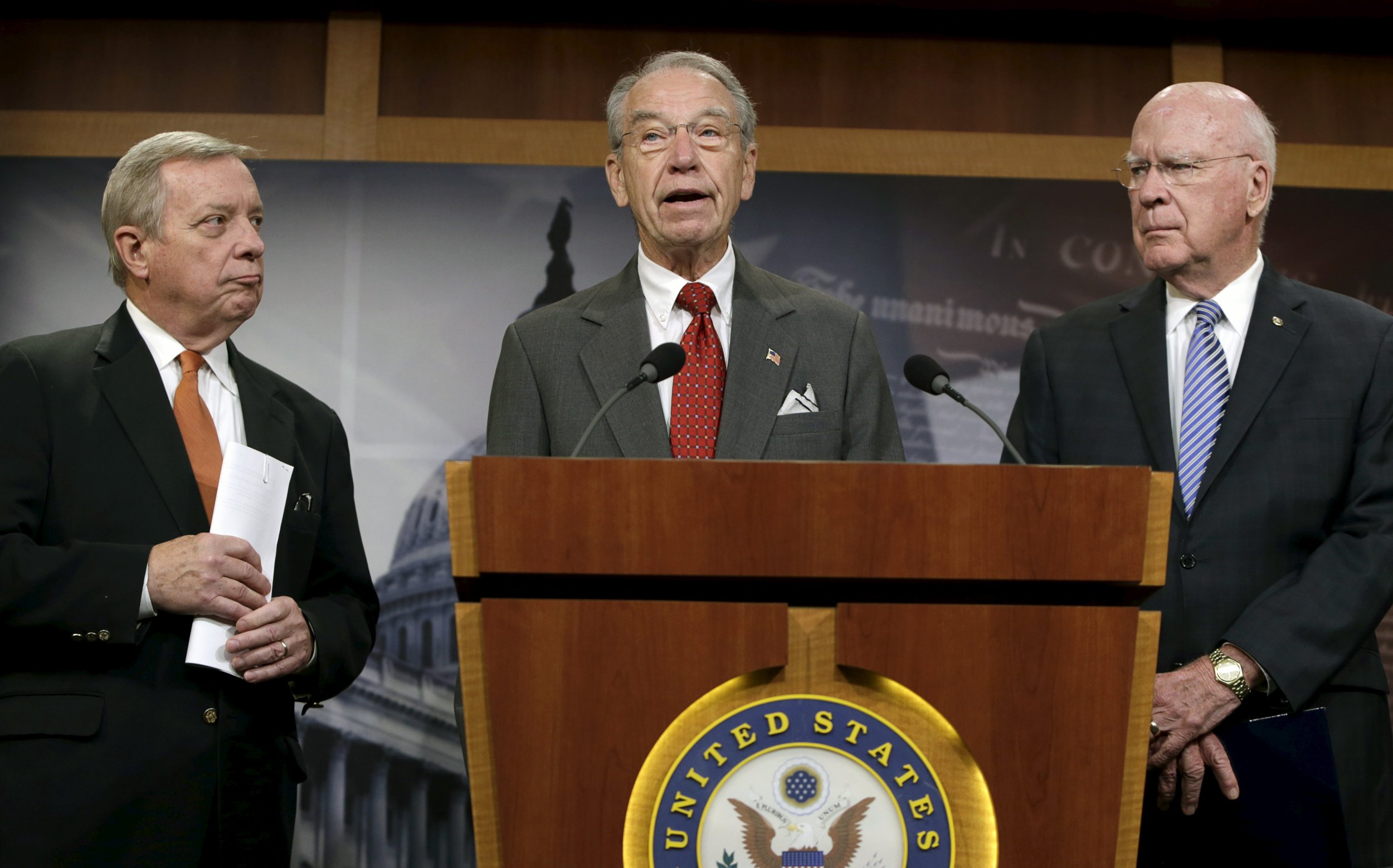 A group of six senators headed by Republican Chuck Grassley, chairman of the Senate Judiciary Committee, announced a rare bipartisan criminal-justice bill Thursday morning, just a day after Congress voted to keep the government open with a temporary funding measure.
If passed into law, the Sentencing Reform and Corrections Act of 2015 would reduce penalties that apply to repeat drug offenders and eliminate the "three strikes" mandatory life sentence. Grassley called it "the biggest criminal justice reform in a generation."
"There are things in here that each of us like," he added. "There are items that each of us would rather do without. This is how the process works in the Congress."
The bill reforms drug sentencing while also creating new mandatory minimums for interstate domestic violence crimes, both of which should please Democrats. Republicans secured a provision giving greater flexibility to courts in determining sentences for firearm offenses. The two sides praised the bill's prison reform aspect, which would assign inmates to work and education-related rehabilitation programs.
The announcement's celebratory tone sharply contrasted with the two parties' attacks on each other during gridlock over government funding in the past month. Mike Lee, a Utah Republican who has been one of the leading voices in the Senate for defunding Planned Parenthood, co-sponsored the bill. A former attorney, he noted the extremity of repeat marijuana sentencing provisions in his home state, citing an offender who was caught selling marijuana three times in 72 hours.
"Our minimum mandatory sentencing laws within the federal system...produced a 55-year minimum sentence.... This man had clearly made some mistakes, but he didn't deserve to be in prison until he was 80," Lee said.
The bill comes at a time when there's growing bipartisan support for reforming the expanded sentencing laws of the past 25 years. On the campaign trail, candidates as disparate as Rand Paul and Hillary Clinton have argued for sentencing reform, as has Chris Christie, a former federal prosecutor.
If the bill passes in Congress and is signed by the president, it would mean that "nonviolent drug offenders aren't gonna stay in prison forever," said Senator Chuck Schumer of New York. President Barack Obama, who has come out in favor of reforming the criminal justice system and earlier this year commuted the sentences of 46 drug offenders, would likely sign the bill into law. But the co-sponsors are nervous that the bill could still have many conservative opponents and may be hampered by amendments, according to the Los Angeles Times.
Getting Grassley to support the bill was not easy for the Democrats. "Crafting sentencing reform in this Congress is like a Rubik's cube," Schumer said. He gave most of the credit for spearheading the effort to Senator Corey Booker of New Jersey, who said that the reforms would go a long way toward addressing racial and socioeconomic inequality ingrained in the justice system.
"The system is so broken that it's holding back our economy in ways people don't understand," Booker said, arguing that the U.S.'s famously long incarceration rates and treatment of inmates leads to greater recidivism and reduces the chances that rehabilitated criminals will contribute to the economy.
"At a time when some see the Congress as being dysfunctional...we might give an example of what happens when you have people who wanna sit down and work and do something right," said Senator Patrick Leahy of Vermont.