Criminal Justice Professor Gary Maynard Charged in Arson Spree Near Dixie Fire
A college professor has been arrested in connection with a series of arsons in forest areas that sit near the ongoing Dixie Fire in Northern California.
On Tuesday, Gary Stephen Maynard, 47, was held at the Sacramento County Jail for allegedly setting fires in Lassen National Forest and Shasta Trinity National Forest starting on July 20. After appearing in court, assistant U.S. attorney Michael Anderson made a request for Maynard to not be released from police custody, saying that there was no way to release him "that could ensure the safety of the public."
"Over the course of the last several weeks, Maynard has set a series of fires in the vicinity of the Lassen National Forest and Shasta Trinity National Forest," Anderson told Judge Kendall J. Newman. "The area in which Maynard chose to set his fires is near the ongoing Dixie fire, a fire which is still not contained despite the deployment and efforts of over 5,000 personnel."
"Depending on wind direction, smoke from this fire has engulfed the federal courthouse here in Sacramento and has been experienced several states away," Anderson concluded.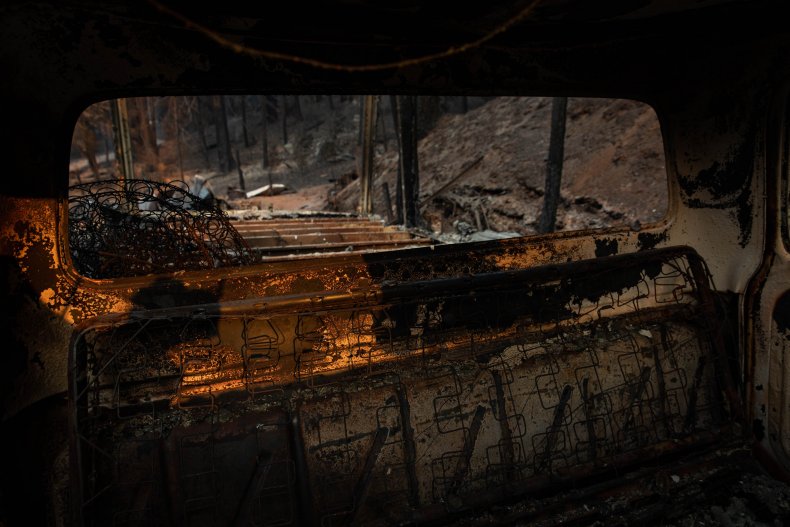 On July 20, Maynard was stopped by authorities after a group of mountain bikers reported a fire in the Shasta Trinity National Forest.
U.S. Forest Service investigator Brian Murphy found Maynard underneath his black Kia Soul as the car's front wheels were lodged into a ditch.
"Murphy introduced himself as an official with the Forest Service and requested the man's name," according to court documents. "This man did not come out from under the vehicle and did not identify himself, but instead stayed under the vehicle and mumbled words that Murphy could not understand."
After Murphy attempted to ask Maynard questions regarding the fire, Maynard stated that he didn't know anything about any fires. Maynard asked Murphy to help him remove his car from the ditch, but once he refused, Maynard became "uncooperative and agitated," and crawled back under the vehicle.
A witness that was near the area told authorities that Maynard seemed angry and brandished a large knife. The witness also stated that Maynard was "mumbling a lot and having bipolar-like behavior," according to U.S. Forest Service Special Agent Tyler Bolen.
On July 21, a second fire was reported within the same area. While on the scene, investigators discovered that tire tracks matched those of Maynard's Kia, according to court documents.
Maynard was arrested on the same day inside the emergency closure area forced by the Dixie Fire, according to court documents.
Authorities received clearance to track Maynard's movements via cell phone to determine his whereabouts regarding the previous fires. A vehicle tracker was also placed on Maynard's Kia during a routine stop on August 3. Investigators tracked Maynard's movements, including to the area where a recent fire occurred at Lassen National Forest.
Maynard was charged with a criminal complaint of willfully setting a fire in Lassen County on August 7. He faces up to five years in prison and a $250,000 fine.
Judge Newman believes that mental health issues could be the cause of these fires and has ordered Maynard to remain in custody until Wednesday for further sentencing.
The Dixie fire, which started on July 14, has become the largest single wildfire in California's history. The blaze is threatening more than 14,000 structures in mountain and rural communities and has destroyed nearly 900 homes, according to the Associated Press.