'Criminal Minds': Kirsten Vangsness Previews Garcia 'out of Her Element' in the 'pretty Harrowing' Season 14 Premiere
The resolution of the Criminal Minds Season 13 finale cliffhanger won't just affect the two characters, Garcia and Reid, at the center of it. The events of the milestone 300th episode will impact the team—but especially Garcia—in future episodes.
The Season 14 premiere is "a pretty harrowing episode" and "to do [it] was scary," Kirsten Vangsness told Newsweek. "Just the locations we were in and the stuff Garcia does in the episode are so out of her element."
"Garcia is, 'Hate the behavior, not the person.' In the finale of Season 13, the last moment you see her screaming at Reid and saying to kill this woman, which is something Garcia would never say," she continued. "The whole season premiere is interesting because it's the first time she's actively hated a person."
"No one is at risk of mortal peril by the end, but it causes more than one character on the team to have a deep, existential crisis and personal turmoil that will affect them in dangerous ways for episodes to come," she added.
The Behavioral Analysis Unit (BAU) tracked down a cult of serial killers and had its leader, Benjamin David Merva (Michael Hogan) in custody in the finale. A cult member, Special Agent Mary Meadows (Karen David) threatened to kill technical analyst Penelope Garcia (Vangsness) if Dr. Spencer Reid (Matthew Gray Gubler) didn't free her "messiah."
Garcia told Reid to shoot Meadows—and she was ready to die in that moment in what would have been a best-case scenario.
"I don't think she's thinking through it for herself," Vangsness explained. "In that moment, she's pretty sure she's lost control of the situation and that the way to save many is someone is going to take the fall, and she's already in the most peril. … But she's also scared out of her mind."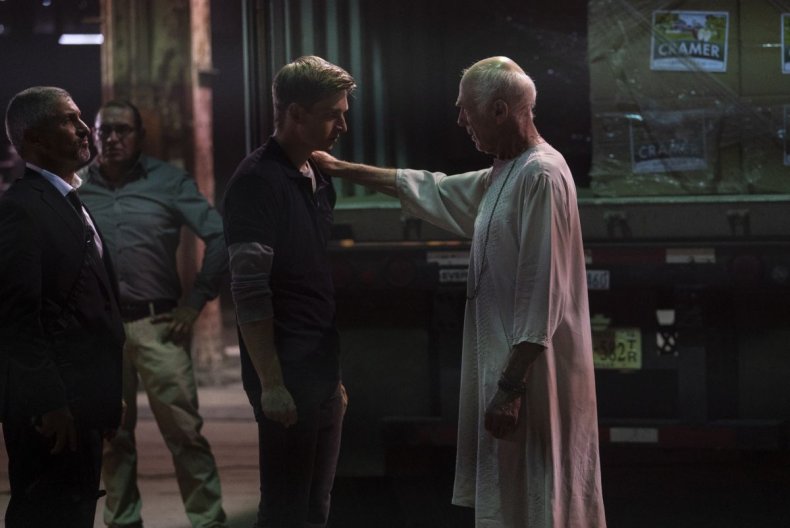 Even though Garcia and Reid both make it out of the garage alive, they're not in any less danger in the cult's clutches in the Criminal Minds Season 14 premiere. "It's very uncomfortable," the actor said, previewing a first for her character. "She is so unkempt. I just remember being like, 'I have to sit in this chair, all tied up, and my bra strap is down by my shoulder.' It was scary and uncomfortable and very emotional. It's very Reid and Garcia trying to save each other."
While being kidnapped is a new situation for her, it isn't for him. "Reid's kind of used to it, but at the same time, he's been through so much," Vangsness said to Newsweek. "Garcia doesn't really know what's going on. He's much more adept at this, 'When taken captive, this is what you do.' She's more fish out of water, but I think he's still in more trouble."
The cult does need Garcia to do something for them, as you may have guessed from the glimpse of a computer in the trailer—but this is the one time she doesn't want to be anywhere near such a device. "That in turn turns into a whole mess for her later," Vangsness teased. "They took the experiences that not only Garcia but everyone in the team goes through in [the premiere] and then put it into upcoming episodes."
What Garcia goes through affects her mental state. "It's an internal experience she's having, where she doesn't like how she got pushed to feel so much bad stuff and help people that are the bad guys, so she has a lot of shame about that," she explained.
Though her character won't ever have a "strong friendship" like she did with Derek Morgan (Shemar Moore), who left the team in Season 11, "there's good sisterhood that happens in upcoming episodes" as she deals with what happens, she revealed.
Garcia is due for a break and will get one. She confronted the person responsible for her parents' deaths and forgave him only a short period of time before the events of the finale. "The emotional pimple pops," she said. "She gets a little moment with someone from her family again to have a moment to heal. We have a little return from stuff that happened last year that is soothing and good."
In behind-the-scenes news, cast members will direct a third of this season. Gubler, whose episodes behind the camera tend to be creepy, did the Halloween hour, which Vangsness described as "really spooky and cool." Joe Mantegna finished directing his ninth episode of the series and Adam Rodriguez was prepping his second at the time of the interview. A.J. Cook is making her directorial debut.
Vangsness, who has written four episodes, will be penning the season finale with showrunner Erica Messer. "I have not written a season finale, and I'm nervous, but it's exciting," she told Newsweek.
Criminal Minds Season 14 premieres Wednesday, October 3 at 10 p.m. ET on CBS.