'Criminal Minds' Season 14 Premiere Spoilers: How Will the BAU Find Reid and Garcia?
Criminal Minds is kicking off its 14th season with its milestone 300th episode, in which the team has to rescue two of their own by looking to their past, CBS announced Thursday.
"When Reid and Garcia are abducted by Benjamin Merva (Michael Hogan), it's up to the rest of the team to find them," reads the official description for the premiere, "300," from the network. "The BAU finds surprising clues in their own history to solve why the two heroes have been targeted by a mass murderer. It's a race to save them before a 'Believers' prophecy is fulfilled."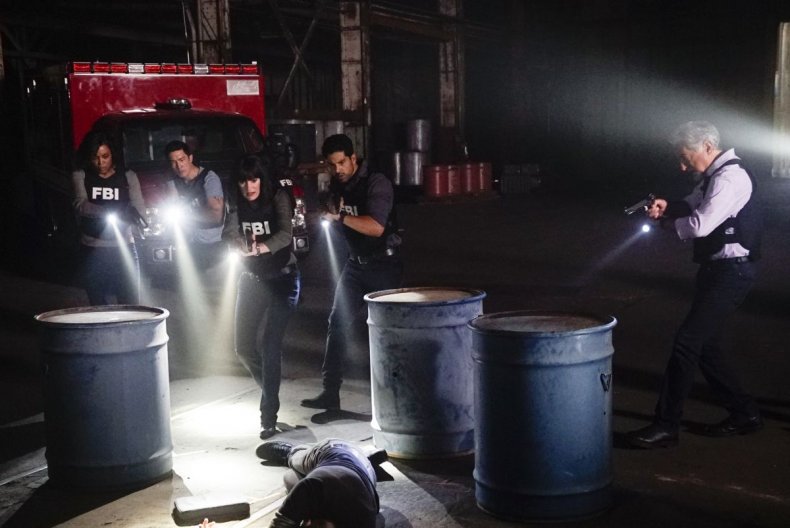 The Season 14 premiere will pick up where the Season 13 finale cliffhanger left off. The Behavioral Analysis Unit (BAU) investigated former FBI Special Agent Owen Quinn's (James Urbaniak) claim of a serial killer named "The Strangler." Though they thought he was making it up—or even possibly a killer himself—the profilers uncovered a cult of serial killers, Believers, led by Merva.
The Believers were obsessed with end times and pacifists until their prediction about the end of the world didn't come true. When the team found the cult, arresting the leader and his students seemed too easy. That was because it was part of a plan, one that saw an FBI agent, Mary Meadows (Karen David), reveal she too was part of the cult. She had other cult members take Technical Analyst Penelope Garcia (Kirsten Vangsness) hostage and threatened her life if Dr. Spencer Reid (Matthew Gray Gubler) didn't free her Messiah, Merva.
"Join us, or she dies," Mary told Reid. Season 13 ended with Reid aiming his gun at Mary while Garcia told him to shoot her.
"300" was written by executive producer Erica Messer, who has written 40 other episodes of the series, and directed by Glenn Kershaw, who was also behind the camera for the Season 13 finale.
The press release for the milestone episode reveals Owen Quinn, Mary Meadows, Benjamin David Merva, Theo Holston (Stafford Douglas), Lisa Douglas (Daniella Alonso) and Agent Anderson (Brian Appel) are all returning.
Theo was the son of a couple part of the Believers. He and his girlfriend hid from the cult after he refused to kill her as a final test.
Lisa was a blind date Agent Luke Alvez's (Adam Rodriguez) former partner set him up on in Season 13.
Agent Anderson has recurred on Criminal Minds and helped the BAU since Season 1.
Criminal Minds Season 14 premieres Wednesday, October 3, at 10 p.m. ET on CBS.