'Criminal Minds' Season 14 Spoilers: How Will the Events of Episode 300 Affect Garcia?
There isn't a time jump when Criminal Minds Season 14 begins, which is good news after that finale cliffhanger. What happens next, now that a serial killer cult has two members of the team, is going to affect Garcia beyond the premiere, TVLine said Wednesday.
The CBS procedural drama is celebrating its 300th episode with its season premiere, which begins immediately following the finale. The Season 9 finale showed the serial killer cult the team had been investigating get the upper hand. Special Agent Mary Meadows (Karen David) kidnapped Technical Analyst Penelope Garcia (Kirsten Vangsness) and threatened to have her men kill her if Dr. Spencer Reid (Matthew Gray Gubler) didn't free her leader, The Messiah Benjamin David Merva, (Michael Hogan) from FBI custody.
"You see the team racing to figure out what has happened, and piece together where Reid and Garcia are," showrunner Erica Messer told the publication. The premiere's official synopsis reveals the team "finds surprising clues in their own history to solve why the two heroes have been targeted by a mass murderer."
The events from the premiere will affect Garcia for multiple episodes. "What she does in order to survive, we've never truly played before," the showrunner teased to TVLine. Garcia spends most of her time back in the office, behind her computers. She rarely travels with the team or goes out into the field.
She's right in the middle of the action in the premiere, as seen in the trailer ET posted Tuesday. "I will die before I help you," she tells someone, possibly Meadows or Merva. It does look like they may want her to do something on a computer—which could explain why they took her, other than threatening her life to get Reid to cooperate.
J.J. (A.J. Cook) appears to find Special Agent Owen Quinn (James Urbaniak) bleeding in the garage. Though the team had wondered if he was part of the cult, he was only a victim and Meadows shot him before taking Garcia hostage.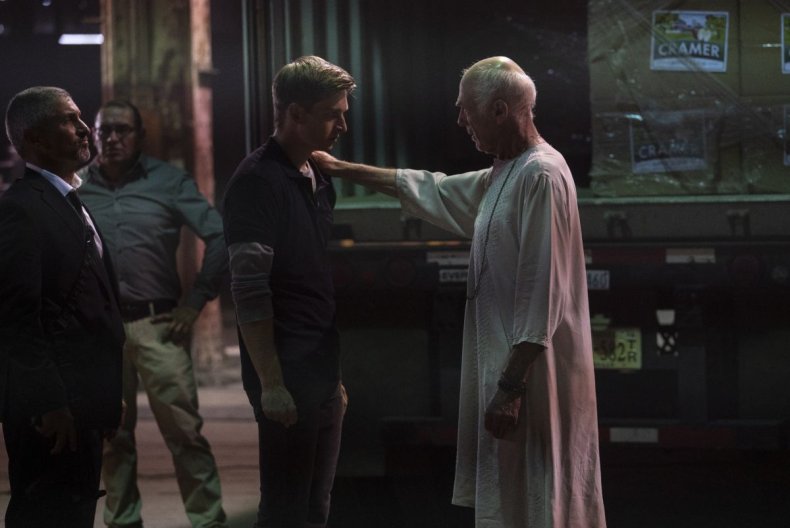 Looking beyond the resolution of the cliffhanger, Criminal Minds Season 14 is going to explore "one of our heroes in their home life in some way" in the eight episodes that follow the premiere, Messer told TVLine. Fans will understand the "lone wolf" quality of Alvez (Adam Rodriguez) after one of those episodes, she said.
One episode will follow a case in real time, with an UnSub (Unknown Subject) whose weapon of choice is a machete, the publication revealed. He strikes every 27 minutes.
It won't all be gruesome cases. There could be a wedding this season, even possibly in Rossi's (Joe Mantegna) backyard again. J.J. and Will (Josh Stewart) got married there in Season 7. Rossi reconnected with his third wife, Krystall Richards (Gail O'Grady) in Season 13, and she's sticking around. "You know I'm a sucker for my backyard weddings," Messer reminded TVLine.
Criminal Minds Season 14 premieres Wednesday, October 3 at 10 p.m. ET on CBS.