'Criminal Minds' Spoilers: Season 14 and Everything We Know
Criminal Minds Season 13 ended with two team members in danger. A serial killer cult set led the BAU to search for them in the milestone 300th episode. The good news is what happens won't be as bad as what one of those agents has gone through in recent seasons, TV Guide reported Friday.
In the Season 13 finale, the FBI's Behavioral Analysis Unit (BAU) tracked down a serial killer cult and had its leader, Benjamin David Merva (Michael Hogan), in custody. An agent from another team, Mary Meadows (Karen David), was part of the cult and took Technical Analyst Penelope Garcia (Kirsten Vangsness) as a hostage. Meadows told Dr. Spencer Reid (Matthew Gray Gubler) to free her leader (aka The Messiah) and join them or her men would kill his teammate.
"That ends up being a great runner that we go with for Season 14," executive producer Erica Messer told TV Guide. "[Reid's] been through a lot, right? It's going to affect him," but "he'll still be the hero we rely on every week." In Season 12, Reid was framed for murder and in prison until the team proved his innocence.
While Season 13 ended with Reid still aiming his gun at Meadows, it doesn't sound like he's going to pull the trigger (yet). "What he won't do is anything jeopardizing Garcia, losing her life and being hurt in any way," Messer told ET after the finale in April. "He's trying to figure out, 'What do I do? What is the bigger plan here? Why do you need The Messiah out?'" He learned "sometimes you have to bend the rules to do the right thing" from his time in prison.
Fans will see what happens next in the Season 14 premiere, which is also Criminal Minds' 300th episode. "Obviously we want our wonderful heroes to be in" the milestone hour, Messer told ET. "It would probably be a matter of our team trying to solve one of the biggest cases they've ever seen without two of [its] most important players."
The executive producer echoed that problem when she listed the challenges for the BAU with this storyline including, "What clues do they possibly leave behind for us to help find where they're being held?" to TV Guide in April.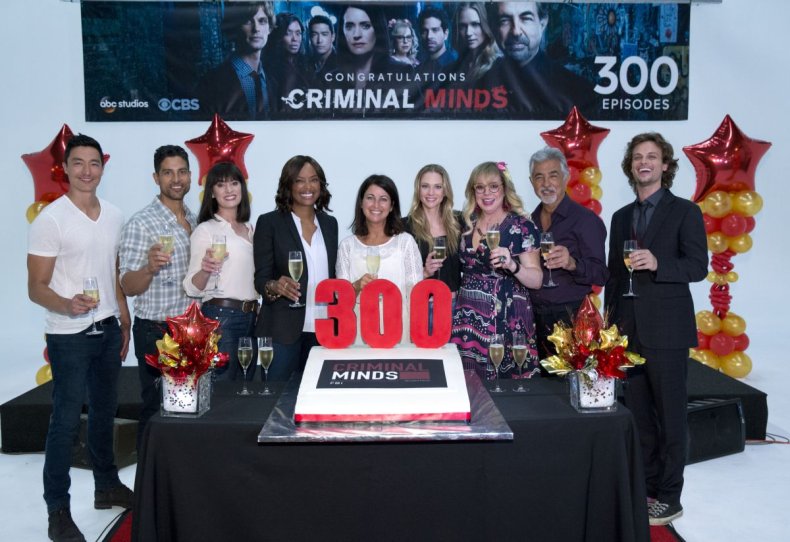 CBS has yet to confirm an episode count for Season 14, but executive producer Harry Bring said it's 15 on Twitter on July 5. "I left the 22 up on my calendar in case they do give us more," he wrote, adding he'll be ready if that happens.
Criminal Minds Season 14 premieres Wednesday, October 3 at 10 p.m. ET on CBS.