Watch Abused, Crippled Elephant take First Steps to Safety in Heartwarming Video
A video shows the moment a crippled Asian elephant take its first steps to freedom after suffering years of abuse.
The 20-year-old elephant, Pari, was rescued and brought to a hospital in India run by conservation group Wildlife SOS last month, where vets found some of the "worst injuries they've ever seen" on her feet.
In her past life, Pari was used for street begging and wedding processions where she was forced to work under stressful conditions. She was also chained for long hours at a time, creating permanent disability, meaning she can barely walk.
However Arinita Sandilya, press manager at Wildlife SOS, told Newsweek that Pari has shown "quite a bit of progress" in just one month.
Sandilya said: "Our veterinary team at the elephant hospital, which is the first of its kind in India, is tending to her physical health and Pari is receiving regular foot care treatment, laser therapy sessions, and pain management medications. Besides long walks and gentle massages, a thorough diet plan is also being followed for her to recover from the constant state of exertion and starvation."
"Today, we are relieved to see her morphing into a playful and inquisitive elephant who is gradually building her trust in humankind. Her progress towards mental and physical healing is commendable and further motivates us to protect other animals facing similar torment."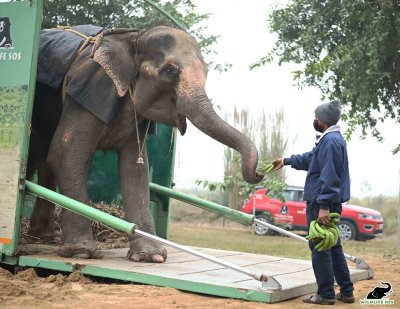 India is home to almost 60 percent of Earth's remaining Asian elephant population. There are fewer than 22,000 left in the wild, with approximately 2,700 in captivity. In captivity domestic Asian elephants in India are used for commercial purposes. Many are forced to give elephant rides to tourists and spend their days chained, unable to roam freely.
In the video, the moment Pari steps out the ambulance is described as a "very emotional."
The footage shows caregivers at Wildlife SOS patting Pari in reassurance as she arrives at the hospital. They ease her away from the ambulance by offering her bananas with every step. The elephant is slow to move, and is noticeably struggling to walk.
Pari is then weighed and enters a treatment pen, where she then received her first medical check up. This allowed vets to confirm she was suffering from a crippling joint condition including severe handicap, compromised footpad, degenerative joint disease, abnormal forelimb conformation, fusing of joints and toenail infection.
Sandilya said: "Pari's rescue was a culmination of several months of careful monitoring and surveillance work by Wildlife SOS informants. Pari's situation is sadly quite a common one for captive elephants in India. We've seen a disturbing pattern with these elephants—their bodies are weakened due to improper nutrition, their delicate feet are riddled with wounds and often with severe arthritis and pain and they are socially isolated and psychologically depressed.
"Even after rehabilitation, these elephants remain completely dependent on medical care and human support for their day-to-day survival. At Wildlife SOS, we have a dedicated team of veterinarians and trained staff working round the clock to cater to the needs of the elephants and to reassure them that they are at a safe place."