Crippled U.S. Warship Suffers More Damage as It Heads for Repairs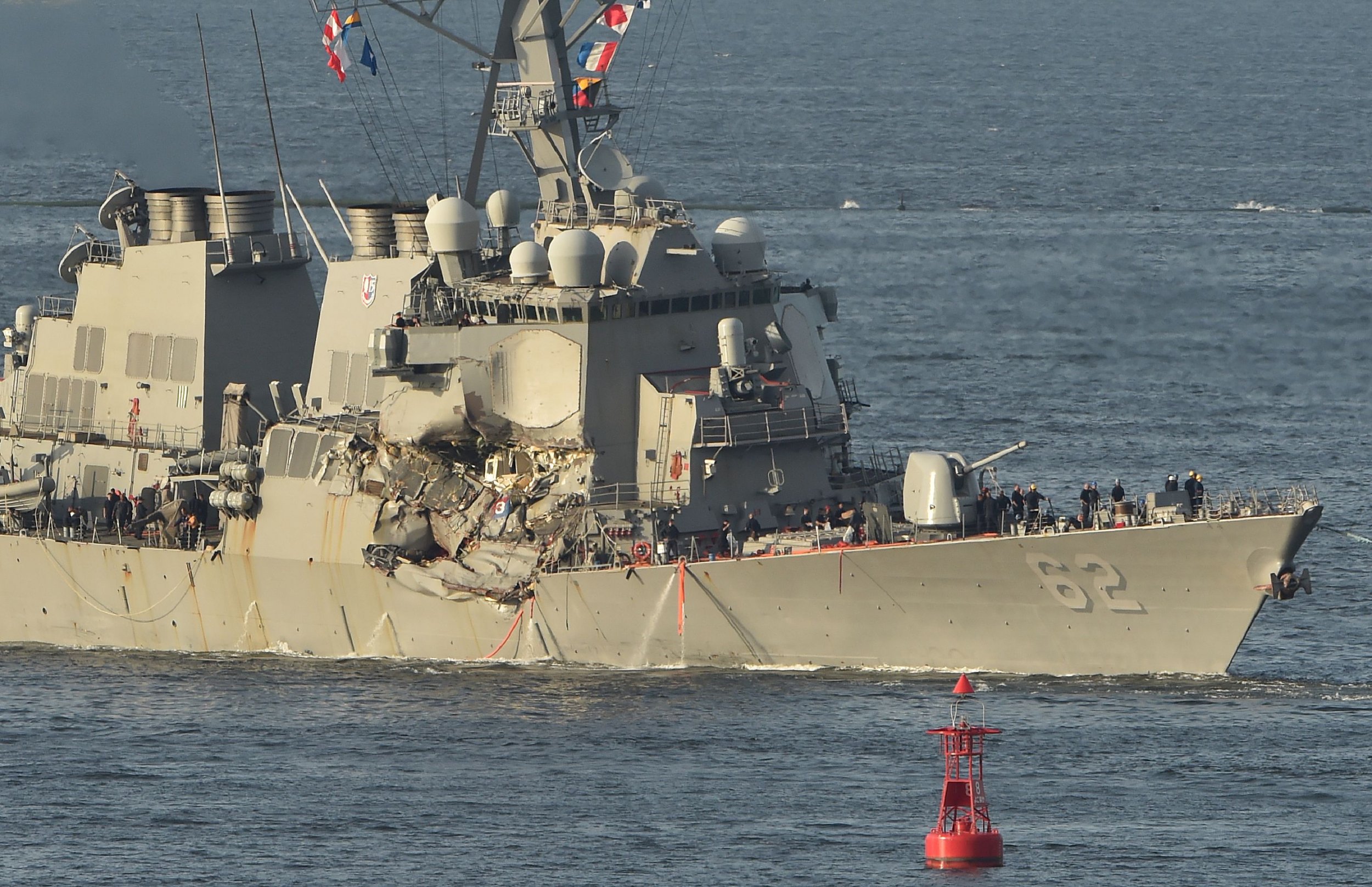 Updated | The U.S. Navy experienced yet another setback on Sunday when the already crippled USS Fitzgerald was damaged as it was being loaded onto a heavy lift vessel—the Transshelf—en route to Mississippi for repairs.
The guided-missile destroyer was towed out to deep water to begin the heavy lift process on November 24. But the Fitzgerald sustained two punctures to her hull from the Transshelf's steel support structure during load at anchorage, according to the U.S. Navy, and was forced to return to its home port in Yokosuka, Japan.
"Repairs are expected to extend the on-load process by a few days, after which Transshelf will transport Fitzgerald to Huntington Ingalls Industries in Pascagoula, Mississippi, for further repairs and upgrades," the U.S. 7th Fleet said in a statement.
Commander Clay Doss, a spokesman for the U.S. 7th Fleet, told Newsweek he's not able to provide information as to "why this happened" at this point in time. "Loading a U.S. Navy ship onto a heavy lift vessel and securing it for transport is a complex process—lots of preparation and engineering goes into it.... Immediate focus is on patching the damage and securing Fitzgerald for safe transport," he said.
Newsweek subscription offers >
Prior to Sunday's incident, the Fitzgerald had already seen minor improvements before Sunday's incident, including de-watering, de-fueling, hull and superstructure repairs and having key systems placed in lay-up maintenance.
Newsweek subscription offers >
In June, the Fitzgerald was involved in a deadly accident at sea: It collided with a container ship off the coast of Japan, killing seven American service members. Two months later, the USS John S. McCain, another guided-missile destroyer, collided with a chemical-and-oil tanker near Singapore, killing 10 U.S. sailors. In early November, a U.S. service member was seriously injured when he was struck by a plane being towed on the flight deck of the USS Carl Vinson.
Additionally, on November 22, a C-2A Greyhound propeller cargo plane en route to the USS Ronald Reagan crashed into the Pacific. Eight people involved in the crash were rescued, but three were killed. Every single one of these accidents involved a vessel that belongs to the 7th Fleet, which is based out of Japan. The fleet has had top officers fired and faced a slew of criticism as a result.
Senator John McCain, who served as a Navy pilot during the Vietnam War, recently lambasted the Navy for these accidents, claiming service members are overworked and exhausted.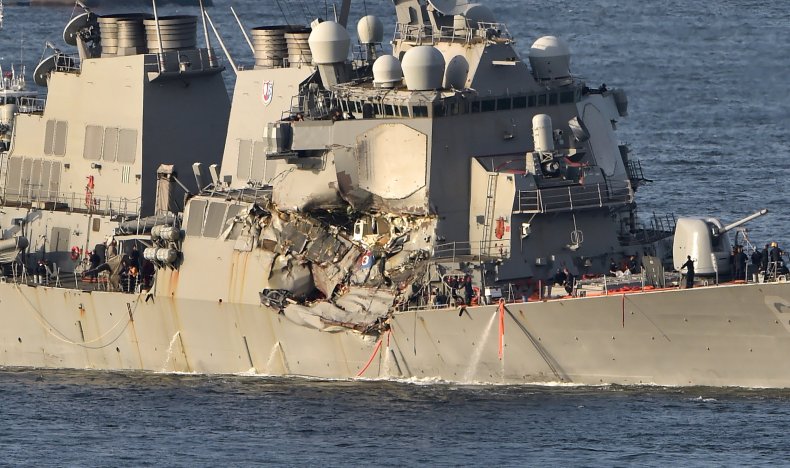 In mid-November, McCain, the chairman of the Senate Armed Services Committee, warned that there would be more "tragedies" if the military didn't alter its current culture. "I look you in the eye and tell you a 100-hour workweek is too long for a young member of our armed forces. The department is struggling to make do with budgets that are too small, unpredictable and driven by politics rather than strategy," McCain said during a hearing for Defense Department nominees.
"Something's got to change," he added. "I don't like looking at those mothers whose children's deaths could have been prevented. This is a serious issue. It's pretty obvious, according to the chief of naval operations, that this could have been prevented. And Congress is also complicit in this almost criminal behavior."
This article has been updated to include a comment from a spokesman for the U.S. 7th Fleet.
Crippled U.S. Warship Suffers More Damage as It Heads for Repairs | U.S.