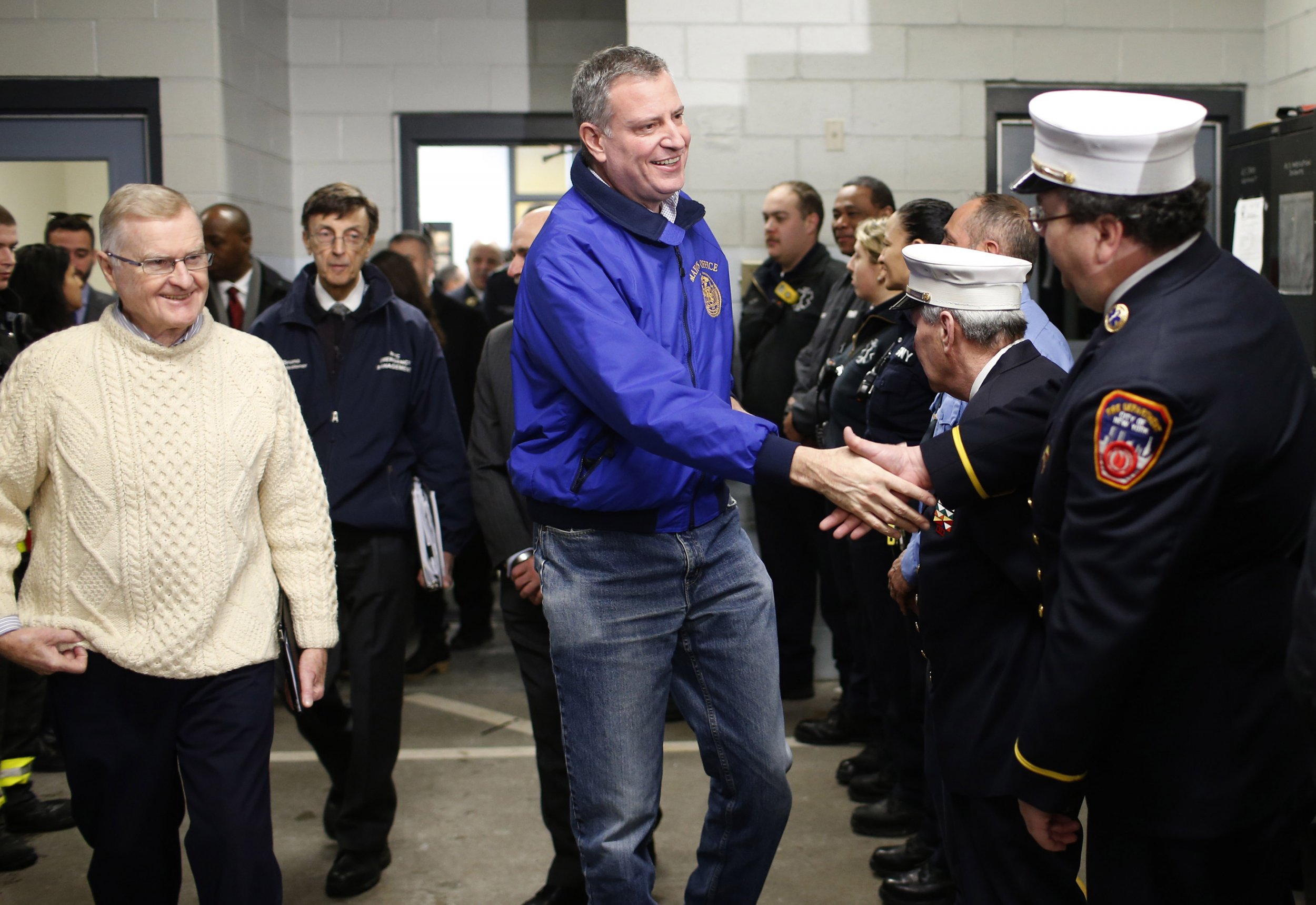 As New Yorkers worried and scrambled to stock up on supplies ahead of a historic winter blizzard, one resident, at least, has reason to be glad there's a storm coming.
Weeks before winter storm Juno pummeled New York, Mayor Bill de Blasio was already getting slammed. It started in early December, when a Staten Island grand jury decided not to indict the cop who put Eric Garner in a choke hold before he died, as police were trying to arrest him for, in part, selling loose cigarettes.
Things then got really bad for de Blasio on December 20, however, when a crazed killer gunned down two cops in Brooklyn, and some officers responded to what they saw as the mayor's tepid response to protests over police brutality by turning their backs on him at the police officers' funerals. Things really bottomed out for the mayor as the year came to a close, when the cops embarked on an unofficial "slowdown" to protest what they saw as a lack of support from City Hall.
But for a politician like de Blasio, a big storm is a rare opportunity as much as a natural disaster. Play your cards right and voters and unions alike will love you for being a leader. Play them wrong and you could be out of a job. If the past is any indication, de Blasio knows to play his cards right, in a blizzard at least.
New York saw its last big snowstorm on January 3, 2014, two days after de Blasio took office. Immediately, the mayor was outside in a windbreaker, shoveling his Park Slope driveway as photogs snapped pictures. It was a perfect and perfectly calculated scene, designed to paint de Blasio as an everyman foil to billionaire Mayor Michael Bloomberg, who had spent the last big storm in Bermuda.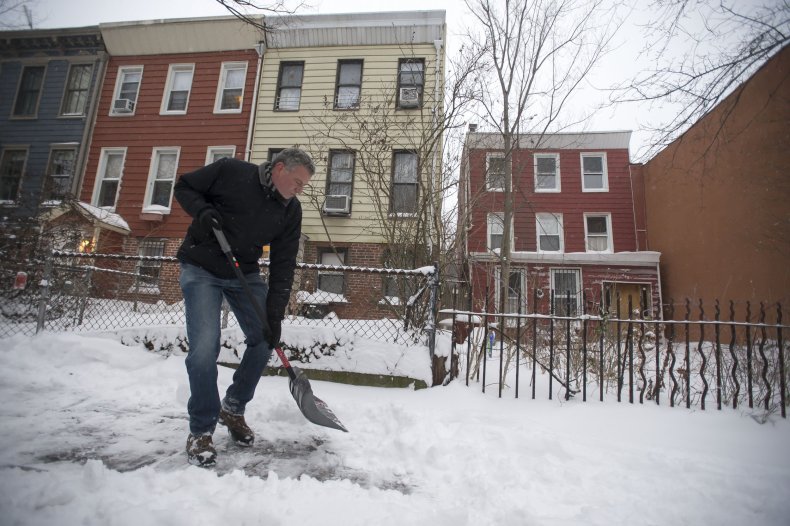 The mayor came prepared with a plan, too. City services, especially the Department of Sanitation, performed well. Only the tony Upper East Side saw slow service. Those living in the oft-forgotten outer boroughs, accustomed to their streets sitting untouched until after Manhattan had been completely plowed, were delighted to see snowplows trundling down their streets in the early morning.
On Monday afternoon, de Blasio seemed to be doing well—mostly—as he issued the proverbial warning to residents to stay indoors. But his ban on delivery services set Twitter abuzz as New Yorkers, accustomed to 24/7 deliveries of Chinese food or Italian subs or just about anything, chided the mayor as a one-termer. Restaurateurs, bodega owners and the like weren't happy either.
The dissent is a warning to the mayor, who knows full well that storms represent perils as well as opportunities. The most vivid example comes from Chicago.
On January 12, 1979, 20 inches of snow fell on the Windy City, on top of 10 inches left over from a New Year's Eve storm. It was the fourth largest snowstorm to ever hit Chicago, and one of the greatest disasters ever to befall the city. Mayor Michael Bilandic's reaction was slow—huge snowdrifts sat unplowed in the streets for two months in some places. In a disastrous political move, Bilandic ordered the L to skip stops in the city's predominantly black South Side, according to "Eyes on the Prize," a PBS documentary. Voters ousted Bilandic later that year.
Bilandic isn't the only elected official to have suffered politically for mishandling a winter storm. Marion Barry, the former mayor of Washington, D.C., who became notorious after he was caught in surveillance footage smoking crack cocaine and arrested by the FBI, was in sunny California watching the Super Bowl in 1987 when his city was buried under 20 inches of snow. But Barry was politically bulletproof and returned to the mayor's office in 1993 after serving six months in prison on federal drug charges.
Georgia Governor Nathan Deal's political career took a hit in early 2014 when a mere 2.6 inches of snow brought Atlanta to a standstill. Deal defended the state government's sluggish response by saying that winter storms are "unpredictable," despite multiple warnings from meteorologists. Deal later apologized and remains in office.
De Blasio's handling of the NYPD slowdown left him in a quandary—to critics on the left he seemed too weak to rein in the cops, while to those on the right he appeared to abandon the men and women in blue.
If he handles this week's storm well, he might be able to gain back some of the city's trust he's lost and look strong at the same time. But if he doesn't, it's possible this storm will see the mayor shut out in the cold.