Cris Collinsworth Criticized for Lauding 'Honesty' of Aaron Rodgers Following Vaccine Lie
NBC Sports football commentator Cris Collinsworth was sharply criticized across social media for lauding the honesty of Green Bay Packers quarterback Aaron Rodgers, despite Rodgers being misleading about his COVID-19 vaccination status for a large portion of the season.
Collinsworth made the comments during the broadcast of the NFL's Sunday Night Football matchup featuring the Packers and the Chicago Bears. During the second quarter of the game, the veteran broadcaster began to speak about the season that Rodgers was having.
Rodgers was previously fined by the NFL after it was determined that he had lied when asked by the media if he had been vaccinated. Rodgers replied that he was "immunized" but did not state that he had received the vaccine.
In addition to this, the league stated that the quarterback had also broken a number of other guidelines related to protocols for unvaccinated players. This included attending a party while maskless, according to reports.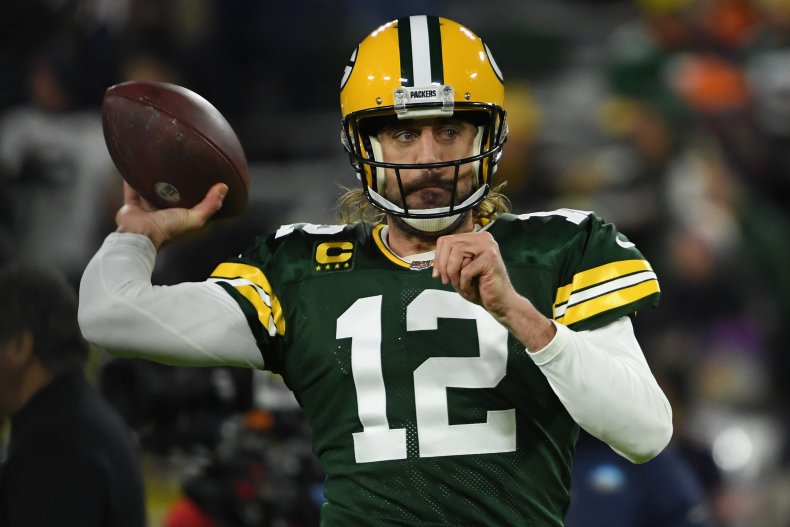 The 38-year-old later contracted COVID-19 and missed ten days due to the NFL's quarantine protocol.
While many football broadcasters, such as former Pittsburgh Steelers star Terry Bradshaw, expressed anger at Rodgers for his misleading comments, Collinsworth went the other way, hailing him for being "honest".
"[Rodgers] doesn't care. Have you seen a guy, and in particular this year, be more honest about everything?" Collinsworth stated on the broadcast. "You may not agree with everything he says, but we have heard from the beginning of this entire season exactly what he thinks about everything."
"He had a lot of different things going on this year, for sure...he'll tell you what he thinks about everything," Collinsworth continued.
People online were quick to point out the seemingly strange moment, and pondered as to why the television veteran would refer to Rodgers as honest given his issues with the vaccine.
"Have you ever heard a guy be more honest...yes, Cris, most definitely have heard others be more honest," tweeted Arizona Daily Star reporter Michael Lev.
"Kind of rich for Cris Collinsworth to praise Aaron Rodgers for being honest considering the whole 'I'm immunized' thing," added NBC Chicago's James Neveau.
Another user responded to Collinsworth's commentary by tweeting out a humorous GIF of actor Tom Cruise in a confused state.
Some people online also expressed anger at what they felt was a broadcast that heavily skewed towards Packers favoritism, given that Sunday Night Football is a national broadcast.
The Green Bay quarterback has stood by his remarks, although he did apologize that some people had found his comments on the vaccine misleading.
"I made some comments that people might have felt were misleading. To anybody who felt misled by those comments, I take full responsibility," Rodgers said on The Pat McAfee Show.
"I'm an athlete, not an activist," Rodgers continued. "I'm going to get back to doing what I do best and that's playing ball."
The controversy surrounding their quarterback did not seem to phase Green Bay. After eating the Bears 45-30 on Sunday, the Packers have won three out of their last four games and sit on top of the NFC North division with a 10-3 record.
Newsweek has reached out to NBC Sports for comment.