The 2019-2020 Arrowverse crossover Crisis on Infinite Earths on The CW is full of cameos from DC shows past and present, with everyone from the 1966 Batman's Robin, Burt Ward, to the modern-day Robin from DC Universe's Titans—played by Curran Walters—making an appearance.
The cameo that has had the most impact of fans, however, is actor Robert Wuhl, who appeared as Gotham Globe reporter Alexander Knox, reprising the role he played in Tim Burton's 1989 Batman movie.
In a reference to the movie, Knox is seen as part of Earth-89, sitting on a park bench. Although, in Batman, he worked for the Gotham Globe, in Crisis, he is reading a rival publication, the Gotham City Gazette. The main headline of the paper reads, "Batman Captures Joker," but it seems like the Michael Keaton incarnation of the character could be facing a battle that even he cannot win.
"I hope you're watching, big guy," Knox says as the camera pans up to show the bat signal shining against a red sky. As comic fans (or those who have been following the Arrowverse this year) will know, a red sky is a symbol that the Anti-Monitor (LaMonica Garrett) is about to destroy that Earth.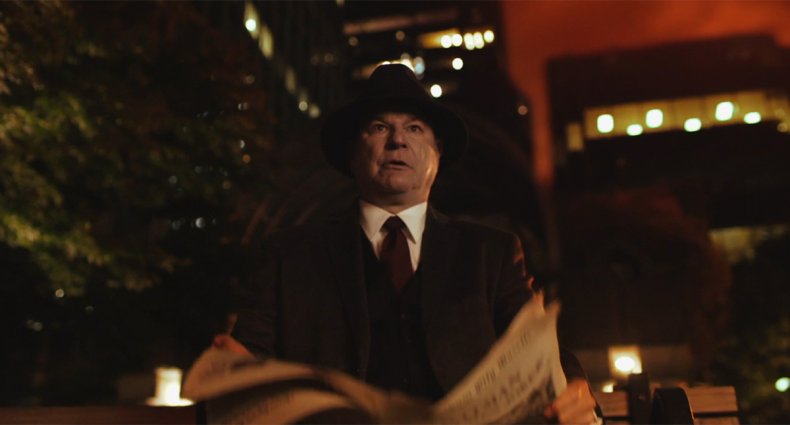 As such, we should assume that Earth-89 is one of the earths that the Anti-Monitor destroyed, alongside Earth-66 (which featured Burt Ward), Earth-9 (featuring the characters of Titans) and Earth-X and its version of The Ray (played by Russell Tovey).
Though Wuhl's cameo may seem like it is just an Easter egg, it actually has some serious implications for Crisis on Infinite Earths. By destroying the two most important building blocks to Batman's representation on screen—the 1966 series and 1989 movie—the crossover shows that everything and anything is fair game in this five-episode series.
This was something that was hinted at when Newsweek interviewed LaMonica Garrett, who said, "Crisis right now is a reset that sets a new direction for what's to come."
Wuhl's appearance as Knox might not be the last time we see the character, as Earth-89 is rumoured to return later in the crossover.
In October, a leaked image from the Crisis set showed another Gotham City Gazette paper, with a headline reading, "WayneTech CEO - Bruce Wayne to Marry Socialite Selina Kyle"—a reference to the character played by Michelle Pfeiffer in Batman Returns.
As this paper has not appeared on screen yet, this could be a sign that Earth-89 and Knox will return one last time or may in fact survive the Anti-Monitor's purge.
Crisis on Infinite Earths continues Monday on Batwoman on The CW.