'Crisis on Infinite Earths': What the Ezra Miller Cameo Means for the Arrowverse and DCEU
Crisis on Infinite Earths has been full of cameos from DC Comics properties past and future, with everyone from Burt Ward to Tom Ellis making an appearance.
The CW Arrowverse crossover, however, kept its biggest guest star for the final two episodes when Barry Allen (played by Grant Gustin) met another Barry Allen played by Ezra Miller, the movie version of The Flash in Batman v. Superman: Dawn of Justice and Justice League.
Writing on Instagram, Gustin posted a number of images of him and Miller on set, captioned, "How about that? Ezra is one of a kind. So glad we could make this happen and keep it a secret until today. Thank you to @dccomics."
It seems that the appearance was so secret, in fact, that even fellow Crisis actors did not know, with Supergirl actress Melissa Benoist replying to the post, "YOU KEPT THIS SECRET SO WELL. NONE of us knew!!!! Or did they know?! Was I the only one that didn't know?!"
Miller, meanwhile, has been open to the possibility of a Flash crossover since 2016, when he told MTV News: "I can't wait to see him [Gustin], eye to eye, adrift in the Speed Force — our eyes will lock and, in that moment, we will both know the truth. What truth? I dare not say."
Aside from Miller's Barry Allen confusing Gustin for a cosplayer and asking him for a selfie, the moment may have some interesting implications for the future of the Arrowverse and Warner Bros.' DC Comics movies.
The cameo marked the first time that the two worlds have met, opening up the possibility that there may be more crossovers in the future. However, what was most interesting about the meeting is the questions it left unanswered about the links between the two worlds.
For example, the scene implied that the crisis that led to the extinguishing of the entire Arrow multiverse did not affect the DC Extended Universe (DCEU). Gustin's Flash says, "This should be impossible now," to which Miller's Flash responds, "This should be impossible now?"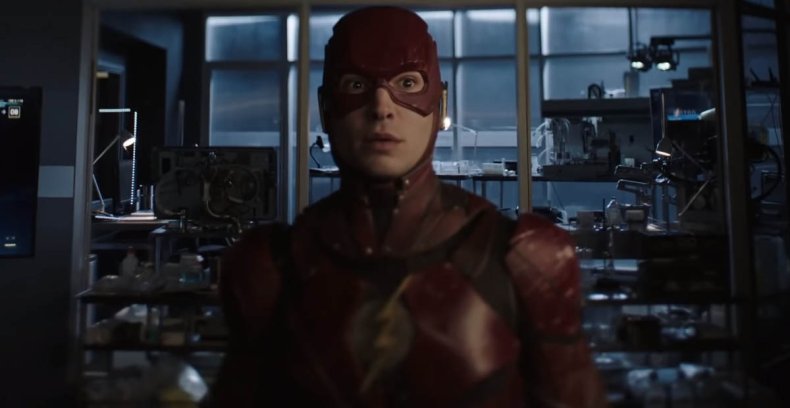 "You don't know about the..." Gustin's Flash adds, and Miller's Flash replies, "Oh my God, don't do this to me, I don't know about the what?" Though the crisis is never explicitly mentioned, Miller's dumbstruck response suggests nothing has happened on his Earth—after all, it would be hard to forget the skies turning red and everything you know being obliterated.
So, does this mean that the DCEU exists in an entirely different universe, one that has not been destroyed by the Anti-Monitor (LaMonica Garrett)? Or perhaps Gustin's Flash is talking to a past version of Miller's Flash, before the events have reached his Earth—or a future version unaware about the crisis.
The Crisis on Infinite Earths producers have not revealed any answers, leaving fans to speculate about how the two worlds might be linked.
In the episode, Miller's Flash starts to fade into nothingness, but not before he says, "I told Victor this is possible," a reference to Cyborg, a.k.a. Victor Stone (Ray Fisher). This suggests that the idea of there being multiple Earths is something that the DCEU Justice League have been talking about, which could set up the idea that future movies explore this idea. And maybe Arrowverse characters could appear in a future DC film, like The Flash movie expected in 2022.
Crisis on Infinite Earths is streaming now on The CW app and website.