After a month off screens, The CW is about to conclude its Arrowverse crossover with the final two parts, airing on January 14 from 8 p.m. ET. Prior to the release of the Arrow and Legends of Tomorrow instalments of Crisis, CW released a trailer that hints how the remaining superheroes will be able to defeat the Anti-Monitor (LaMonica Garrett), all thanks to a character that died in the first part of the crossover.
In Crisis on Infinite Earths Part 4, Oliver Queen actor Stephen Amell returns as the Spectre, a spirit of vengeance who is one of the only forces in the multiverse powerful enough to do battle with the Anti-Monitor. The start of the trailer sees Oliver's new role explained to him by Jim Corrigan (Stephen Lobo), the last person who acted as host for the Spectre.
In the promo, he says: "Every punch you've thrown, every kick you've landed, they have all led you hear to this moment, the ultimate fight." When Oliver asks him who he will be fighting, he answers, "A being who stands against all there ever was or will be. The apocalypse itself. The Anti-Monitor. It's time to get your friends."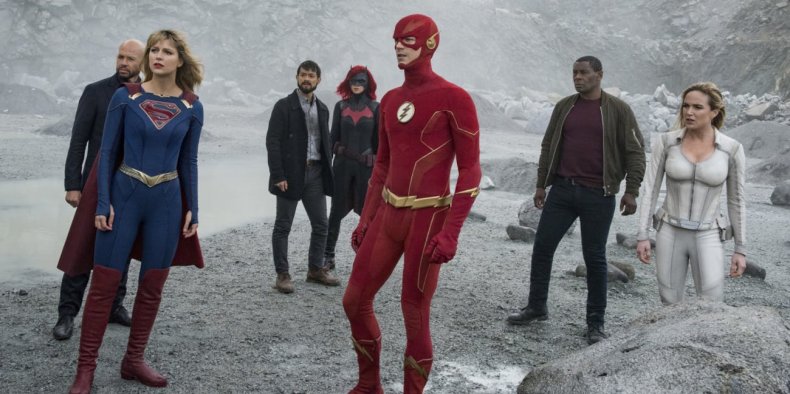 Among those fighting alongside Spectre Oliver (whose new hooded look is shown in the trailer) will be the seven Paragons, the last heroes left standing after three episodes of the Crisis, all seen at the Vanishing Point that is all that is left of the positive matter universe at the start of Part 4.
Those heroes are the Paragons of Truth Barry Allen (Grant Gustin), of Hope Kara Danvers (Melissa Benoist), of Destiny Sara Lance (Caity Lotz), of Courage Kate Kane (Ruby Rose), of Honor J'onn J'onzz (David Harewood), of Humanity Ryan Choi (Osric Chau) and of Truth Lex Luthor (Jon Cryer).
However, the promo teases that they will be rejoined by a number of other supers, including Black Lightning (Cress Williams) and Superman (Tyler Hoechlin).
Exactly how the multiverse is restored enough for those heroes to return has not been revealed yet, but it may not happen until Part 5, as there are other trailers that confirm that a number of scenes take place at the Vanishing Point.
One released on the Arrow Twitter page on January 9, for example, sees The Flash, who narrowly survived death in the first part of the crossover event when Earth-90 Flash (John Wesley Shipp) died in his place, panicking because he cannot escape the place the Paragons are trapped in.
Crisis on Infinite Earths Parts 4 and 5 air from 8 p.m. ET on January 14 on The CW.