'Crisis on Infinite Earths' Part 4: When Will the Arrowverse Crossover Return in 2020?
After three dark and apocalyptic episodes of Crisis of Infinite Earths, the Arrowverse will then go on hiatus, with the release date of the remaining two not due to come until early 2020 on The CW, when Arrow and Legends of Tomorrow will air their episodes of the crossover.
WARNING: Spoilers below for Crisis on Infinite Earths Part 1 and the rest of Arrow Season 8
Yes, that's right, Arrow. Despite its lead Oliver Queen (played by Stephen Amell) dying in Part 1 of Crisis on Infinite Earths, the CW series still has three episodes left, the first of which will be Crisis Part 4, due to air as Arrow Season 8, Episode 8 on Tuesday, January 14 at 8 p.m ET /7 p.m. CT.
This will be followed by the finale of Crisis on Infinite Earths (airing as a special episode of Legends of Tomorrow), which airs the same day at 9 p.m. / 8 p.m. Both will then be available on The CW website and app shortly after they finish airing on cable. They are then expected to stream on Netflix eight days after their respective shows' season finales⁠—that will be February 5 for Crisis Part 4, and some point in spring 2020 for Part 5.
As for what Arrow will look like after the death of its main character, The CW has revealed some details about what the final three episodes of the series will look like.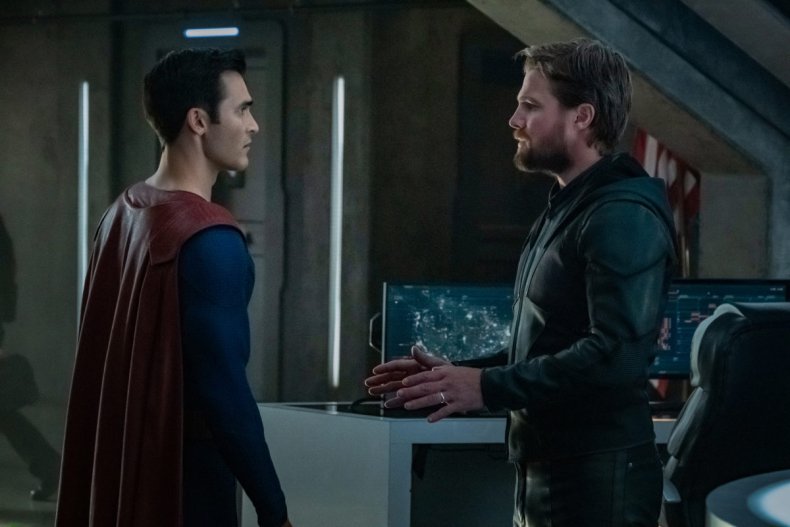 Batwoman executive producer Caroline Dries told Variety: "The leads all have a different take on how to grieve or handle Oliver's death. Some of them believe it's over. Some of them believe we can fix this. Some of them are not wanting to even think about it."
However, we know how one character will deal with Oliver's demise. Arrow Season 8, Episode 9 is officially titled Green Arrow and the Canaries, though creator Marc Guggenheim wrote on Twitter, "the REAL title of 809 is 'Livin' In the Future.'"
In this episode, we will see Mia Smoak actress Katherine McNamara take on the mantle of the Green Arrow for the episode, which will serve as a backdoor pilot for a new DC comics spinoff-show.
In October, Guggenheim revealed that this new Green Arrow will be joined by the two Canaries Laurel Lance (Katie Cassidy) and Dinah Drake (Juliana Harkavy). The tweet that announced the episode read in part, "Arrow's final season bows today, so it feels appropriate to share this glimpse of its future."
Crisis on Infinite Earths Parts 4 and 5 will air on January 14 on The CW