'Crisis on Infinite Earths' Poster: CW Reveal Oliver Queen as Spectre in Part 4
The 2019-2020 Arrowverse crossover Crisis on Infinite Earths returns for its two-part finale on Tuesday, January 14 from 8 p.m. ET. In the lead up The CW has released a poster featuring all the superheroes who will be taking on the Anti-Monitor (played by LaMonica Garrett).
Front and center in this Crisis poster is Oliver Queen (Stephen Amell), returning to the show in a new role that is likely to prove crucial in the fight against the anti-matter universe.
Last time we saw Oliver, in Crisis on Infinite Earths Part 3, he was in purgatory after his sacrifice at the start of The CW event. Earth-666's Lucifer (Tom Ellis) provided Mia (Katherine McNamara), Diggle (David Ramsey) and Constantine (Matt Ryan) access to the realm, but they were unable to retrieve Oliver's soul. Instead, he goes with Jim Corrigan (Stephen Lobo), who tells him he has a new role to play in the Crisis.
After hints in Part 3, the Crisis poster confirmed that this new role was as the Spectre, the ultimate spirit of vengeance who specialises in avenging wrongdoing, often in cruel or ironic ways. The Spectre is a strange green spirit, that needs a human host to enact vengeance. In the character's first version, which dates back to the 1940s, his host is Jim Corrigan, a dead cop. This was a plot point that the Constantine series was leading up to before its cancellation, with Emmett J. Scanlan playing Corrigan in that show.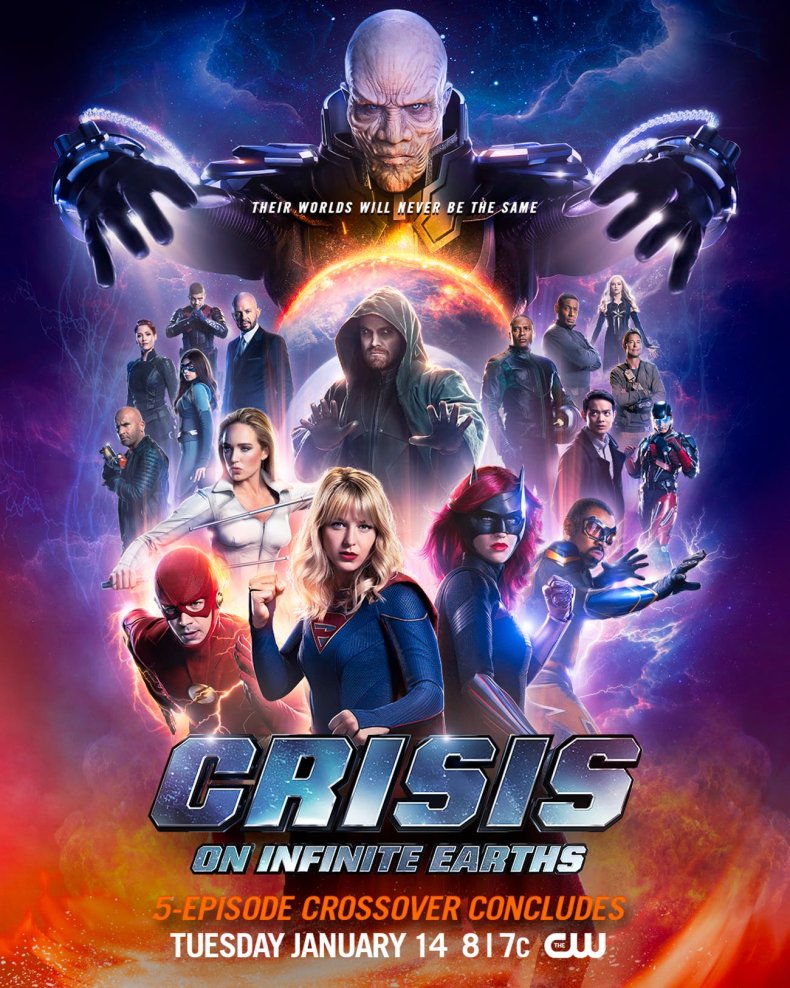 Now, the Crisis version of Corrigan is due to pass on his powers to Queen—a move which, as IGN reported, is a completely new take on the Spectre, who in the comics never used Queen as a host.
The Crisis on Infinite Earths Part 4 and 5 poster gives fans our first glimpse of Oliver as Spectre. He appears in a new green hood, slightly different from his Green Arrow get-up, and is pale with dark circles under his eyes, a reference to the fact that he is still technically dead.
In the 1980s Crisis on Infinite Earths comic series the Arrowverse crossover is based on, Spectre has a crucial role to play, and it is believed that Queen will occupy a similar role in this new version. In the comics, the Spectre was the only force powerful enough to fight the Anti-Monitor, keeping him occupied while the assembled remaining superheroes enact their plans to save the multiverse. Fans will soon be able to find out exactly what role he will have, however, when Crisis returns.
Crisis on Infinite Earths Parts 4 and 5 air Tuesday, January 14 at 8 p.m. on The CW.