Macedonia's Protests Could Threaten a Fragile Region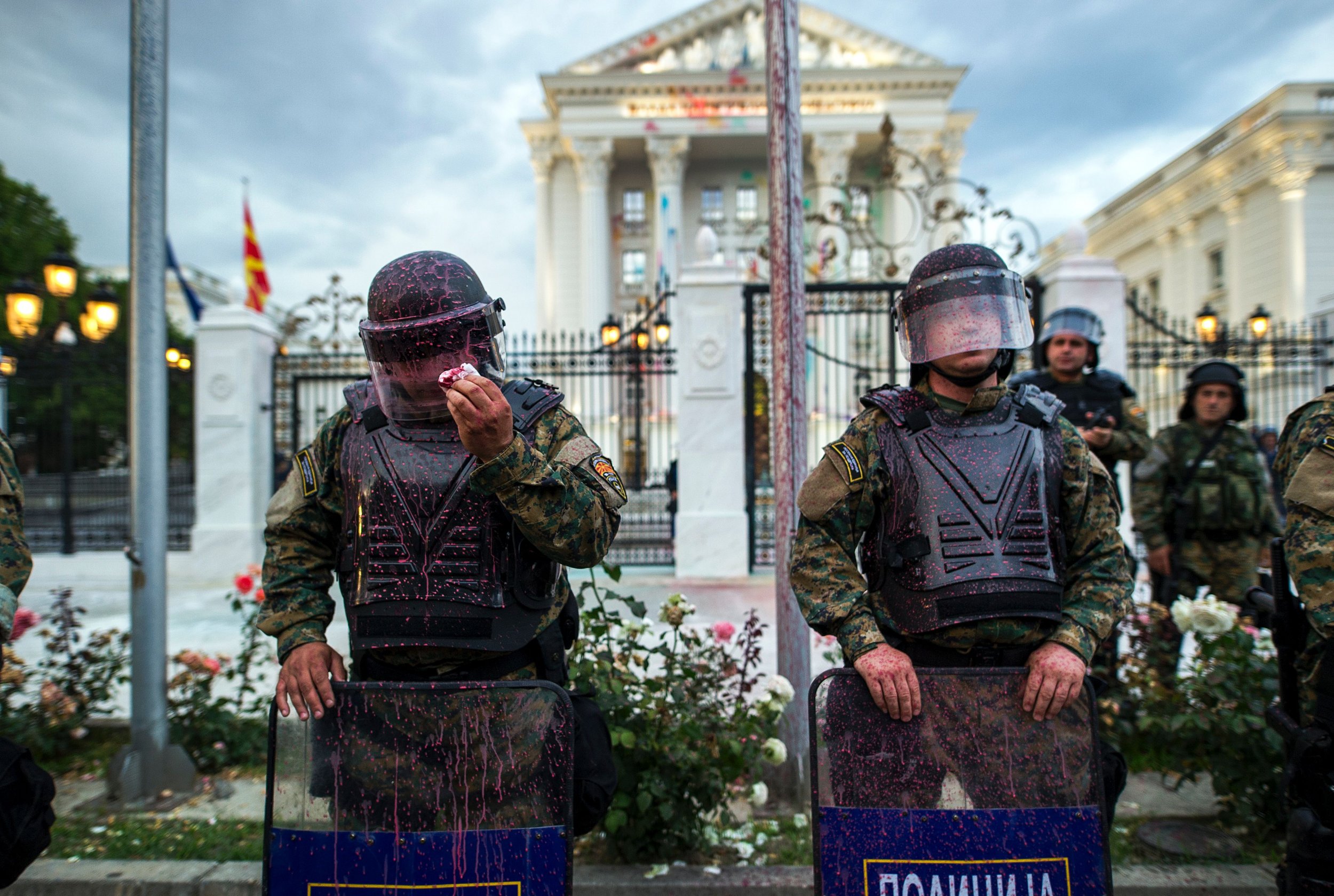 Zamir Mehmeti, standing on one of the main streets in the Macedonian capital, Skopje, pulls a Guy Fawkes mask over his head and picks up a water gun. He approaches the city's four-year-old, marble-covered triumphal arch, raises his weapon and sprays the ornate structure with green paint. Other protesters lob balloons filled with paint at the monument, which has become a symbol of waste and corruption for many Macedonians. In the background, a truck parked in front of the parliament building blares recordings of wiretapped conversations of former government leaders as thousands of protesters blow on shrill whistles and chant, "No justice, no peace!"
"This is an expression of outrage of Skopje citizens protesting against the regime and the scandalous project Skopje 2014," says Mehmeti, referring to the controversial project that has given the city a neoclassical face-lift and has been the subject of allegations of corruption and lavish spending in a country that can ill afford such grandiose gestures. The arch is a centerpiece of the project, and for eight weeks protesters have been gathering there, demanding that the government resign. Activists like Mehmeti have called their protests the "Colorful Revolution."
The demonstrations in this Balkan nation of 2.1 million people are part of a political crisis deeper than any since Macedonia came close to all-out civil war in 2001. Allegations of murder, vote rigging and extensive wiretapping have been roiling the country, which is on the front lines of Europe's refugee crisis, for the past 16 months. In February 2015, opposition leader Zoran Zaev revealed that 670,000 conversations on 20,000 phone numbers, including some belonging to then–Prime Minister Nikola Gruevski's political opponents, had been caught on tape.
An investigation by the European Commission concluded the wiretapping order had come from Gruevski; his interior minister, Gordana Jankuloska; and the chief of intelligence, Saso Mijalkov. (Mijalkov is Gruevski's cousin.) The report found evidence of the "apparent direct involvement of senior government and party officials in electoral fraud, corruption, abuse of power and authority, conflict of interest, blackmail, extortion and criminal damage."
Gruevski, who came to power in 2006, stepped down earlier this year after a European Union–brokered accord last year put an interim government in place and provided for the appointment of a special prosecutor to investigate the claims raised by the wiretaps. The former prime minister maintains that foreign intelligence services "fabricated" the wiretaps to destabilize the country and accused Zaev of conducting a coup.
Then, on April 12, President Gjorge Ivanov announced he was pre-emptively pardoning 56 people connected to the alleged crimes—including Gruevski, Jankuloska, Mijalkov and Zaev. (Zaev was facing an investigation into how he had obtained the contents of the wiretaps.) Almost immediately, Macedonians took to the streets.
Protesters quickly destroyed Ivanov's office. In the weeks that followed, activists vandalized newly built government buildings that are part of Gruevski's Skopje 2014 program. Protesters gathered every day at the offices of the special prosecutor to express their support for the investigations and to demand an interim government and a cleansing of the electoral rolls that could lead to a free and fair election.
Ivanov explained his decision to pardon pretty much every politician who might have been involved in corruption by saying that the current political situation had become "so tangled that nobody can untangle it."
The political crisis might seem like a minor Balkan scrap, but the world's powers have seen apparently minor Balkan scraps turn into conflicts that include World War I and the vicious wars of the 1990s. As a result, the EU and the United States are doing their best to help Macedonians keep their country together.
Under an EU-brokered deal last year, elections were planned for this April on the condition that the government would strip the electoral rolls of fake voters and pass media reforms that would ensure balanced, unbiased campaign coverage and cut the government's financial and legal leverage over private news outlets. The government has failed to deliver on those preconditions, and so on May 18 Macedonia's parliament canceled the elections, which had been rescheduled for June. Only the ruling coalition had agreed to participate in the voting; the other parties said conditions for a fraud-free vote were not in place.
"The decision to reconvene parliament and to cancel elections averted a train wreck," says a senior Western diplomat in Skopje. The government was still essentially controlled by the ruling party, the diplomat added, and a vote that returned the party to power would have precipitated even more unrest in the country.
Western officials have been putting pressure on the elites who refuse to let go of power. In April, the EU threatened to sanction Macedonian politicians who are "blocking reforms." Germany has appointed an experienced diplomat, Johannes Haindl, as a special envoy, after it seemed clear that the EU deal was not being implemented. On May 19, the U.S. publicly urged Ivanov to scrap the pardons.
That pressure appears to be working. On June 5, Ivanov announced that he would rescind the pardons. But Malinka Jordanova, director of the European Policy Institute, a Skopje-based independent think tank, says Western governments should give up hoping that the political class that dominates politics in Macedonia will introduce laws that would essentially strip them of power. Instead, Jordanova says, Macedonia needs an interim government composed of experts rather than politicians.
"They still invest hope that governing parties can do reform," she says. "They cannot. Any reform would mean prison for them."
One root cause of the chaos has been the refusal by Greece, Macedonia's neighbor and rival, to agree to approve talks that could allow Macedonia to join the EU. As an EU member state, Greece—which says Macedonia has no right to use the name Macedonia because it implies territorial ambitions regarding the Greek region of the same name, which borders Macedonia— can block accession talks for any prospective member. Jordanova says the stalemate on the name issue—Macedonia is officially known as the Former Yugoslav Republic of Macedonia—and the 2008 Greek veto on Macedonia's NATO candidacy disincentivized Macedonian leaders from enacting any further laws that would restrain their powers.
"Afterwards, it was pure identity building, monument construction, promotion of nationalism, which was at the same time used for lucrative competitive gains," she says of Skopje 2014, which is interpreted as a competition with Greece over the countries' competing claims to the same ancient history. She says that the project, which has cost 640 million euros ($724 million) to date, has coincided with increasing authoritarian tendencies in the government, and that Western diplomats can do little to counter this because the prospect of EU and NATO accession remain blocked by Greece.
That's made Skopje's grand new buildings popular targets. Activists have splashed paint on the new Ministry of Justice, the main government building, the arch and an enormous statue of a man on a horse (purportedly Alexander the Great), whose fountain changes color and plays Wagner's "Ride of the Valkyries." (Greece claims Alexander as a Greek Macedonian, but Macedonia disputes that.)
The preponderance of statues of Macedonia's Slavic heroes also offends many among Macedonia's ethnic Albanian minority, which makes up about a quarter of the population. Relations between Slavic Macedonians and ethnic Albanians are tense, especially following a 2015 shootout in a predominantly ethnic Albanian neighborhood of the city of Kumanovo that resulted in 18 deaths. Friction between people from the country's two main ethnic groups almost resulted in a civil war in 2001.
This movement is one of the first times ethnic Albanians and Macedonians have united for a common cause, and they are protesting together. Mehmeti, one of the movement's leaders, is an ethnic Albanian. After the pardons were rescinded June 5, he vowed to continue taking to the streets until the demands for media reform, conditions for fair elections and support for the special prosecutor are met.
"This nation has never had any triumph," Mehmeti says. "So only when our movement succeeds can we truly say this is a triumphal arch, a triumph against Gruevskism."