Crisis in Ukraine Leads To A Spike In Domestic Violence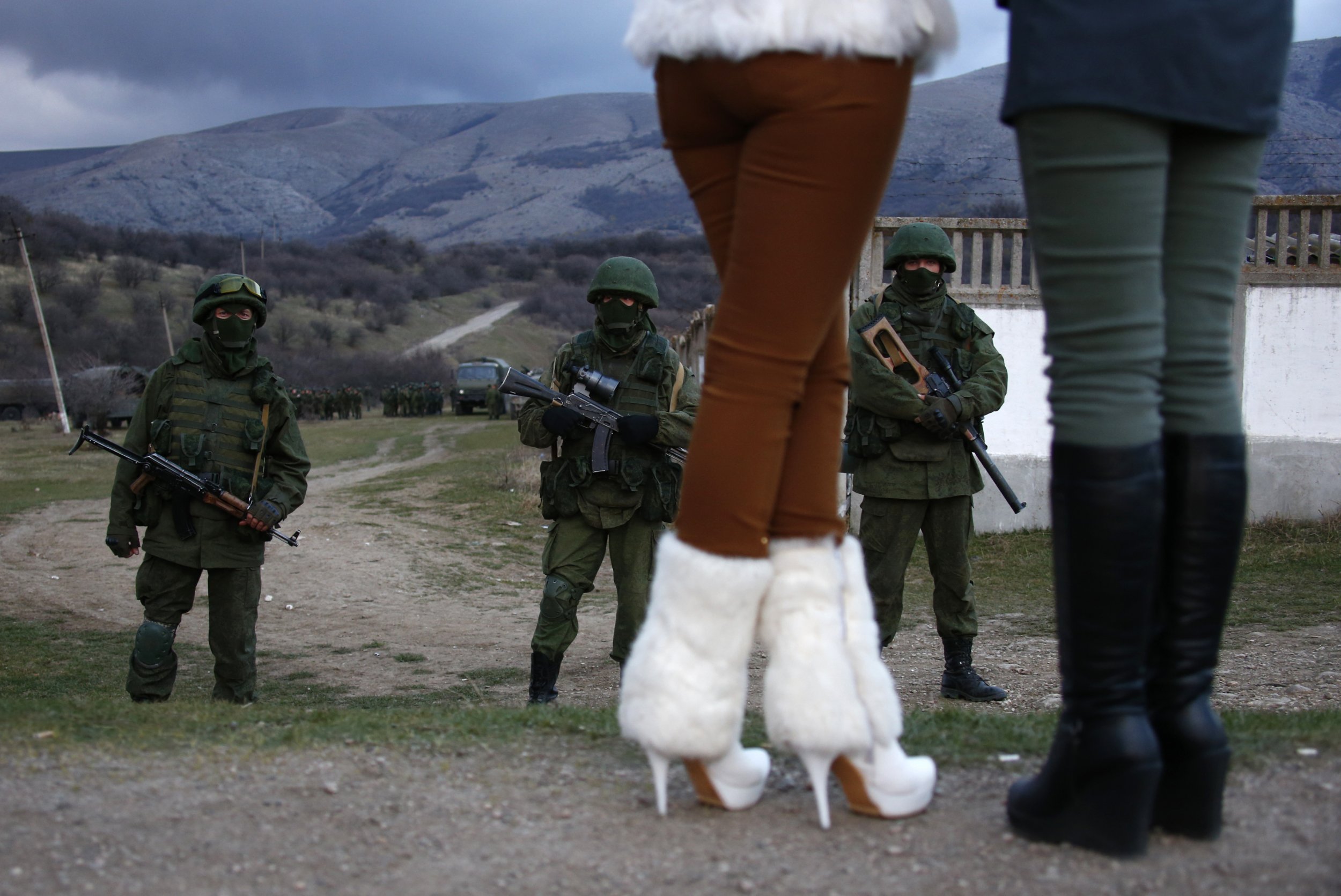 Increasing numbers of women in Ukraine are experiencing domestic violence, NGOs in the country are warning, highlighting that soldiers who are suffering from post-traumatic stress disorder (PTSD) are partly responsible for the increase in abuse.
The NGO La Strada Ukraine, which operates its own emergency hotline for victims of domestic violence, trafficking and gender discrimination, toldNewsweek that they received a total of 7,725 calls in 2014, of which 72.2% were related to domestic violence.
Between 1997-2014, the centre received 94,324 calls, an average of 5,548 calls per year. So far this year, La Strada has already received over 2,000 calls relating to the country's conflict.
While these calls relate to a number of issues associated with the ongoing violence, including psychological trauma, issues about migration from Ukraine, and those seeking humanitarian aid, La Strada has also identified a new category of calls coming from women suffering abuse from partners or husbands who are ex-combatants or on leave from fighting in the east of the country.
While La Strada received 40 calls last year from women who had suffered "severe abuse" at the hands of their partners who are soldiers, this number has nearly been equalled already this year, and the organisation say it is set to increase as the crisis continues.
The actual number of women suffering abuse by their partners or husbands is thought to be far higher, as this number only represents women willing to ask for help.
"The problem of domestic abuse related to the conflict is very serious. We have never faced such a problem before, and the problem is being exacerbated by a lack of resources and experience," says Alona Zubchenko, who works for La Strada.
She says the number of people reaching out to the NGO is rising due the "increased violence in society generally" and because more men are suffering from mental health problems as a result of their experiences fighting. Part of the problem is that Ukrainian men in general are not willing to admit they are struggling with the effects of war, or to ask for help, she points out.
"The soldier who come home are of course suffering from stress and anxiety, and are not always willing to seek psychological help," says Zubchenko. "They think alcohol is the best remedy. Then they start to feel like their wives do not understand them, or understand what they have experienced or witnessed. This psychological torment can turn into physical or sexual abuse."
"Many soldiers are suffering post traumatic stress disorder, they feel very lost, isolated," says Olena Suslova, from the Women's Information Consultative Centre in Ukraine. "But Ukrainian men are not able to accept that they need help and support. It is difficult for the women. They feel abused, but some women also feel like they should accept the abuse."
La Strada has also reported that incidents of psychological violence are increasing in families of internally displaced people (IDPs), as well as within those who remain in conflict areas, but that IDPs are at greater risk of trafficking and sexual abuse.
According to Women Against Violence Europe (WAVE), a formal network of women's NGOs in Europe, 27% of Ukrainian women have experienced violence in childhood and 33% of women since adulthood, according to a survey published in 2010. Husbands were found to be the most common perpetrator for psychological and physical violence inflicted on women over the age of 18.
There have also been increasing reports of rape and sexual violence by armed and uniformed men in the Donbass region of Ukraine. A report by the UN in December last year stated that there are "undocumented reports of high levels of sexual violence in the conflict area, which require substantiation and medical, psychosocial, and legal redress."
Victims of abuse are often not willing to ask the police for help, according to Zubchenko. Women that do turn to the police are reportedly often turned away, as police think it is a "moral crime" to accuse ex-soldiers of abuse. "The police believe these ex-soldiers are patriots, who are fighting for their country. Police don't want to register reports on domestic abuse, because they believe these men have suffered enough," says Zubchenko.
Another aspect of the problem is that the very few shelters for abused women that Ukraine has - three for the entire country - are now housing many internally displaced people, and not just those seeking asylum from abuse at home.
According to WAVE these three shelters only have approximately 100 shelter places available between them. Currently, 98% of recommended shelter places are still absent in Ukraine.