Crist Calls for DeSantis to Investigate Florida's 'Outsized' Role in Capitol Riot
Former Florida Gov. Charlie Crist, a member of Congress who is also running as a candidate for the Democratic Party's nomination in the 2022 Florida gubernatorial race, is calling on current Gov. Ron DeSantis to investigate the state's "outsized" role in the Jan. 6 Capitol riot.
"I'm calling on @GovRonDeSantis to protect our democracy by ordering a non-partisan investigation of Florida's outsized role in the Capitol Insurrection," Crist tweeted on Friday. "Hate and insurrection can have no home here. DeSantis must act to keep us safe."
As arrests in connection to the deadly attack on the Capitol continue to pile up, Florida has emerged as the state with the highest number of residents arrested for charges related to the insurrection. Of the 484 people charged in the riot, 47 were arrested in the Sunshine State.
Texas and Pennsylvania have each seen 42 arrests, 36 arrests have happened in New York and 23 have occurred in Virginia, according to an online compilation of Captiol breach cases from the Justice Department.
"To eliminate confusion—confusion that was deliberately sown which led to the Jan. 6 insurrection—the governor needs to answer the following questions: Do you acknowledge that Joe Biden is our duly elected president? Do you agree that violent assault on our nation's capital was the very definition of an insurrection itself?" Crist said during a Friday press conference.
He continued, "And finally, governor, do you support an independent, non-partisan commission to investigate that insurrection?"
The former governor called on DeSantis to sign an executive order to create an independent state commission "to investigate hate groups that plague our state."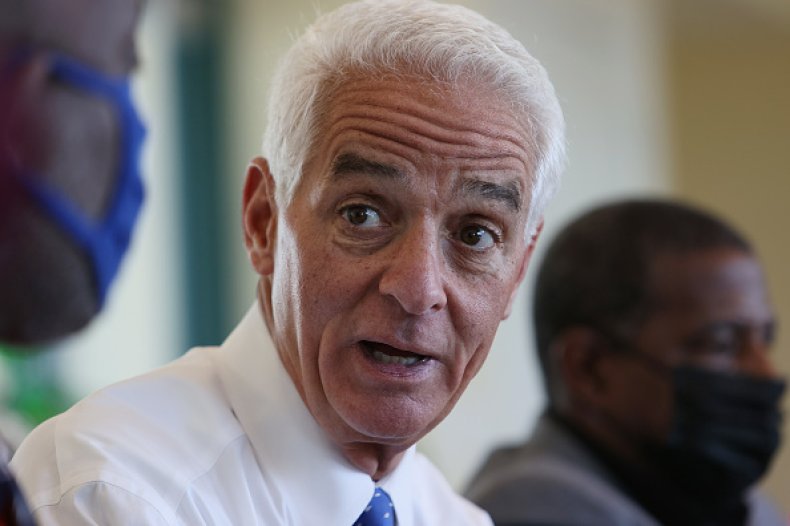 In the aftermath of the 2020 presidential election, DeSantis joined state Republicans in their fight against widespread voter fraud—a claim that has been repeatedly debunked both by recounts reaffirming President Joe Biden's win and failed lawsuits from the Trump campaign to overturn the results of the election.
Last month, the governor signed a controversial election law limiting drop boxes and requiring stricter voter identification for mail ballots among other tighter voting rules.
"Florida took action this legislative session to increase transparency and strengthen the security of our elections," DeSantis said in a press release announcing the law. "Floridians can rest assured that our state will remain a leader in ballot integrity. Elections should be free and fair, and these changes will ensure this continues to be the case in the Sunshine State.
The new law has already drawn lawsuits from the NAACP, Disability Rights Florida and Common Cause, who alleged the changes will negatively impact voters of color and those with disabilities. There are also legal challenges from the League of Women Voters of Florida, the Black Voters Matter Fund, the Florida Alliance for Retired Americans and several individual Florida voters.
Some have questioned if DeSantis's actions are actually driven by his commitment to voting integrity, noting the governor had already touted Florida as a "gold standard" in the 2020 election for its record vote-by-mail turnout and "the fewest number of problems ever despite the millions of people that voted."
Crist, who now represents a Tampa-area congressional district and is seeking to challenge DeSantis in 2022, called the measure "pathetic" in a video posted to his campaign right after DeSantis signed it into law.
"You want to know why they are making it harder to vote by mail? Because Democrats outvoted Republicans by 600,000 (ballots) last year, that's why," Crist said in Tallahassee while on a statewide voter rights tour earlier this month.
Newsweek reached out to DeSantis' office for comment but did not hear back before publication.