Cristiano Ronaldo Posts Photo After Getting Coronavirus
Cristiano Ronaldo says he's feeling just fine following a bout with coronavirus. The Portuguese soccer star shared an update on his condition in a post to his social media accounts on Wednesday.
"[Feeling] good and healthy," the 35-year-old wrote, captioning a photo of himself. "Forza Juve! #finoallafine."
Portugal's Football Federation revealed Ronaldo tested positive for the virus on October 13. Ronaldo was considered asymptomatic and had not experienced the myriad of symptoms associated with COVID-19. However, the Juventus forward was still ordered to quarantine. He kept busy while isolating, and shared a number of photos of how he's been spending his time: working out on a stationary bike, swimming laps in his pool and supporting his fellow Juves teammates from a distance.
During the recent Juventus game against Sweden, Ronaldo shared an Instagram photo of him suited up in his jersey and rooting for his team from in front of a television screen. "It's like you're there! Come on Malta! Strength Portugal," he wrote alongside the photo.
In an interview with local reporters in the immediate wake of Ronaldo's diagnosis being made public, Portugal head coach Fernando Santos said that Ronaldo was "managing the situation very well."
"He is in the room, saying he wants to play, he talks to us from upstairs [from his balcony]," Santos said. "He is completely asymptomatic, he is okay, without any symptoms, he doesn't even know what happened to him."
Despite Ronaldo's recent health update, the athlete will still be missing in action at Portugal's upcoming Championship League match against Barcelona on Wednesday. Under UEFA Champions League coronavirus guidelines, players must submit a negative COVID-19 test within 24 hours of game time before they are allowed back on the field. Ronaldo has yet to turn around a negative test.
The game would have marked Ronaldo's first time up against Italy's star forward Lionel Messi since Ronaldo left his post on Real Madrid two years ago. Should Ronaldo be deemed fit to play in the near future, he will have another chance to face off with Messi at the Camp Nou game on December 12, according to ESPN.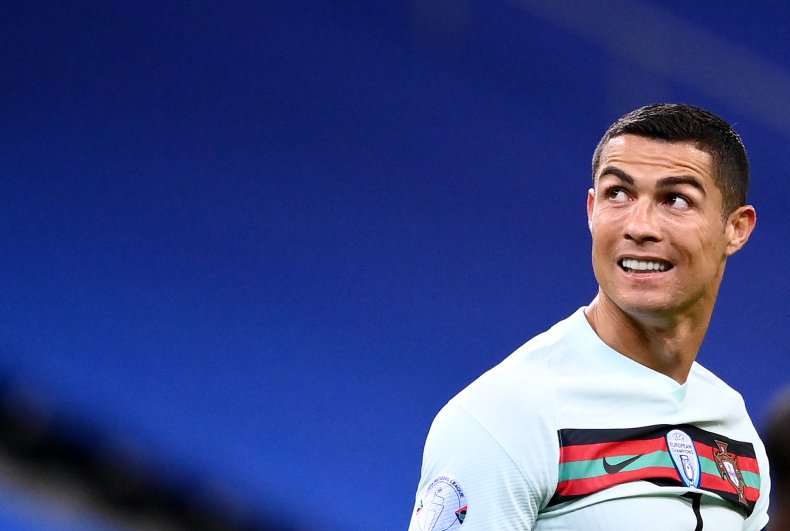 Ronaldo's case of coronavirus came months following his teammate Daniele Rugani's COVID-19 diagnosis at the height of the virus in March. Then, on October 3, Juventus announced that the entire team was placed in a quarantine bubble for two weeks after midfielder Piotr Zielinski and staff member Giandomenico Costi tested positive for the virus. However, the team's medical staff and technical players tested negative and were still allowed to participate in regular training and matches—hence why Ronaldo joined in on the Juventus October 7 match.