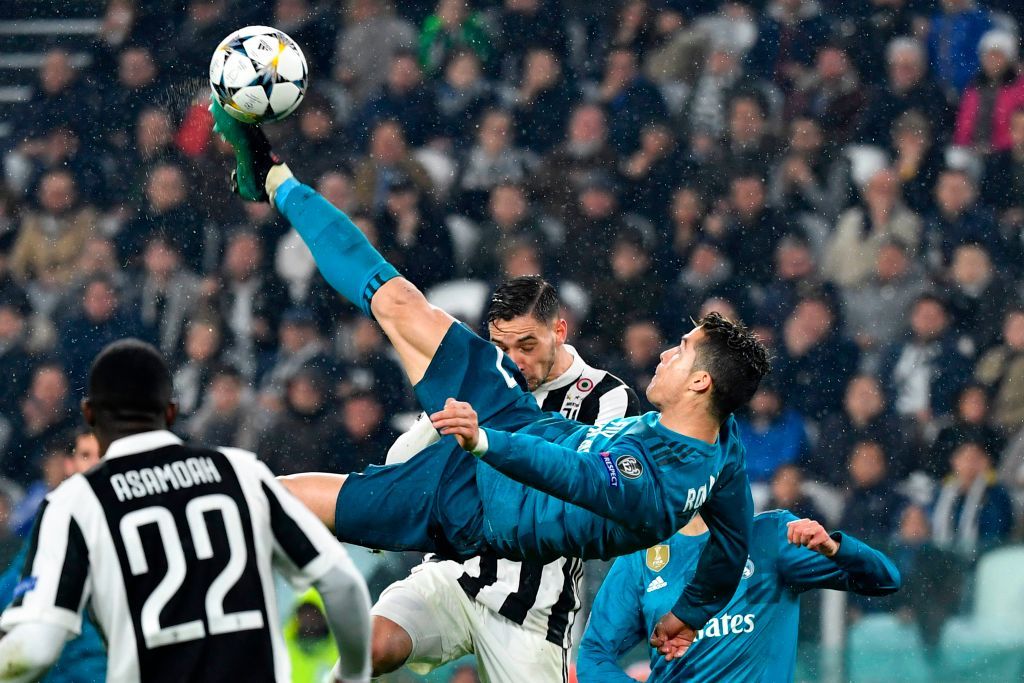 Cristiano Ronaldo's incredible resurgence in front of goal continued on Tuesday night (April 3) as he helped Real Madrid put one foot in the Champions League semifinals.
Ronaldo scored his 22nd and 23rd goals in his last 12 games for Real Madrid, setting a new record of scoring in 10 consecutive Champions League games and catapulting him to become Europe's deadliest striker this season.
But it is his second strike that will be remembered for the years to come, taking pride of place in the highlight reels when Ronaldo decides he is finally done with the game; the image of the 33-year-old caught in mid-air executing the perfect scissor kick.
Ronaldo has 432 goals for Real Madrid in all competitions, but this one was among his best. Created through his persistence and finished through his excellence, the ball was delivered from the right-hand side by Dani Carvajal just behind Ronaldo.
CR7 shifts backwards and contorts his muscular frame to connect with his laces in mid-air and direct the ball past Gianluigi Buffon, widely regarded as the greatest goalkeeper in Europe over the past two decades. Buffon was left standing, and soon he was joined by the Juventus fans in Turin.
Ronaldo's goal was so exquisite that it brought the home fans to their feet in appreciation, applauding him. Take a look at it here:
Ronaldo ranked the goal as the greatest in a 16-year career that has seen him win the Champions League four times; once with Manchester United and three times with Real Madrid.
"Obviously people are talking about the second goal, it was amazing, probably the best of my career," Ronaldo said after the game, as quoted by the BBC.
"It was spectacular. I jumped very high and it's a goal that will live long in the memory.
"I've been looking to do it for a while, but it depends on the circumstances of the game. It just came to me to give it a go, you always have to try it. I tried it today and it came off".
It was Ronaldo's second goal of the evening, having opened the scoring in the fourth minute when he turned in Marcelo's cross. The Brazilian left-back added a third in the second half to give Juventus a mountainous challenge when they travel to the Bernabeu on April 11.