Art Critic Accidentally Destroys $19,000 Sculpture With a Soda Can
An art critic who attended Mexico City's Zona Maco art fair set a soda can down on a sculpture made of glass and found objects--only for the $19,000 artwork to fall to the ground and shatter.
Artnet reported that Avelina Lésper was covering the fair Saturday when she finished her beverage and placed it on a hanging sculpture entitled Nimble and Sinister Tricks (To Be Preserved Without Scandal and Corruption) by artist Gabriel Rico. The piece consisted of a glass pane with a soccer ball, a feather, a knife and other objects embedded in it.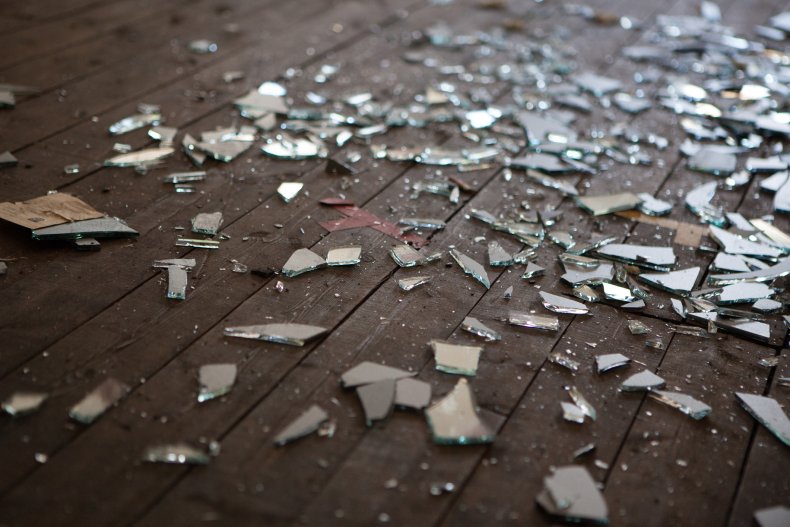 Lésper was less than impressed with Rico's work. Instead of tossing her soda can in the trash bin, she put it on one of the stones in the pane of glass as a comment on the piece.
The added weight somehow caused the entire piece to disintegrate into a pile of glass shards on the floor, to the shock of onlookers.
Lésper didn't mince words about her disdain for the art. In a video for the newspaper Milenio, she said: "It was like the work heard my comment and felt what I thought of it." She did claim that the destruction was unintentional and she was sorry it happened.
According to Artnet, Lésper compared the incident to Marcel Duchamp's The Bride Stripped Bare by Her Bachelors, Even, a massive glass work that stood over nine feet tall. When that piece was broken in transit after leaving the Brooklyn Museum, the artist commented that the crack in the glass made the work "complete."
Rico's work was being presented by Mexico City-based Galeria OMR. The gallery posted a statement to Instagram in which it acknowledged that the destruction appeared to be an accident, but Lésper's actions were still unprofessional. "We are talking with the organizers of the fair and contacting the artist and we will keep you informed about what is appropriate," read the statement as translated in English.
Lésper, a writer for the Casta Diva column in Milenio since 2009, has been a frequent critic of current trends in modern art, including found objects, performance and video. Her book El fraude del arte contemporáneo was a scathing indictment of what she viewed as inferior art. After one contentious debate about graffiti in Mexico City, an audience member hit her in the face with a cake, according to Animal Politico.
Guadalajara-based Rico's work has received international attention and was shown in the 2019 Venice Biennale. His large sculptures often deal with the tension between human civilization and the natural world, and pair found objects with artifacts from his past.
Rico has exhibited all over the world, including New York, Switzerland and South Korea. His next show, entitled Nature Loves To Hide, will open in March at the Perrotin Gallery in Paris. He told Artnet: "I am sad because this was very disrespectful for the pieces. This is a regrettable situation."