Critical Race Theory Is On the March in the Military | Opinion
The summer headlines are filled with stories of citizens pushing back against critical race theory (CRT) at various school board meetings. Faced with the prospect of a curriculum that views the entire American journey through a lens of perpetual racial grievance, many parents are rising up, as taxpaying consumers of public education, and saying "no."
Using that same model, if every taxpayer has a stake in the policies of the military, we may need to find out where to report to stop this same trend at the Pentagon. The doctrines and texts of CRT are finding disturbing favor among our armed forces. It starts at the top, where Joint Chiefs of Staff Chairman Mark Milley bristled at a recent congressional hearing when asked to defend a seminar at West Point called, "Understanding Whiteness and White Rage."
Rep. Mike Waltz (R-FL), a former U.S. Army officer who apparently prefers seminars on how to defeat our enemies, got an earful from Milley: "I want to understand white rage. And I'm white. I want to understand it."
It is good to understand things. But the first thing the general needs to understand is that "white rage" is today's manufactured buzzword aimed at anyone who dares to question the current wave of radical racial indoctrination. Milley suggested that his desire to "maintain an open mind" necessitates a wallow through the ideological sludge of CRT. "I've read Mao, I've read Karl Marx, I've read Lenin. That doesn't make me a communist."
No, it doesn't. But I'm guessing that he wasn't consuming communist writings with an eye toward adopting those philosophies in America or its military. He absorbed them as a proper perusal of historical doctrines that are the antithesis of what our nation stands for.
On the other hand, the general's favored CRT reading list is filled with texts seeking widespread approval and adoption of their toxic precepts. If principles of never-ending racial obsession are merely worrisome in the classroom, they are outright ruinous if incorporated into military training.
Milley has company. Chief of Naval Operations Adm. Michael Gilday has recommended sailors read How to Be an Antiracist, written by CRT celebrity Ibram X. Kendi, who has proudly touted "present discrimination" as the only remedy to past discrimination. "Anti-racism" is not opposition to racism, which all good people should adopt; it is malicious anti-white racial revenge. It calls for a twisted assessment of modern America as a daily struggle between the oppressed and oppressors. This is poison for the minds of schoolchildren, and plainly dangerous if it infects our young men and women in uniform.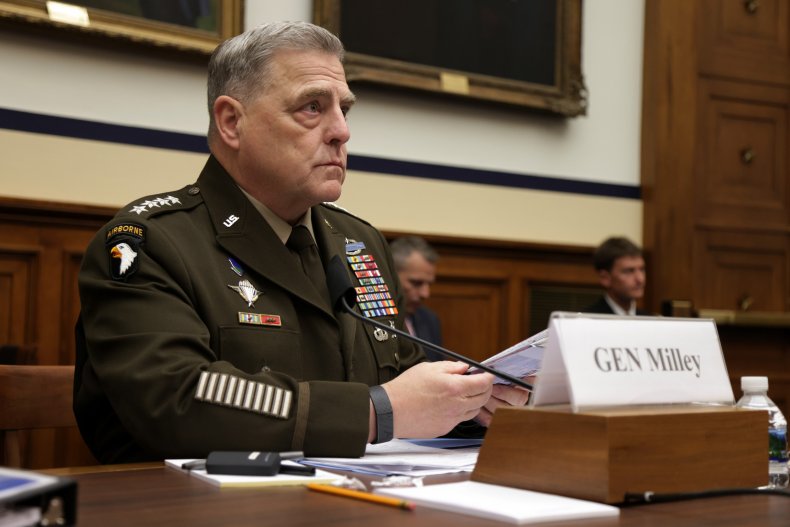 The military is about unit cohesion—working as a team toward the noblest of goals, a stronger America, a nation worth protecting and defending. Our history has indeed navigated a path through painful past sins and necessary redemptions. But ignoring our progress so that activists can bludgeon the country as unrepentant is stark intellectual dishonesty.
Finding such warped content in today's liberal college classrooms is not surprising. But finding it at the U.S. Air Force Academy is unacceptable.
"I teach critical race theories to our nation's future military leaders because it is vital that cadets understand the history of the racism that has shaped both foreign and domestic policy," wrote Professor Lynne Chandler Garcia in a Washington Post op-ed last week.
Again, we see a perversion of "understanding." Genuine clarity does not mean force-feeding every fad concept into our classrooms and military training. It involves objective evaluation of every discipline and viewpoint, weighing each for its own worthiness and merit before exposing it to young minds.
By any measure, CRT fails this test. It teaches that race remains a pervasive dynamic in every relationship in modern America, and that our human interactions must be seen as racial conflicts pitting the evils of whiteness against oppressed, subjugated people of color.
This is malicious, opportunistic propaganda. Of course, everyone should grow up knowing about slavery, Jim Crow, the inspiring civil rights movement of the 1950s and 1960s, and the ways in which race remains relevant for various issues today. But CRT adherents offer only the pain and not the progress, burying us in bad blood unbalanced by the story of our slow national journey toward a "more perfect Union." The now-familiar one-sentence critique of CRT is not undeserved: It teaches people to hate America, and to hate each other.
If leftist universities seek to spoon it out, that is their business. But if K-12 schools are embracing it, that is every parent's business. And if this toxic brew of political and racial animus is seeping into our military, it is the business of every American.
Mark Davis is a talk show host for the Salem Media Group on 660AM The Answer in Dallas-Ft. Worth, and a columnist for The Dallas Morning News and Townhall.
The views expressed in this article are the writer's own.