Critical Race Theory Proving to Be Difficult Wedge Issue for Democrats
Critical race theory has become a major political issue in the country, and it's one in which Democrats appear to be lacking widespread support. Moderate and independent voters largely have unfavorable opinions about the term "critical race theory"and the general concept of schools adopting race-based school equity plans.
This fact was highlighted by a Politico story published Monday which interviewed Democrat-leaning or politically moderate people in six states, five of which were won by President Joe Biden in 2020.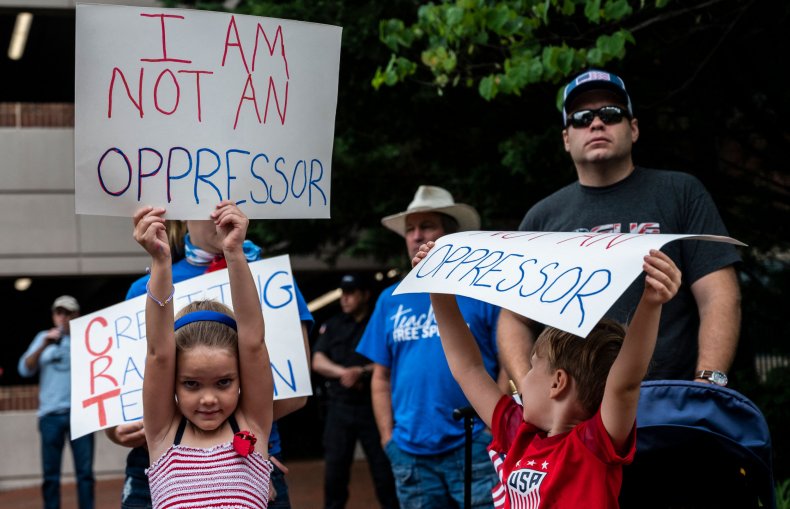 The interviewees in the Poltico article included school board members, political operatives and activists. They resided in Arizona, Florida, as well as the suburbs of Washington, D.C., New York City and Detroit. Many had objections to critical race theory, or at least certain aspects associated with the controversial topic.
Critical race theory began as a collegiate-level study at universities more than 40 years ago as a means to examine and recognize racism within institutions and work toward new strategies of rooting out its causes.
In the past year, during the rise of Black Lives Matter protests, "critical race theory" has been adopted by many people, and some media outlets, as a catch-all phrase to describe any programs in school that deal with efforts to fight systemic racism or have a larger dialogue about the role of slavery in the development of the United States.
Teachers across the nation have claimed that actual critical race theory is not being taught on the curriculums at any K-12 public schools. Instead, they say, people are conflating the term with other similar concepts such as "anti-racism" and "social justice."
But no matter what people are calling it, the concept of equity reform being taught to schoolchildren was found to be mostly unpopular among those who spoke with Politico. They stated such initiatives are not only costly, but also cause division among students. The argument is that teaching such concepts leads to students identifying themselves by race and becoming too politically active at school.
Bion Bartning, a mixed race man who identified as independent, told Politico he became involved in the critical race debate after his daughters' private New York City elementary school began teaching students more about recognizing and correct actions that show bias.
"That's the opposite of what you want to tell a 5-year-old," Bartning told the outlet. "I grew up with very liberal values, and believing in the goal where we judge each other by our character and not by the color of our skin."
Recent polls show how the issue could prove to be crucial in upcoming elections, both locally and on the federal level. The survey group YouGov found a third of respondents in a June poll hadn't heard of critical race theory. However, of those who had heard of it, 53 percent said they had "very unfavorable" opinion of it, compared to 23 percent who said they had a "very favorable" one. While respondents who identified as Republican had a much more negative view of critical race theory, 85 percent called their views "very unfavorable," 71 percent of independents also had a similarly negative opinion of it.
Independents were a crucial part of Biden's 2020 victory. According to the Pew Research Center, Biden was favored among independents over former President Donald Trump by 9 percentage points in the last election. In 2016, Trump had won independents over Hillary Clinton.
On his first day in office, Biden rescinded the Trump administration's executive order that banned federal agencies and federal contractors from training that implies anyone is racist or sexist "by virtue of his or her race, sex, and/or national origin."
The president has stayed mum on the issue of critical race theory, or equity programs in general, being taught in school. Though, White House press secretary Jen Psaki made the administration's general thoughts clear in a May press briefing.
"I don't think we would think that educating the youth and next and future leaders of the country on systemic racism is indoctrination," said Psaki said.
More recently, Psaki said the administration is not pushing critical race theory in schools.
"Well, first, I would say that, as we've said many times before, we don't dictate or recommend specific curriculum decisions from the federal government," she said on July 22.
Psaki added, "That is and will continue to be handled at the local level, and we believe that the American people trust teachers to make those decisions, not government."