Critically Endangered Bird Believed to Be Dead Re-Emerges After Nearly Two Years
The discovery of an ultra-rare, parrot-like kiwikiu on Maui—believed to have died 605 days ago—is giving scientists hope for the critically endangered species.
According to the Maui Forest Bird Recovery Project (MFBRP), this species, a type of Hawaiian honeycreeper, is endemic to Maui: the birds were once found across the island in addition to neighboring Moloka'i. Now, however, a combination of habitat loss, disease, and the threat of non-native species has limited the kiwikiu to a small section of Maui.
Formerly known as the Maui Parrotbill, this species of bird features green and yellow coloring, as well as a large, heavy bill. Males and females of this species pair up for life, and can live as long as sixteen years. As explained by the American Bird Conservancy, the kiwikiu has previously faced an uncertain future: the species was believed to have gone extinct throughout the first half of the 20th century, but was rediscovered in 1950.
Since then, their population size has remained relatively small, with numbers currently hovering around 150.
In a Friday statement released on Facebook by Hawaii's Department of Land and Natural Resources (DLNR), the agency called the re-discovery of this particular kiwikiu "remarkable" as it "provides [a] glimmer of hope for saving a species."
The bird in question was reportedly part of an October 2019 translocation attempt. Seven kiwikiu were released into a Maui natural reserve, in an effort to help the species repopulate. The mission, however, did not go as researchers had hoped. The birds faced a deadly avian malaria, spread via non-native mosquitoes and encouraged by the warm, wet weather brought by climate change. Soon, "the translocation was decimated by disease," recalled Dr. Hanna Mounce in a Hawaii DLNR virtual press conference. Five of the seven birds were found dead, and the two remaining, both of whom went missing, were believed to have been killed by the same disease.
Now, however, over 600 days later, scientists have renewed hope for the species ever since Zach Pezzillo of the MFBRP re-discovered one of the two vanished birds last week. "I thought, in the distance, among all those other calls, I heard a kiwikiu song. I didn't quite believe it," he said. Pezzillo then called out to the bird—and it responded a few minutes later with its distinct song.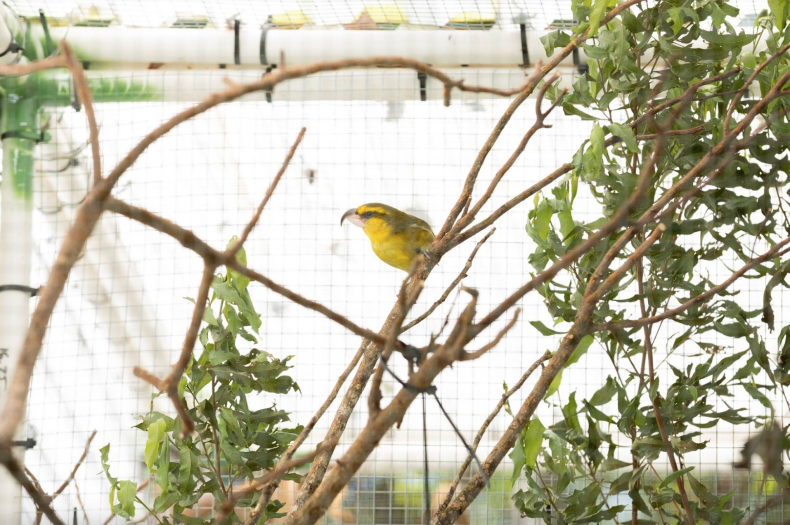 Upon inspecting the bird, he noticed its distinct leg bands, clearly identifying it as a male bird known as "wild #1" from the 2019 translocation mission. "I was shaking and jumping up and down," said Pezzillo on his discovery.
"He was particularly rascally, I will say," added Dr. Mounce in the news conference. "He liked to chew on his transmitter and break things off." However, at the time, "there wasn't a lot of reason to hope that he had been able to survive the same disease outbreak...that had taken the rest of the birds."
The bird's re-emergence shows the potential for the species to recover—and highlights the grave threats posed by factors like climate change and rampant, invasive disease.
"This bird has been exposed to disease, as the others were, and has somehow persevered," explained Dr. Mounce in the Facebook statement. "This is an amazing sign of hope for the species as we still may have time to save them."
She added: "This is a hopeful sign that a population of kiwikiu and other native forest birds could survive in restored landscapes in the future, especially without mosquitoes and disease."
Updated 07/28/2021, 4:41 p.m. ET: This story has been updated with a statements from Dr. Hanna Mounce and Zach Pezzillo.