Critically Endangered Turtle Hatches at Zoo, Three More Expected To Arrive Soon
The Chattanooga Zoo has announced that it's successfully hatched a critically-endangered turtle. Three more are expected to hatch soon, said a zoo spokesperson.
The turtles are Roti Island Snake-necked Turtles, which are currently critically endangered on the International Union for Conservation of Nature's (IUCN) Red List, with only two known populations surviving in the wild. The pet trade and limited habitats have winnowed away the number of turtles left in the wild.
"This is a great step towards our efforts to help conserve this species in the wild!" the zoo said on its Facebook page.
The turtles' point of origin is the island of Rote in Indonesia, and the species is known for its remarkably long neck.
Their mother, Nessie, came to the zoo via the Columbus zoo in June. She was placed in a breeding program with a male turtle and produced a clutch of viable eggs in August.
"Since these turtles are critically endangered, we are pleased to contribute to raising the population through this hatching," said Kate Gore, the zoo's keeper of herpetology. She also described herself as "proud" of the young hatchling.
The zoo hopes to eventually reintroduce the turtles to the wild down the line, but they have not been placed yet in its public viewing habitat.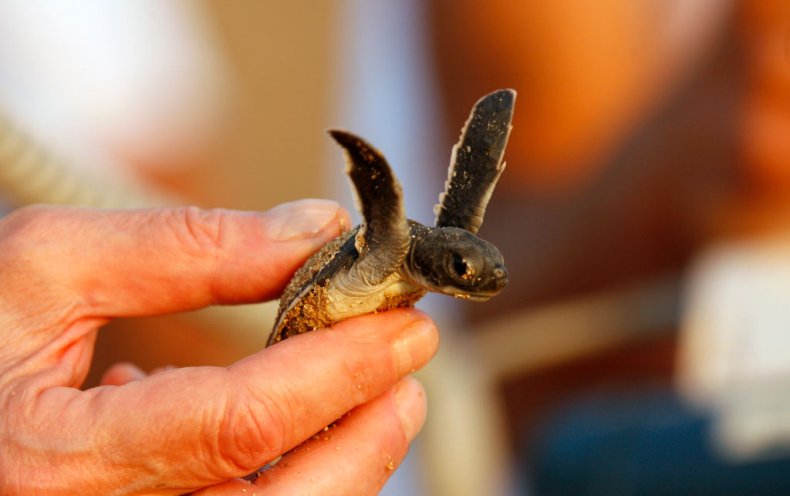 The Chattanooga Zoo isn't the only one celebrating a recent births of endangered species at their zoos. A black-headed spider monkey and a northern white-cheeked gibbon were born at the Twycross Zoo in Atherstone, Ireland on November 15.
A chimpanzee was born at the North Carolina Zoo on November 14.
"Having two baby chimps born close together is such an exciting time," NC Zoo Director Pat Simmons said. "Our guests will be able to watch them grow and play together and understand why it's important to save chimpanzees in the wild.
"We are always thrilled with births at the zoo because it's a win for conservation."
The Cincinnati Zoo, meanwhile, has a pregnant rhino sculpture. It allows visitors to listen to the heartbeat of the unborn animal in a replica of the rhinoceros as a part of their Conservation and Research of Endangered Wildlife (CREW) program, which has bred and returned many black rhinos to their natural habitats.
According to the International Union for Conservation of Nature Red List of Threatened species, black rhinos are critically endangered due to poachers, which target their horns.