As Criticism of China Mounts, Trump Adviser Peter Navarro Continues to Urge Bringing Supply Chain Home
Peter Navarro, the director of President Donald Trump's Office of Trade and Manufacturing Policy, has been repeatedly pushing for the U.S. to bring more of its supply chain home as concerns about dependence on China have mounted amid the ongoing novel coronavirus pandemic.
As the U.S. has dealt with the public health and economic fall out of the global outbreak of COVID-19, Trump administration officials and some top Republicans have been increasingly critical of China, the country where the novel virus first arose. Chinese officials initially covered up the outbreak in Wuhan, and China has faced mounting international criticism for lacking transparency amid the pandemic. Meanwhile, the U.S. has struggled to build up essential medical supplies, with much of the supply chain relying on products manufactured in China or elsewhere.
"If we don't learn from this crisis that the only way this great country is going to prosper is by making the stuff we need as much as possible then we will have learned nothing and we will sink into the abyss," Navarro said Monday in an interview with CNBC's Squawk Box.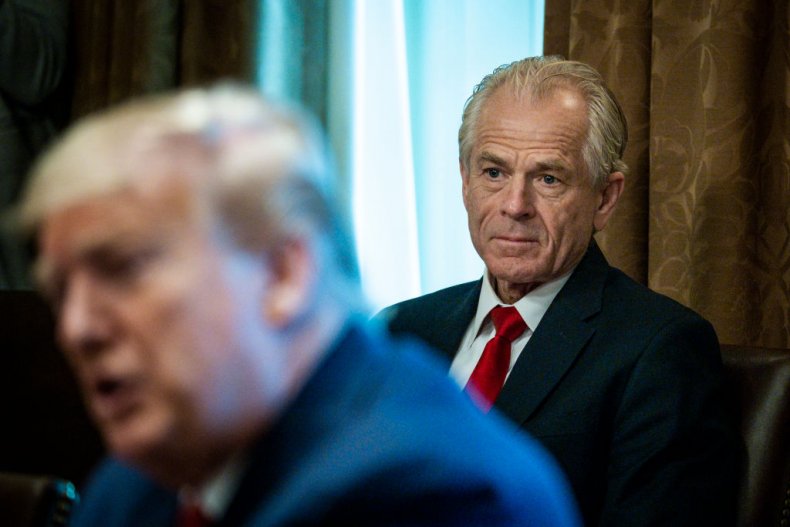 Earlier in the segment, Navarro noted that the message moving forward should be to "buy American."
"The structural pillars going forward are going to be [to] buy American–and that is bringing our supply chains and production home, deregulation to make that possible, and innovation to stay ahead of the competition," he said. Navrro noted that Trump has been meeting with business leaders to discuss how the supply chain could be brought back to the U.S.
In a report dated May 1, officials at the Department of Homeland security alleged that Chinese officials "intentionally concealed the severity" of the coronavirus in early January as they worked to organize sufficient shipments of medical supplies to help their country respond effectively to the crisis. The document suggested that Beijing had increased imports of necessary medical supplies while decreasing exports. As the coronavirus pandemic ballooned in the U.S. two months later, hospitals and states found themselves facing shortages of vital supplies, such as personal protective equipment (PPE) and ventilators.
Some public health experts and economists have warned that the U.S. was less prepared to deal with the crisis due partly to its dependence on international manufacturers, many of which operate in China, to produce vital supplies. At the same time, some business leaders have pushed back against nationalizing the supply chain, pointing to the costs involved.
"Cheap and efficient Chinese manufacturing has helped lift hundreds of millions of individuals around the world out of poverty. Of course, there are drawbacks, but the fact that it took something as unusual as a once in a century pandemic to bring this concern to the mainstream shows how much the benefits of a global supply chain exceed the costs," Patrick Gourley, an assistant professor at the Department of Economics & Business Analytics at the University of New Haven, told Newsweek.
Gourley also expressed skepticism that American consumers would get behind a significant nationalization of the supply chain.
"The main impact customers would see is an increase in prices. American firms moved abroad because it was cheaper; American consumers prefer goods made abroad for the same reason,"he said. "This is why 'Buy American' movements have never really caught on."
George Friedman, chairman and founder of forecasters Geopolitical Futures, noted that there are advantages and disadvantages to international supply chains.
"The danger of international supply chains is that events can and do take place that costs you the cost advantage, imposes a time penalty or other friction on the supply chain or makes the supply chain inaccessible," Friedman told Newsweek. "The temptation of a supply chain in China is cost. The risks are frequently ignored by businesses until [problems] strike."
Friedman also suggested that many businesses would see a need to end their dependence on China.
"The lack of redundancy in supply chain–particularly in geographic diversity has hit home. The era in which China was the sole supplier of critical components has cost many companies a great deal in this epidemic," he said. "Rational pharmaceutical firms will want to diversify or repatriate production."