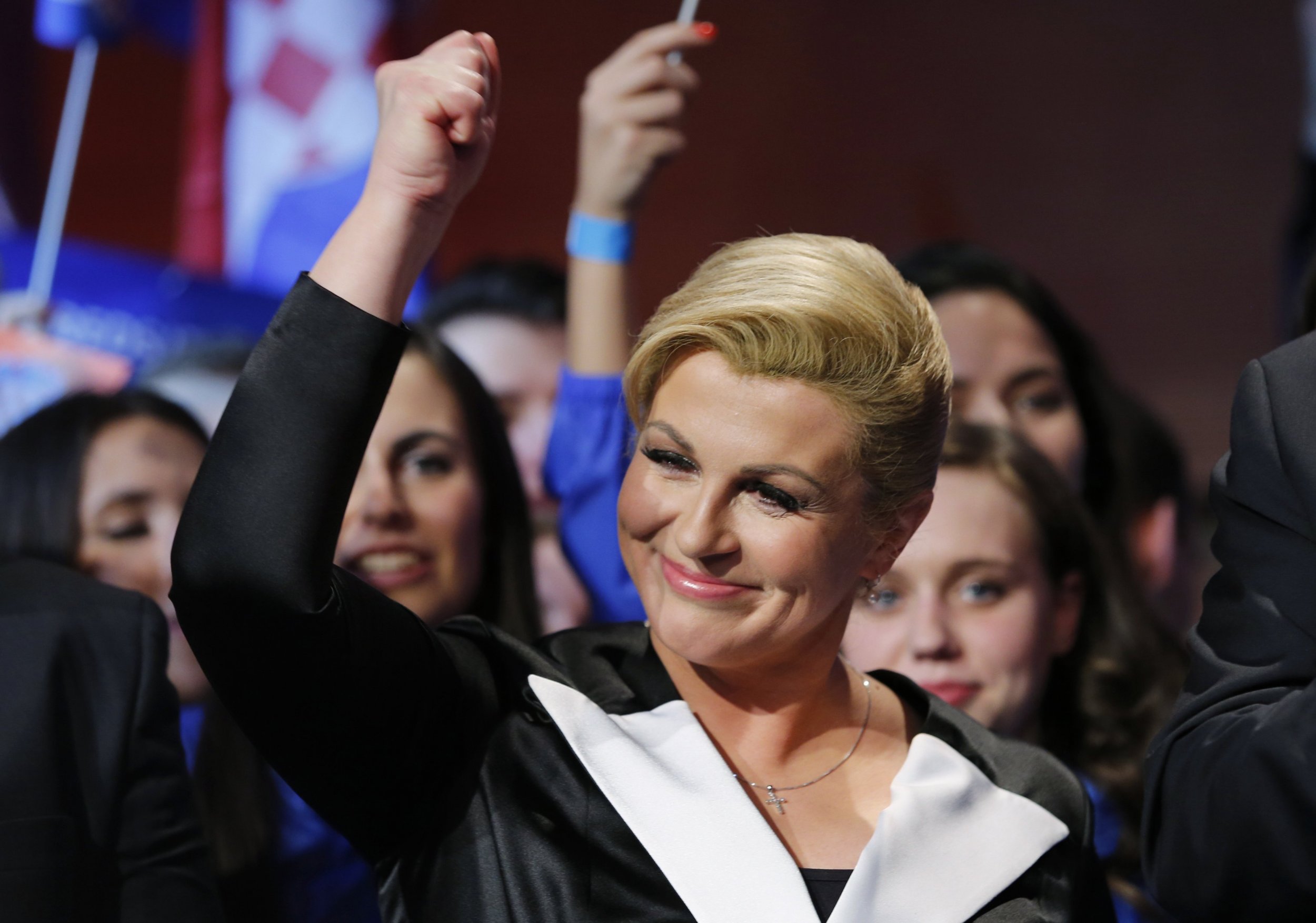 Conservative populist Kolinda Grabar-Kitarovic will become Croatia's first female president after winning Sunday's election with an extremely narrow margin.
Grabar-Kitarovic, 46, a member of the Croatian Democratic Union (HDZ), beat the incumbent president, Ivo Josipović, taking 50.5 percent of the vote to his 49.5 percent, with 99 percent of the ballots counted, the BBC reports. Al-Jazeera reports that just 21,000 votes stood between the two candidates.
Josipović, the Social Democrats' candidate, conceded defeat Sunday and congratulated his successor. He has been president since 2010.
"There is no room for triumphalism.... Let's work for the prosperity of our country," Grabar-Kitarovic, a former foreign minister and ambassador to the U.S., told her supporters on Sunday.
Croatia's president cannot veto laws but has a say in foreign policy and defense matters, according to Reuters. While the president holds the highest seat of power in Croatia, the position is viewed by many as largely ceremonial. However, "the election is considered a barometer of voter sentiment ahead of parliamentary elections," to be held later in 2015, German broadcaster Deutsche-Welle reports. The president is the commander in chief of the military, while the prime minister of Croatia, currently Zoran Milanović, is head of the government. The presidency carries a five-year term.
The conservative victory suggests Croatia, the newest member of the European Union, with a population of 4.3 million, could be joining a growing number of European countries shifting to the right. The global economic crisis robbed the generally popular Josipović, 57, of support after six years of recession. Unemployment currently stands at roughly 19 percent, one of the highest rates in the EU, and the economy is not expected to grow this year, according to The Economist.
In her campaign, Grabar-Kitarovic criticized Josipović for failing to ease the country's economic woes, Al-Jazeera reports.
The HDZ hasn't held the presidency since 1999 when its founder, former Croatian president Franjo Tudjman, died, according to Reuters.