Croatia Sack World Cup Squad Member Over 'Glory to Ukraine' Video
Croatia's soccer federation (HNS) has expelled a key member of its World Cup delegation over pro-Ukraine comments.
Ognjen Vukojevic and Croatia defender Domagoj Vida recorded a video message on Saturday, shortly after Croatia beat Russia on penalties to reach a World Cup semifinal for the first time since 1998.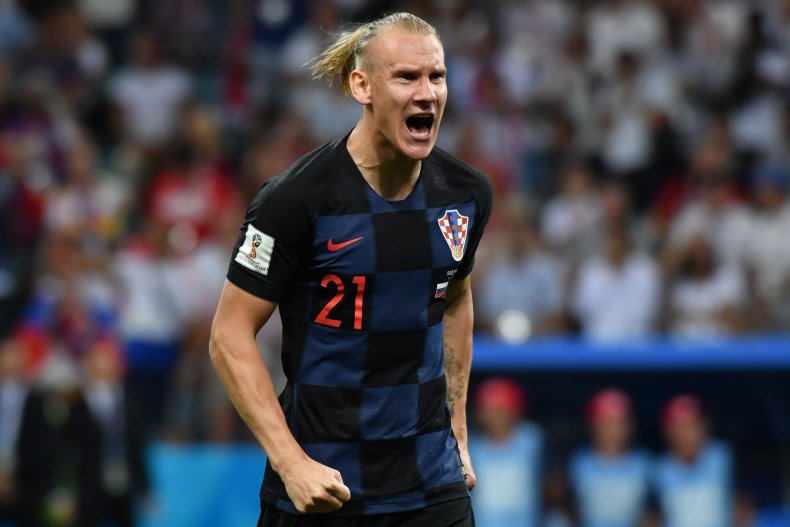 In the video, which was posted on Facebook by Ukrainian journalist Andrey Sharkov, Vida can be heard shouting "Glory to Ukraine."
Since Russia annexed Crimea in 2014, the phrase has become a popular slogan among Ukrainian anti-Russian nationalists. The tensions between the two countries remains high.
Shortly after Vida's message, Vukojevic then added "this win is for Dynamo and Ukraine [...] go Croatia."
Both Vida—who scored in extra time against Russia before converting one of the penalties in the shootout—and Vukojevic used to play for Ukrainian giants Dynamo Kiev. The latter is now a scout for the club.
While the duo apologized for their statements, the HNS added they had left it little room for maneuver and as a result it has revoked Vukojevic's World Cup accreditation and relieved him of his duties.
"HNS hereby apologizes to the Russian public for the actions of a member of the Croatian delegation," the Croatian soccer federation said in a statement.
According to Croatian state broadcaster HRT, Vukojevic insisted the video was meant to be a personal message to his friends in Ukraine, rather than a political statement.
"I don't want to be a burden to our team ahead of the extremely important semifinal match of the World Cup, at the moment when the most needed thing for the national team is peace," he was quoted as saying.
"I am sorry and I do apologize to the Russian public, if they perceived my statements like this."
Shortly after the video surfaced, FIFA confirmed its disciplinary committee had sent a formal warning to Vida. The disciplinary code of world soccer's governing forbids "political slogans in any form" and Article 54 states: "Anyone who provokes the general public during a match will be suspended for two matches and sanctioned with a minimum fine of CHF 5,000 [$5,050]."
Had FIFA deemed him to be in breach of its disciplinary statute, Vida could have faced a two-game ban, which would have ended his tournament prematurely.
The defender will instead be available for selection when Croatia face England in Moscow on Wednesday at 2 p.m. EST. Croatia are looking to reach the World Cup final for the first time in their history.